Introducing the Google Work Safer Program: Accelerate Your Security Transformation with CrowdStrike and Google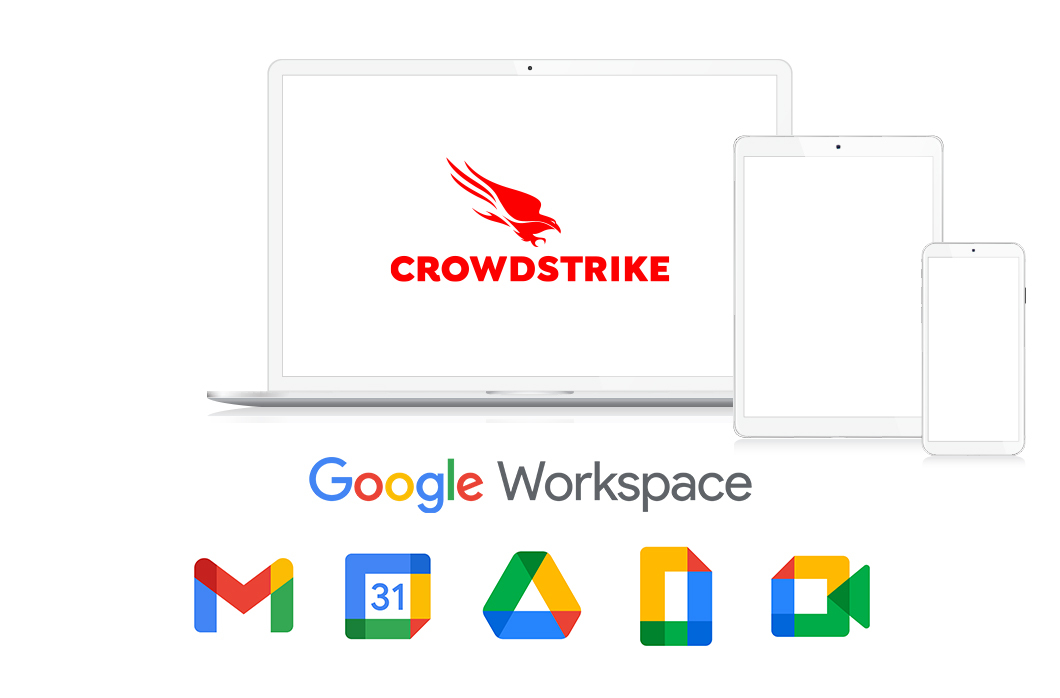 CrowdStrike is excited to be a key partner with Google in a new security initiative that combines Google Workspace and other leading Google solutions in a Work Safer program to protect organizations — including small businesses, enterprises and public sector institutions — against modern cyberattacks. This announcement — along with other innovations, like extended detection and response (XDR), revealed today at the 5th annual Fal.Con CrowdStrike Cybersecurity Conference — showcases the importance of cybersecurity for all organizations of all sizes and verticals. 
"The threat of cybercrime can't be overstated — all systems, especially legacy systems, are under attack and the need for long term, sustainable solutions is acute," says Sunil Potti, Vice President and General Manager of Google Cloud. "For the past two decades, Google has made security the cornerstone of our product strategy — we take a cloud-first, secure-by-design approach in everything we do. Google Workspace is a reflection of this — it's one of the most secure ways for teams to create and collaborate," Sunil continued. "Our Work Safer program combines the best of Google Cloud with groundbreaking endpoint security from CrowdStrike, making proactive and resilient security accessible to every business, regardless of size."
Importance of the Work Safer Program in Today's Landscape 
Organizations are under tremendous pressure to securely transform their computing environments and radically change the way they defend against the most sophisticated adversaries and their constantly evolving tactics and techniques. Using legacy technologies and relying on single-vendor point solutions to keep them safe against today's threats are grave risks to customer data and critical infrastructure. As underscored by the recent U.S. Cybersecurity Executive Order issued by the White House, it is high time for organizations to modernize their security solutions to strengthen their cybersecurity posture and bolster their defense strategy against any attacks. Another critical challenge that impedes organizations' security transformation is the lack of skilled in-house or dedicated resources that are equipped with the necessary cybersecurity training and tools to detect modern threats and vulnerabilities that continue plaguing people, organizations and governments around the world. 
To address these challenges in an increasingly remote and hybrid workforce environment, Google's new Work Safer program is designed to help protect organizations against rising cybersecurity threats. Work Safer will provide access to a range of offerings combining Google Workspace with industry-leading solutions from across Google and CrowdStrike. The program has been designed to meet the needs of all organizations, many of which are reliant on legacy technology and may not have the in-house expertise to fully address the rising security challenges associated with hybrid work.
Google's Work Safer program provides secure collaboration and communication experiences by combining Google Workspace with BeyondCorp Enterprise for secure access and integrated threat and data protection. For customers who want secure devices, Work Safer includes Pixel phones managed with Android Enterprise, Chrome Enterprise Upgrade, and HP Chromebooks. Customers can also leverage Google's Titan Security Keys for account protection, reCAPTCHA Enterprise for website fraud prevention, Chronicle for security analytics, and a variety of migration services for a seamless transition. The program includes the CrowdStrike Falcon® Endpoint Protection Premium™ suite, the industry's only unified solution combining next-gen AV (NGAV), endpoint detection and response (EDR), managed threat hunting, integrated threat intelligence and IT hygiene.
Work Safer with Falcon Endpoint Protection 
The stakes have never been higher, and at CrowdStrike, we know that while attackers' tools, techniques and tactics vary, a human adversary is at the heart of every ransomware, malware and non-malware cyberattack. Autonomous prevention alone is simply not good enough. Stopping these attacks before they become a breach is where CrowdStrike excels above all others by bringing together the right technology, automation, intelligence and human expertise. The CrowdStrike Falcon® endpoint and workload protection platform processes over 1 trillion security events per day and is powered by AI-based machine learning and behavioral analytics designed to prevent, detect, investigate and remediate breaches automatically. In addition, expert threat hunters proactively see and stop the stealthiest of attacks and the most sophisticated of adversaries to protect what technology alone cannot.
Falcon Endpoint Protection Premium helps customers take their breach protection to the next level by adding the visibility required to reveal areas of exposure — it identifies unprotected and rogue systems and monitors which applications and user accounts are being used in the environment. To overcome the skills shortage problem, it validates your readiness with health checks, proactive configuration and quarterly briefings, and security recommendations from CrowdStrike security experts to bolster organizations' cybersecurity defenses. The program also includes Falcon Complete, a  24/7 managed endpoint protection service, ensuring complete control and confidence that your endpoint protection is optimized for best performance and protection by CrowdStrike's seasoned security professionals.
To streamline the adoption of a Zero Trust framework and strengthen Zero Trust initiatives, Google Cloud's BeyondCorp Enterprise and Google Workspace will integrate with Falcon Zero Trust Assessment (ZTA), offered as part of Falcon Endpoint Protection, and allow joint customers to create and enforce granular access policies to applications using CrowdStrike's unique risk signals. The integration will enable more seamless sharing of telemetry and data between the two security platforms, helping maintain the highest levels of security across a customers' entire cloud or hybrid environment.
As outlined in the Transforming Security With Cloud-scale Multi-level Defense blog, Google Cloud's Chronicle security analytics engine integrates with the Falcon platform, enabling security teams to more easily analyze endpoint and workload telemetry in order to find and address threats quickly. Teams will also be able to correlate petabytes of data from Chronicle with datasets from the Falcon platform, enabling them to thoroughly investigate stealthy long-term attacks occurring across multiple surfaces and stop new, evolving threats — truly transforming their security.
A Safer Future with CrowdStrike and Google Cloud 
Pairing the Falcon platform, with its cloud-scale AI for real-time protection and visibility across organizations, and Google Workspace's architecture, which eliminates many of the attack vectors making headlines today, is a natural fit for any organization implementing Zero Trust initiatives. The Work Safer program brings it all together, making modern security accessible to every business of all sizes across the globe and driving unmatched community immunity.
Additional Resources 

Related Content