What is Advanced Endpoint Protection (AEP)?
Advanced endpoint protection (AEP) is a next-generation endpoint security solution that uses artificial intelligence (AI), machine learning (ML) and other intelligent automation capabilities to provide more comprehensive cybersecurity protection from a variety of modern threats, including fileless malware, script-based attacks and zero-day threats.
Why do organizations need advanced endpoint protection capabilities?
Given the significant increase in cyberattacks, as well as the growing sophistication of cybercriminals, organizations must take steps to reduce the risk of a breach, as well as minimize the impact of such an event. Because any connected device can serve as a gateway to the network, advanced endpoint protection is one of the most critical elements of any security strategy.
What organizations can benefit from AEP?
Enterprises of all sizes face an increasing risk of a cyberattack — and more sophisticated attacks at that. Endpoint protection is of critical importance now given the shift to remote work and a proliferation of personal devices that dramatically expands the organization's attack service.
For this reason, organizations of all sizes in all industries and geographies must take steps toward protecting against these modern threats with a comprehensive and adaptive next-generation endpoint security solution.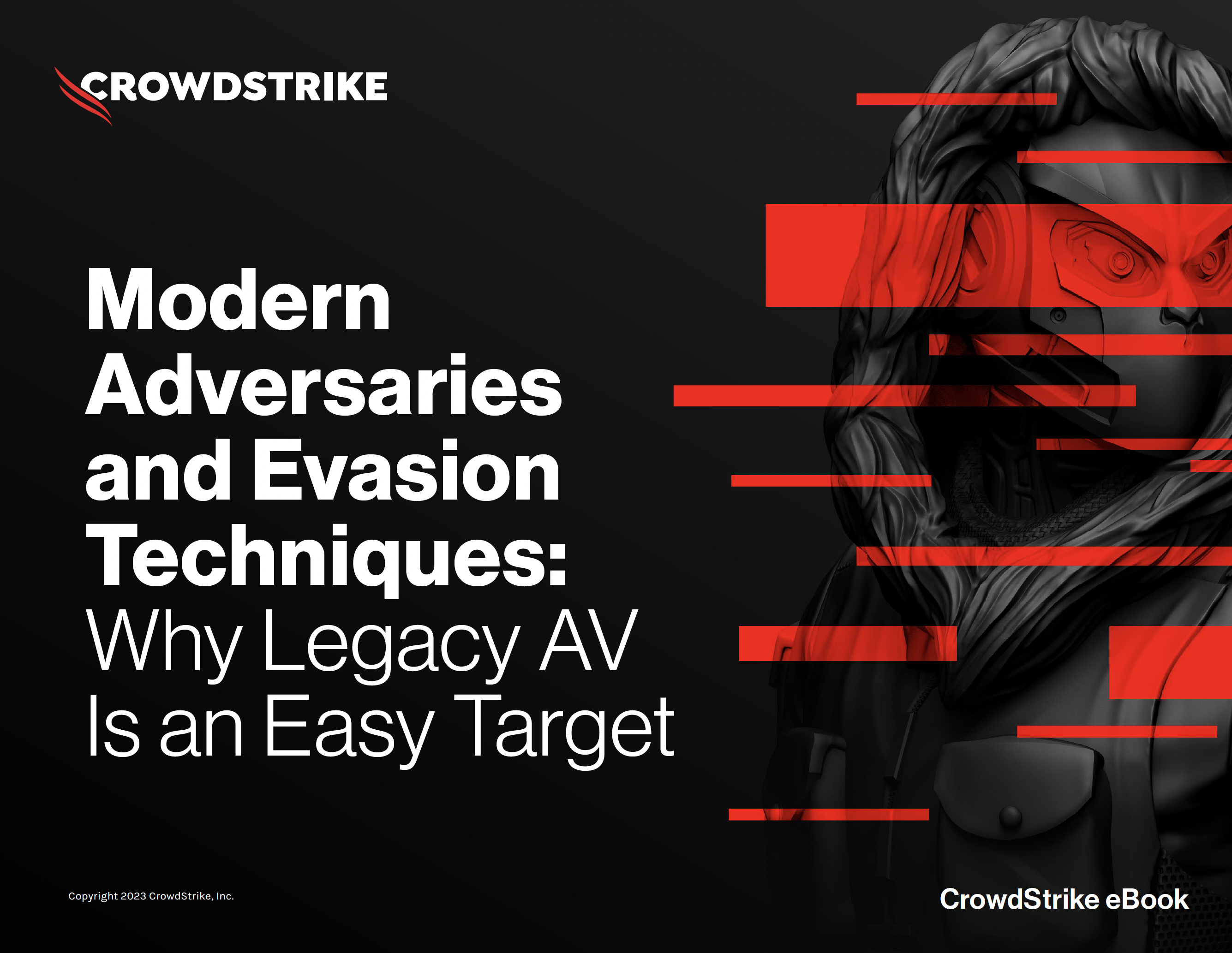 Modern Adversaries and Evasion Techniques
86% of eCrime actors us evasion techniques to bypass AV software. Learn how legacy antivirus is an easy target for adversaries and techniques they use that legacy AV can't stop.
Download Now
AEP Differentiators
Unlike traditional endpoint security tools such as firewalls and antivirus software that can identify known threats, AEP systems leverage advanced technologies to address "unknown" threats — those that are new, emerging or complex. Key differentiators of an AEP include:
Advanced technology: Next-generation endpoint protection software leverages advanced technology, including AI and ML, to identify known and unknown threats by detecting anomalous system activity, unusual software interaction or suspicious user behavior.
Evolution and self-learning: The algorithms used by advanced endpoint protection tools get more intelligent, precise and accurate over time, enabling organizations to continuously expand and enhance their security posture and respond to threats with greater speed and efficiency.
Integration: AEP systems are one part of a comprehensive cybersecurity strategy. These platforms work in concert with other security tools and practices, including human-led threat hunting, to provide enhanced visibility and security, as well as improve the overall efficiency of the infosec team.
3 Benefits of Advanced Endpoint Protection
The AEP provides several important benefits to organizations as compared to traditional solutions. These include:
Enhanced protection: Next-generation endpoint protection software leverages advanced technology, including AI and ML, to: streamline data collection and analysis; improve system visibility; better detect anomalous system activity; and expedite responses.
Improved accuracy and response time: Because the AEP system is intelligent and capable of self-learning, the solution's precision and accuracy tends to improve over time. This, in turn, strengthens the organization's prevention, detection and response capabilities.
Improved resource allocation: Advanced endpoint protection tools automate a significant portion of analysis, monitoring, detection and response activities, which frees up members of the infosec team to focus on higher-priority actions like evaluation and remediation.
The power of the cloud: How cloud-native advanced endpoint protection tools enhance the organization's security posture
Harnessing the data and tools to effectively stop breaches requires a scalable, cloud-native
platform. A cloud-native approach enables the seamless aggregation, sharing and operationalization of this information to deliver the kind of anticipation, prevention, detection, visibility and response capabilities that can beat a determined attacker time and time again.
A cloud-native solution offers the following benefits:
Enhanced protection: The cloud allows organizations to collect rich data sets in real time, providing the foundation for all prevention, monitoring, detection and response systems.
Improved scalability: One inherent benefit of the cloud is the ability to continuously adjust resources to meet the variable needs of the organization.
Lower cost: Without hardware and additional software to procure, deploy, manage and update, rolling out endpoint security from the cloud becomes quicker, simpler and more affordable.
Faster deployment: While on-premises systems can take up to a year to fully roll out, cloud-based solutions can be successfully deployed in environments with tens of thousands of hosts in a matter of hours.
Reduced maintenance: Updates to the infrastructure are done in the cloud, immediately, under vendor supervision and do not require months of planning that can leave gaps in the protection efficacy and deplete IT teams' resources.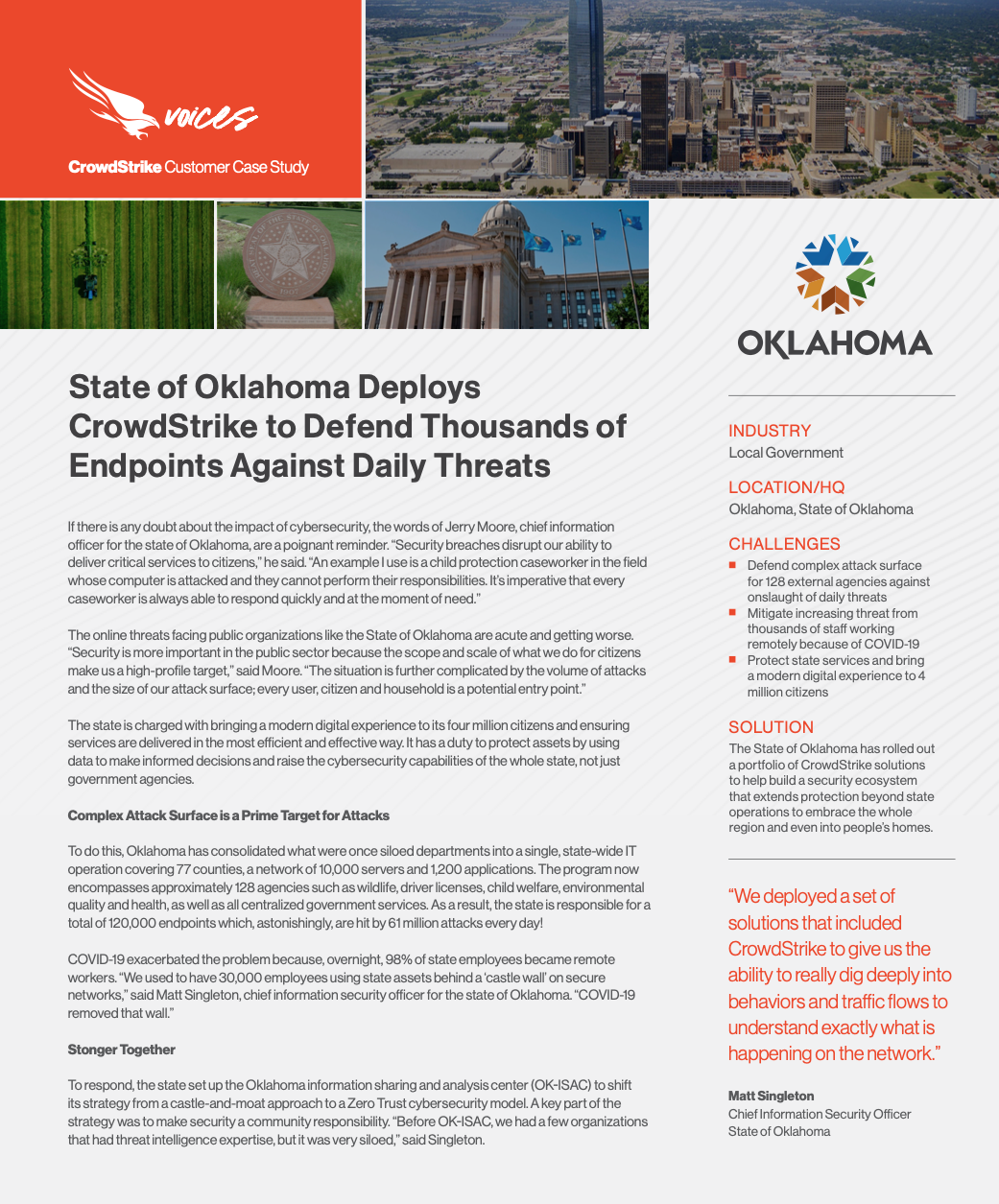 Case Study: State of Oklahoma
The online threats facing public organizations like the State of Oklahoma are acute and getting worse. "Security is more important in the public sector because the scope and scale of what we do for citizens make us a high-profile target. The situation is further complicated by the volume of attacks and the size of our attack surface; every user, citizen and household is a potential entry point." Jerry Moore, Chief Information Officer, State of Oklahoma.
Learn how CrowdStrike helps to protect Oklahoma's thousands of endpoints.
Download Now
Selecting an Advanced Endpoint Protection Solution
Data is the cornerstone of every cybersecurity strategy and solution. However, gathering and analyzing high-quality, timely data is only one part of an effective security solution. Preventing breaches requires taking this data and applying the best tools, including AI, behavioral analytics, threat intelligence and human threat hunters, in order to anticipate where the next serious threat will appear.
To that end, decision-makers should look for five critical elements in an advanced endpoint security solution:
Prevention
As cybercriminals increasingly rely on sophisticated fileless and malware-free tactics, it has become more important for the endpoint security solution to be able to detect both known and unknown threats. An AEP will:
Leverage technologies such as ML to identify new, emerging and complex threats not identifiable by traditional solutions such as firewalls and antivirus software.
Utilize behavioral analytics to automatically look for signs of attack and block them as they are occurring.
Integrate with other security solutions and capabilities to protect endpoints from all types of threats to create a comprehensive and adaptive security posture.
Detection
Because attackers expect to encounter prevention measures, they have refined their craft to include techniques such as credential theft, fileless attacks or software supply chain attacks to bypass these safeguards.
Part of an advanced endpoint security solution is endpoint detection and response (EDR), which provides the visibility security teams need to uncover attackers as rapidly as possible. A next-generation EDR system should:
Closely integrate with the prevention capability to improve detection and response time.
Record all activities of interest on an endpoint for deeper inspection, both in real time and after the fact. This data should be enriched with threat intelligence to provide needed context to support threat hunting and investigation activity.
Leverage automation to detect malicious activity and present real attacks (not benign activity) without requiring security teams to write and fine-tune detection rules.
Offer a relatively simple way to mitigate a breach that is uncovered. This could mean containing the exposed endpoints to stop the breach in its tracks or allowing remediation to take place before damage occurs.
Managed Threat Hunting
A modern security strategy must be active in nature. Proactive threat hunting, led by human security experts, is a critical capability for any organization looking to achieve or improve real-time threat detection and incident response.
Unfortunately, a lack of resources and a shortage in security expertise makes proactive threat hunting unattainable for a majority of organizations. Managed threat hunting solves this challenge by providing an elite hunting team that relies on AEP to not only find malicious activities that may have been missed by automated security systems, but also analyzes them thoroughly and provides customers with response guidelines.
Anticipation
Threat intelligence enables security products and security teams to understand and effectively predict the cyber threats that might impact them, thereby allowing security teams to focus on prioritizing and configuring resources so they can respond effectively to future attacks.
In addition, threat intelligence provides the information that allows security teams to understand, respond to and resolve incidents faster, accelerating investigations and incident remediation. This is why security professionals looking at endpoint protection must ensure that they do not focus solely on the security infrastructure.
It is important that actionable threat intelligence is included as part of the total solution. Putting the appropriate information at security teams' fingertips allows faster and better decisions and responses. To that end, companies need to ensure that the intelligence provided is seamlessly integrated into the endpoint solution and that its consumption can be automated.
Readiness
Vulnerability management and IT hygiene are the foundational blocks of an efficient security practice and should be part of any robust endpoint protection solution.
IT teams need to implement preemptive measures and make sure that they are prepared to face today's sophisticated threats. This includes:
Regular, continuous monitoring to identify and prioritize vulnerabilities within the organization's systems
Discovering, patching and updating vulnerable applications
Practicing good IT hygiene, which includes strong password requirements, multifactor identity verification and strong "bring your own device" policies
Continuously monitoring for changes within the network's assets, applications and users
How to Achieve Advanced Endpoint Protection
Choosing the right endpoint protection solution depends on the needs of each organization. That said, there are some core capabilities that are essential in an AEP. Here are some questions to help organizations assess vendors when selecting an advanced endpoint protection tool:
Is the solution immediately operational with no infrastructure setup prior to deployment?
Can the solution scale seamlessly as endpoints and events are added without requiring significant intervention from the IT team?
Does the solution impact endpoint or network performance? How are the endpoints impacted when searches are performed and when events are collected?
Can the advanced endpoint protection tool analyze data at a speed and volume that provide fast and accurate results?
Does the solution require additional hardware and software to implement?
How many events per second can the cloud infrastructure handle?