CrowdStrike Falcon® Device Control
The world's leading AI-powered platform for unified USB device control
Stop internal threats and minimize external risks from USB devices with one agent.
USB device management is a high-risk balancing act
Threat actors can abuse abundantly available USB devices as an initial threat vector and as a means for data exfiltration. Analysts struggle to manage removable media due to multiple compounding factors that may lead to an incident.
Prevalent and risky
USB devices are ubiquitous — and one study shows 45% of people will plug in a found device1
Limited context and visibility
Analysts are left in the dark to internal and external threat actor data exfiltration actions, increasing organizational risk
Cumbersome to manage
Using device control processes across multiple products and vendors can lead to misconfigurations and risk
Why choose Falcon Device Control?
Mitigate USB device risk
Gain the insights and granular control required to enable safe USB device use and protect against both external and internal threats across the organization.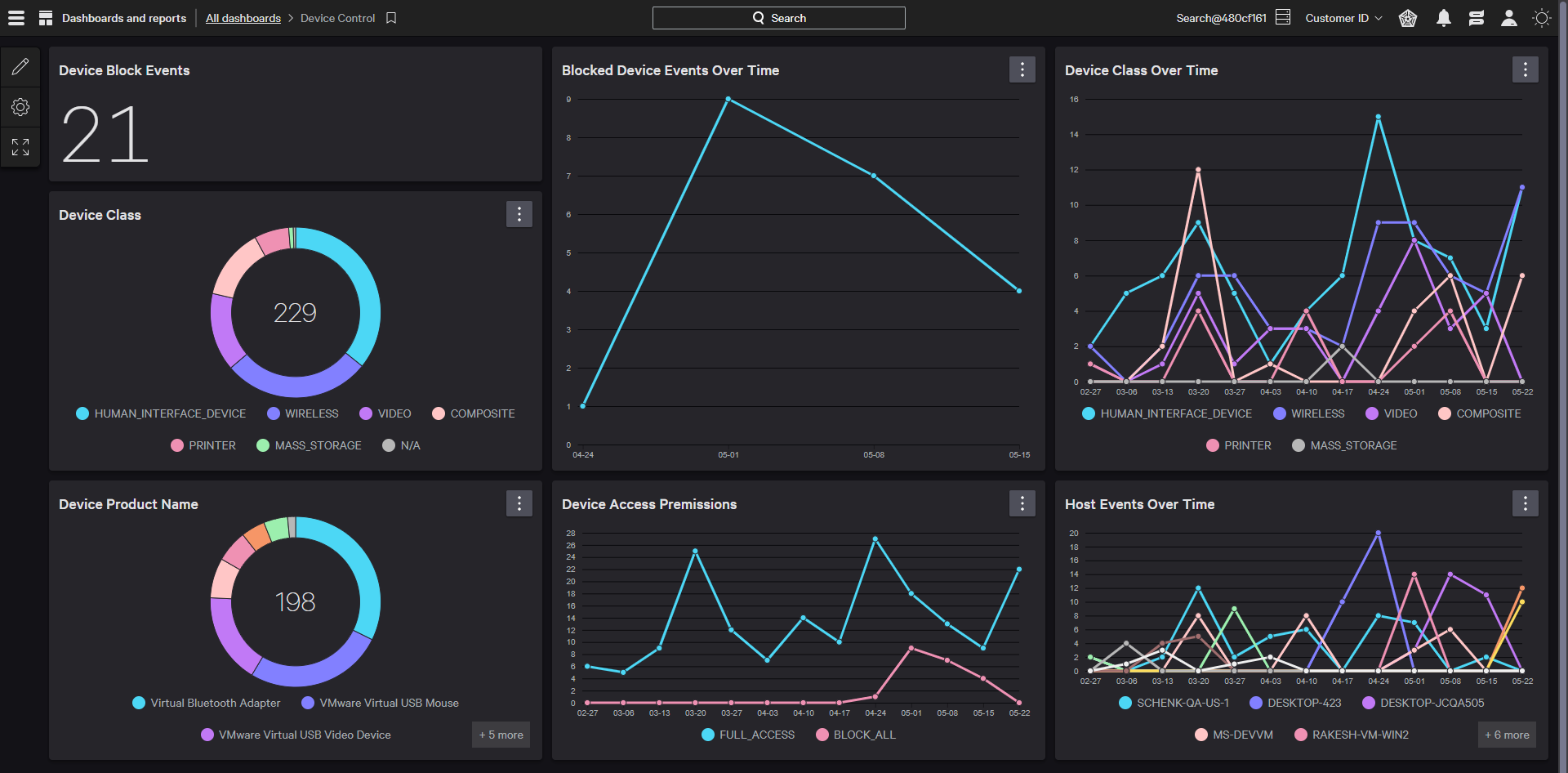 Achieve automatic threat visibility
Enhance visibility of USB device use and activity to monitor, proactively hunt, and investigate data loss incidents through comprehensive user activity context, deep file visibility, and automatic source code identification.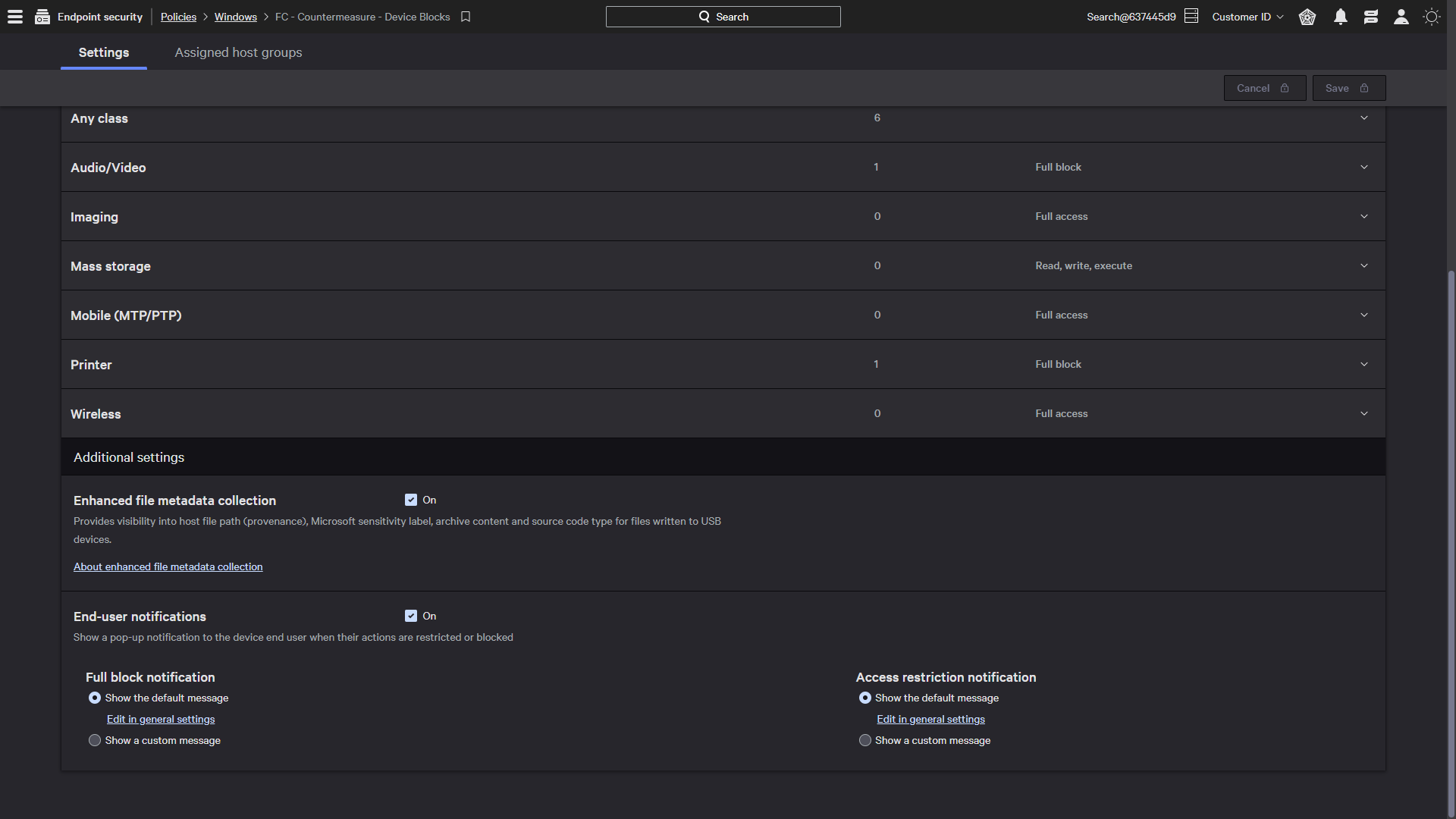 Streamline policy management
Efficiently manage policies through intuitive dashboards, without the need for additional endpoint agents, software, or hardware to manage.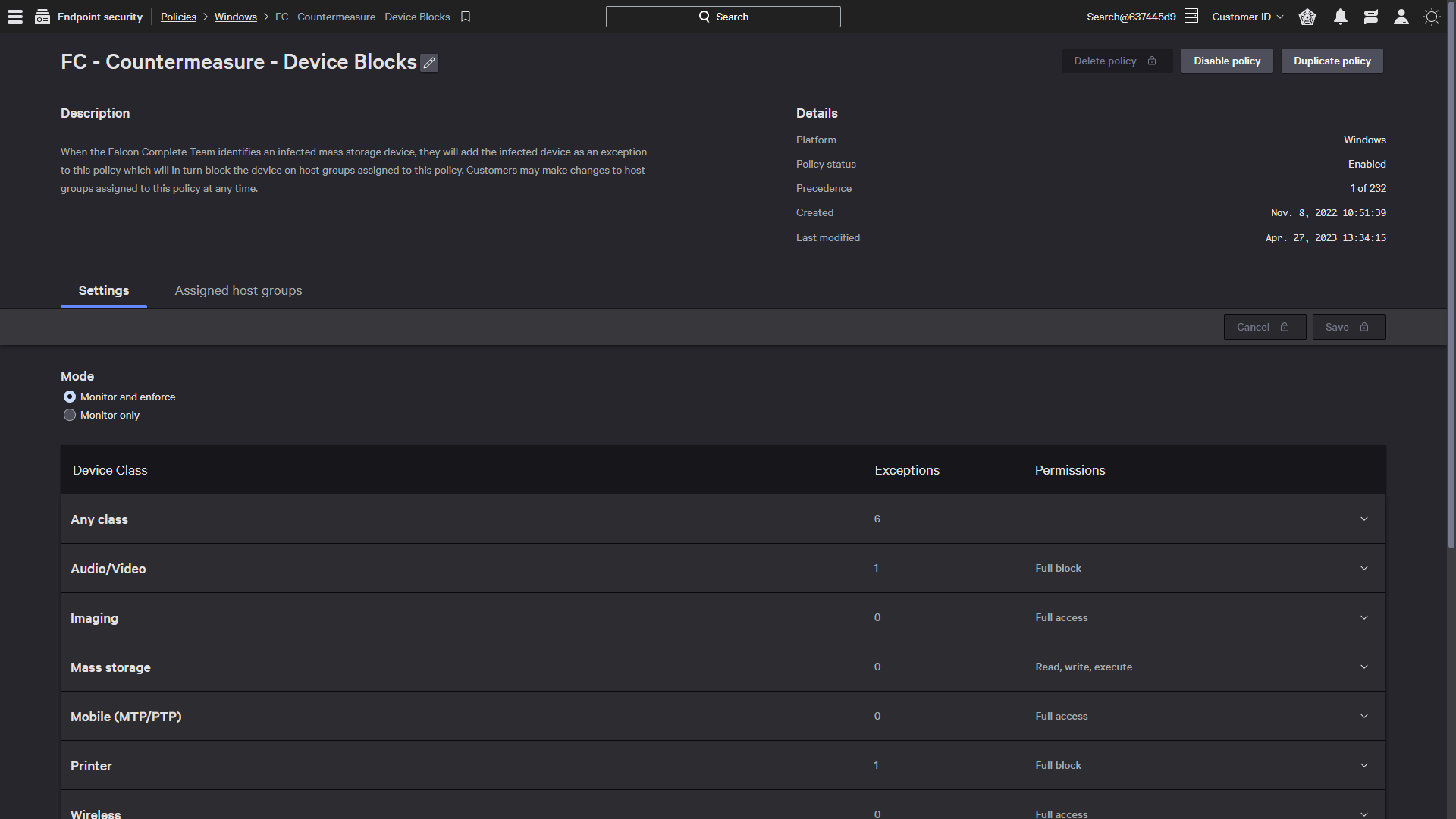 Key outcomes: impact quantified
100%
Cloud-delivered device control
40+
Number of source code languages for USB data loss ML detections
1
One agent, one console, and one platform
Falcon Device Control features
Effortless visibility
Gain comprehensive USB file metadata visibility and activity context to help identify data loss and exfiltration activities. Analysts can hunt and investigate with detailed user and device information along with comprehensive file provenance, ZIP archive introspection, Microsoft sensitivity labels, data type, and volume being transferred.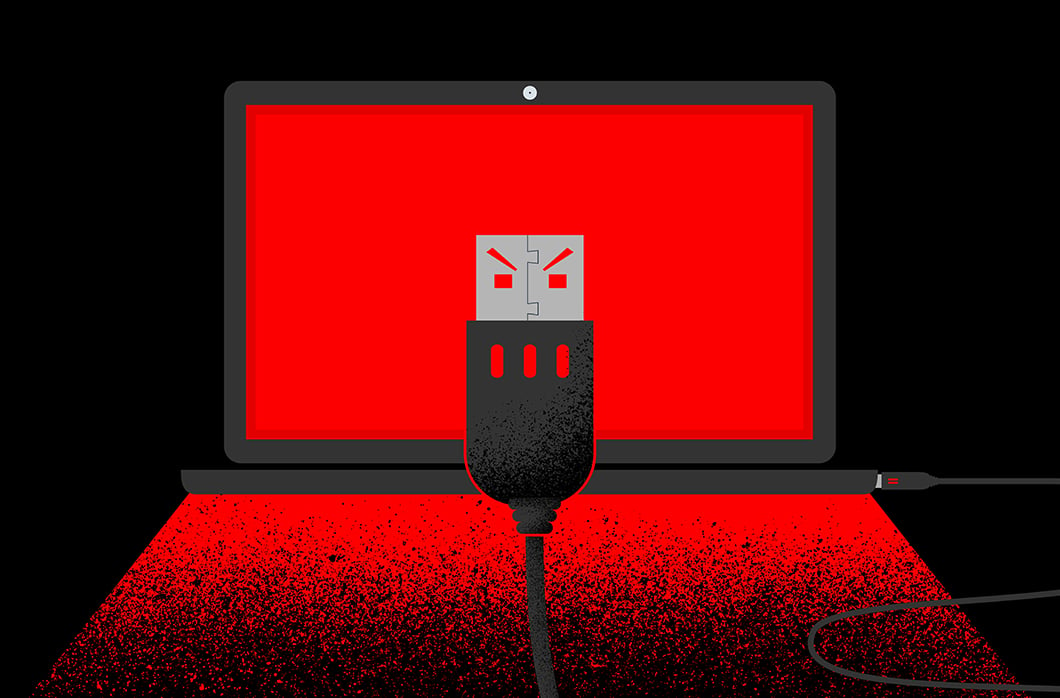 Source code identification
Detect USB device source code movement and exfiltration incidents using industry-leading machine learning across over 40+ source code languages.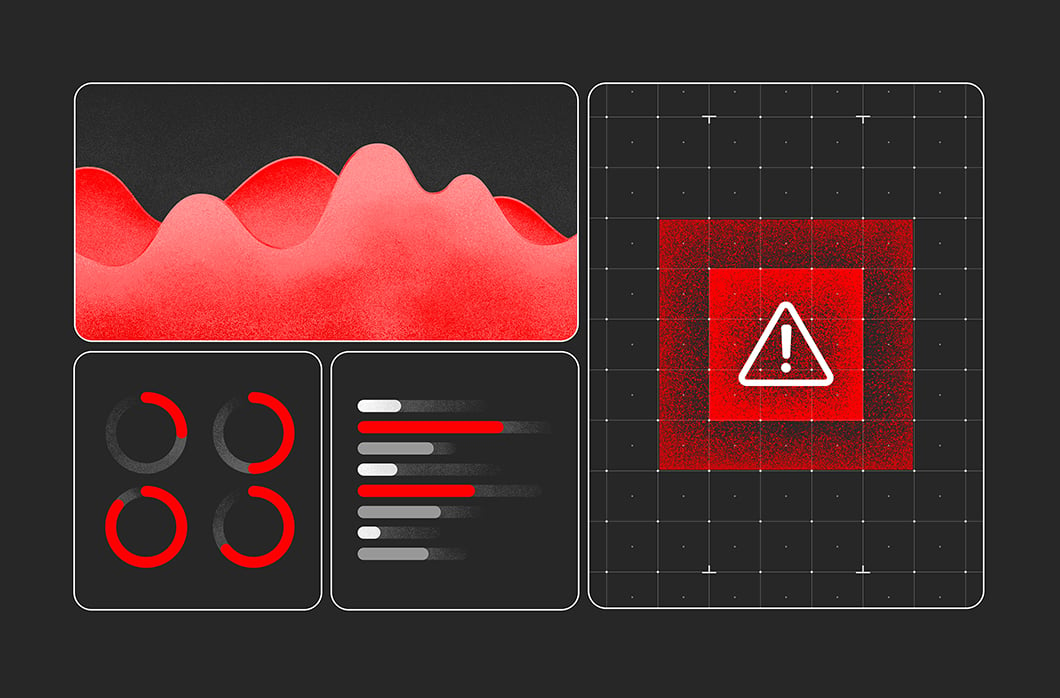 Precise and granular control
Implement granular access rights to ensure that only approved external USB devices are used in your estate. Simplified policy workflows accelerate creation and allow analysts to test policy impacts prior to enforcement, eliminating potential disruption.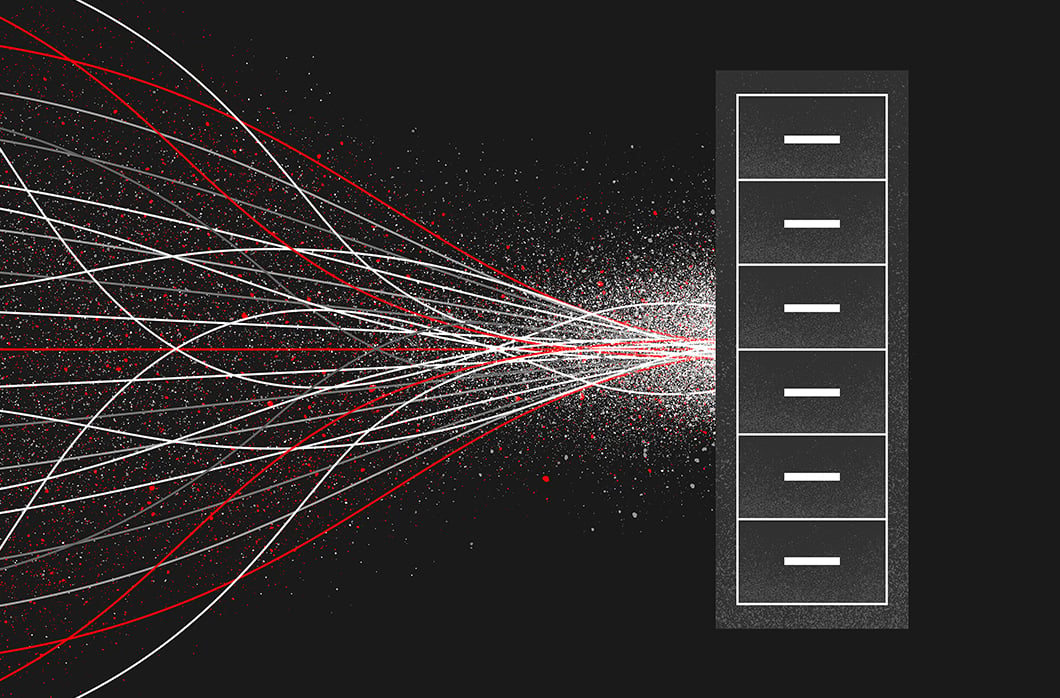 Customers trust CrowdStrike