Services Retainer
A CrowdStrike Services Retainer is designed to ensure an organization is prepared to react quickly and effectively to a cybersecurity incident and also benefit from proactive services.
The Challenge
The reality is that your organization is likely to encounter a cyber incident at some point. Your ability to react and respond can be impacted by:
Lack of Preparation
Organizations often don't prepare in advance, failing to ensure they can call upon incident response (IR) services from a trusted provider. Terms and conditions covering a service-level agreement and hourly rates are not negotiated in advance, which undermines the ability to respond and mitigate the impact of an attack.
Reactive Approach
Many organizations focus only on making preparations to help them 'react' to an incident, failing to see that proactive services can help them improve their cyber security posture. They need to have access to a comprehensive range of proactive services that can help them be more resilient and proactive in dealing with threats and attacks.
Lack of Value
Far too often retainers feel like lost money to an organization. The eventuality they cover doesn't happen and they see no value in their proactive commitment. What is missing is the flexibility that allows them to pick and choose what makes sense for the organization as they work to improve and mature their security posture.
The
Benefits

of a Services Retainer
Faster Response
Pre-negotiated terms and conditions help reduce the response time to an incident
Prepared in Advance
Agreed-on service levels in the event of a suspected incident give you confidence
Tailored to You
Flexibility in retainer offerings allow tailoring suited to different needs and budgets
More Than Just IR
Access to a full range of proactive services that will improve security posture
What CrowdStrike Delivers
There is a broad range of retainer options: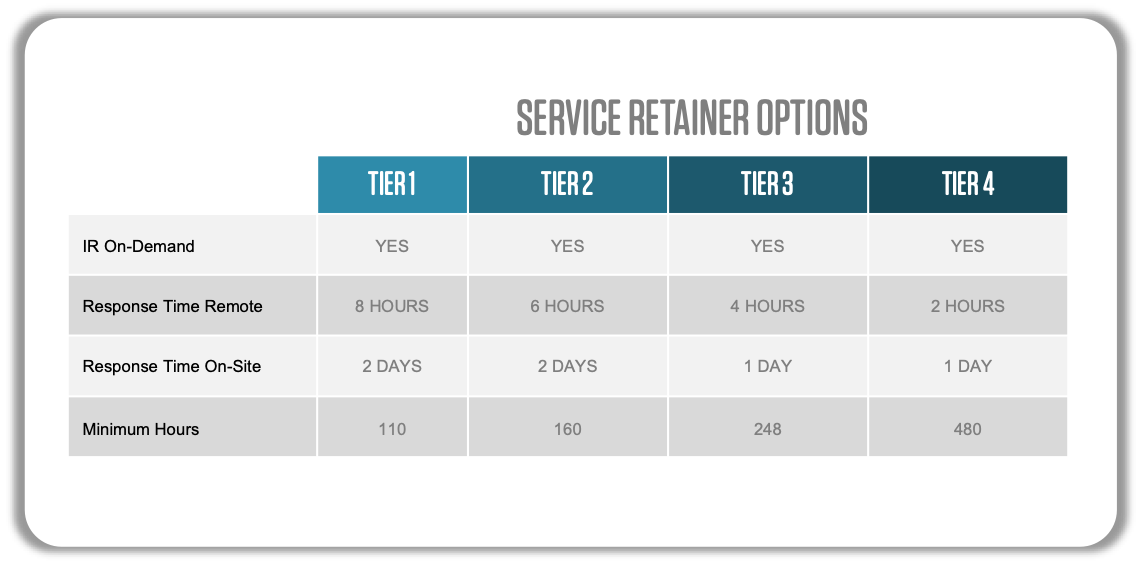 These retainer options ensure you are prepared to react quickly and effectively to a cybersecurity giving you flexibility over:
Response Time
You can choose and select the response time that you feel matches the resources and capabilities of your organization and budget.
Financial Commitment
You have the flexibility to select a retainer fitting your budget and needs — commitment to more hours will result in lower hourly rates.
Range of Services
Prioritized access to IR services and an extensive range of proactive services ensures you are always best prepared and you get value from the retainer.