Sneak Peek: CrowdStrike at RSA Conference 2021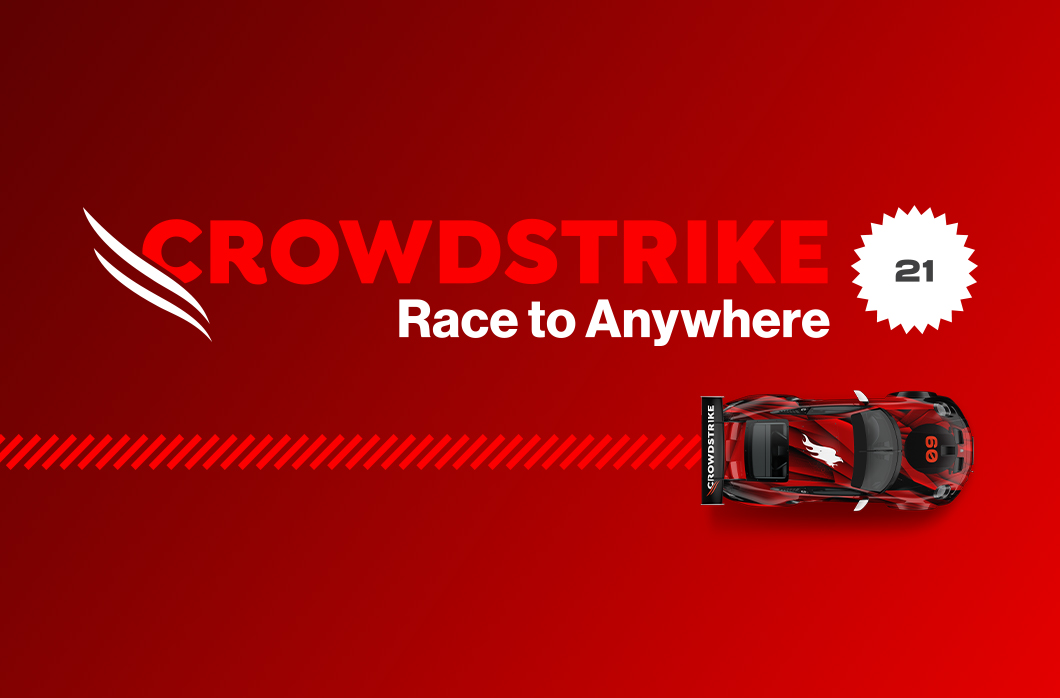 RSA Conference 2021 is right around the bend, and we're revving our engines for an action-packed virtual event. We'll be rolling out new capabilities and hitting on a range of hot topics, from Zero Trust to ransomware readiness to modern security workflows, and the ever-expanding CrowdStrike Store ecosystem — plus you'll have plenty of opportunities to engage with CrowdStrike experts, participate in Falcon Encounters and watch Falcon demos. Drop by our virtual booth for deep dives into our technologies and more details about our announcements, and start your engine for our "Race to Anywhere" online simulation game.
This year's theme is "Resilience." Being resilient requires strength, ingenuity, a willingness to adapt, evolve and overcome adversity — attributes that enable CrowdStrike to stay ahead in our ongoing fight against cybersecurity threats. During the global pandemic, the cloud-native Falcon platform empowered our customers to support a remote workforce and, in many cases, transform their security operations. Companies worldwide could adapt and even reinvent themselves, knowing their staff could work from anywhere and be protected by the strength of the CrowdStrike security cloud.
At CrowdStrike, we're driven to find new ways to foil adversaries, strengthen resiliency and stop breaches. We encourage you to join us at RSA Conference 2021 to learn about our latest innovations, and gain insights into how cybersecurity is evolving and advancing in the work-from-anywhere world. 
Still need to register? Do it now with code 54SCRDSTRKDE. 
Insights From the Forefront of Cybersecurity
Don't miss these eye-opening sessions with CrowdStrike executives and experts who are leading the race.
Session/Speaker
Session Description
Date/Time
KEYNOTE SESSION: Hacking Exposed: Next-Generation Tactics, Techniques and Procedures

George Kurtz, Co-Founder and CEO, CrowdStrike
Mike Sentonas, Chief Technology Officer, CrowdStrike

This session highlights the latest trends in next-generation tactics, techniques and procedures from today's cyber adversaries. It covers the increased sophistication seen in ransomware and includes a live demonstration of the "living off the land" techniques that adversaries use to prepare an environment.
Wed., May 19

4:05 p.m. PT

Total Security: Investigative Perspectives from Public to Private Sector 

Shawn Henry, CSO and President of Services, CrowdStrike
CJ Moses, Deputy Chief Information Security Officer, Amazon Web Services
Mary Galligan, Managing Director, Deloitte and former Special Agent in Charge of Cyber and Special Operations, Federal Bureau of Investigation

Hear from three former federal agents who now lead world-renowned cybersecurity investigative teams in the private sector. Learn how their experiences on the front lines of crises in counterintelligence and counterterrorism have formed their viewpoint on "Total Security" practices, including protecting the 360-degree attack surface encompassing virtual, IT, operational and physical security.
Mon., May 17

10:35-11:15 a.m. PT

Ransomware Threat Landscape

Adam Meyers, SVP of Intelligence, CrowdStrike

In 2020, ransomware remained a dominant threat to enterprises across geographic regions and business verticals. This session reviews the ransomware threat landscape of 2020 and assesses what we can expect from threat actors in the coming year.
Wed., May 19

3:00-3:40 p.m. PT

SPONSOR BRIEFING: Modernize Your SOC With CrowdStrike Security Cloud

Amol Kulkarni, Chief Product and Engineering Officer, CrowdStrike
Jim Plush, Distinguished Engineer, CrowdStrike

In an evolving landscape of sophisticated threats and digital transformation initiatives, enterprise SOC teams have an average of one minute to detect an attack, 10 minutes to understand it and one hour to contain it. CrowdStrike enables you to modernize SOC operations and improve productivity by orchestrating and automating complex and repetitive tasks with contextual data insights.
On demand at the CrowdStrike booth
SPONSOR BRIEFING: Frictionless Zero Trust: Top 5 CISO Best Practices 

Kapil Raina, VP of Identity & Zero Trust Marketing, CrowdStrike

This session benefits organizations that are challenged in getting started or developing an evidence-based approach to maturing Zero Trust security — without the friction. We reveal the top five best practices for starting and maturing a frictionless Zero Trust initiative. Using industry-recognized models, we share practical, proven best practices and tools to accelerate your Zero Trust journey.
On demand at the CrowdStrike booth
SPONSOR BRIEFING: Think It, Build It, Secure It With CrowdStrike Cloud Security 

Sowmya Karmali, Director of Product Management, CrowdStrike
Vineet Kumar, Principal Product Manager, CrowdStrike

Stopping breaches in dynamic multi-cloud environments requires a unified platform that is designed to detect modern adversaries and attack patterns. CrowdStrike cloud security avoids a piecemeal approach to security by unifying both cloud security posture management (CSPM) and runtime breach protection for cloud-native workloads (CWPP) in a single platform.
On demand at the CrowdStrike booth
Experience CrowdStrike in Action 
Visit our RSA Conference 2021 booth to engage with exclusive CrowdStrike content and see Falcon technology in action. You'll be able to watch demos of our solutions and products, access and download CrowdStrike assets, and chat with a CrowdStrike cybersecurity expert to gain more insights into our new product and feature announcements. Book a meeting now to connect with CrowdStrike executives and experts — space is limited so submit your request today (see APJ and EMEA for regional meeting requests).
In addition to visiting our virtual booth, you'll be able to test your racing skills in our exciting "Race to Anywhere" online simulation game. Race to qualify for our live virtual Grand Prix-style race around a customized CrowdStrike track — the fastest racers will be invited to participate in the CrowdStrike Cybersecurity Grand Prix, which will include a live broadcast, commentary and interviews. Don't wait — submit your registration request here.
Want to see CrowdStrike in action in your organization? Sign up for a 15-day free trial of CrowdStrike Falcon Prevent™ next-generation antivirus to experience how the Falcon platform helps you stay ahead of today's adversaries. 
Ready, Set, Go!
Mark your calendar for May 17-20 to join us at RSA Conference 2021 — register NOW with code 54SCRDSTRKDE for a complimentary expo-only pass. You'll get an inside look at today's threat landscape and adversaries' next-gen TTPs, and how the CrowdStrike security cloud and Falcon technologies help strengthen cybersecurity resilience for companies of all sizes.
We look forward to seeing you at RSA Conference 2021! 
Additional Resources

Related Content