CrowdStrike Exemplifies the RSA 2018 Theme: "Now Matters"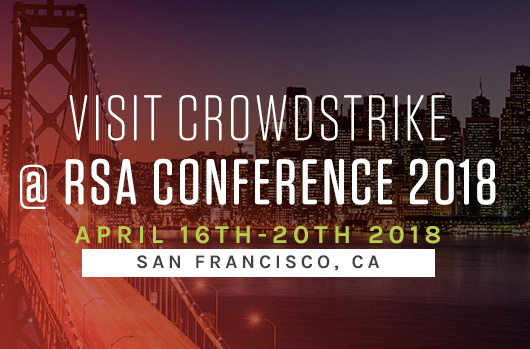 Another year has rushed by and even though RSA moved to April, it hardly seems possible it will be here in less than two weeks time. It has been a challenging year for cybersecurity. Many of the cyberattack trends and developments CrowdStrike® experts observed in 2017 are published in the "CrowdStrike 2018 Global Threat Report." This year, many of these same trends will continue and as the world becomes even more connected, the theme of the RSA conference seems particularly appropriate — "Now Matters." As RSA explained in its blog, "When a threat can impact enterprises across the globe in minutes or hours, solutions for these cyberthreats can't wait for tomorrow."  
CrowdStrike is profoundly committed to this philosophy and it is why we continuously strive to find new and better ways to keep our customers safe. To demonstrate that commitment, we are unveiling several exciting new solutions at RSA 2018, built to ensure your organization stays ahead of today's determined adversaries. This year we will also be telling you about our new, exclusive Free Trial of Falcon Prevent™, the industry's most powerful next-gen antivirus solution. We hope you will visit our booth to learn about our solutions and participate in the activities we have planned — I promise you won't be disappointed. You will also be able to attend some fantastic learning sessions led by world-renowned CrowdStrike leaders, as well as have an opportunity to network with your peers during a variety of fun and informative activities we have lined up.
Put CrowdStrike RSA Sessions on Your Schedule
Some of the world's leading cybersecurity experts work for CrowdStrike and they will be conducting and participating in important sessions again this year — ones you won't want to miss. The following is a list of the sessions and descriptions with links for reserving your seat.
SESSION

DESCRIPTION

Ransomware and Destructive Attacks (Multiple Speakers)
CrowdStrike topic: How to Break Up with Your Extortionist: Tales from the Ransom Front Lines
Speakers:  Eban Kaplan, Principal Consultant, CrowdStrike and Siobhan Gorman, Partner, Brunswick Group
Date/Time: April 16, 2018 | 2:15 – 2:45 PM
Reserve your seat
As their impact increases globally, ransomware and destructive malware attacks continue to plague organizations. This seminar will provide a full day of focus on ransomware and its multifaceted implications across technical, policy, compliance and financial responses.
Cyber War Game: Behind Closed Doors with the National Security Council (Panel)
Moderator: Dmitri Alperovitch, CrowdStrike CTO and Co-founder
Date/Time: April 17, 2018 | 1:00 – 1:45 PM
Reserve your seat
Experts from both the private sector and government will discuss the increasing threat of a cyberattack from a hostile nation and consider what actions the government can and should take if such an attack occurs. Get an insider's view of national-level crisis response during this key session.
Threat Hunting Strategy: How to Catch Bears and Pandas (Panel)
Moderator: Anton Chuvakin, Gartner Research VP & Distinguished Analyst
CrowdStrike Panelist: Dmitri Alperovitch, CTO and Co-founder
Date/Time: April 17, 2018| 3:30 – 4:15 PM
Reserve your seat
Security teams in the private and public sectors are increasingly recognizing the need to actively "hunt" for threats targeting their organizations. A panel of leading experts will discuss their firsthand experiences with various threat hunting models and debate the leading schools of thought as to the most effective use of threat hunting in security operations.
Hacking Exposed: Melting Down Memory
Speakers:  CrowdStrike Co-founders George Kurtz, CEO and Dmitri Alperovitch, CTO
Date/Time: April 18, 2018| 9:15 – 10:00 AM
Reserve your seat
Watch a demonstration of modern-day intrusions, including attacks on Linux, IoT and machine-learning attacks, as well as the relevant countermeasures for detection and response. Also, reprising their appearance again this year —  the must-see Adversary Oscars.
Bringing a Knife to a Gunfight: Are U.S. Cybersecurity Efforts Working? (Panel)
Moderator: John Carlin, Partner and Chair, Global Risk & Crisis Management, Morrison & Foerster
CrowdStrike Panelist:  Shawn Henry, President of CrowdStrike Services and CSO
Date/Time: April 18, 2018| 1:45 – 2:30 PM
Reserve your seat
Hear technology industry leaders and current and former high-ranking DOJ and FBI officials debate the legal and policy implications of allowing organizations to take offensive cyber measures against new and evolving cyberthreats in a groundbreaking session.
Common Infrastructure Exploits in AWS/GCP/Azure Servers and Containers
Speaker:  Alexi Papaleonardos, Principal Consultant, CrowdStrike
Date/Time: April 19, 2018| 3:00 – 3:45 PM
Reserve your seat
IaaS clouds transformed datacenter security architecture, making the cloud more transparently secure. However, this may have resulted in some inaccurate assumptions on the part of security practitioners. This session explores the practical risks incurred from misunderstanding VPC, DNS and more.
Don't Miss These Special Events
CrowdStrike is also hosting several special events you won't want to miss:
We hope you will visit our booth #941 in Moscone South while at RSA and learn about the exciting new solutions we are launching this year. You'll have an opportunity to watch a demo, speak to our experts, and see how CrowdStrike is redefining endpoint protection and defending our customers against today's most sophisticated adversaries.
For more information on CrowdStrike at RSA 2018, visit our site: www.crowdstrike.com/rsa/