CrowdStrike Expands Its Horizons in India with New Innovation and Development Center in Pune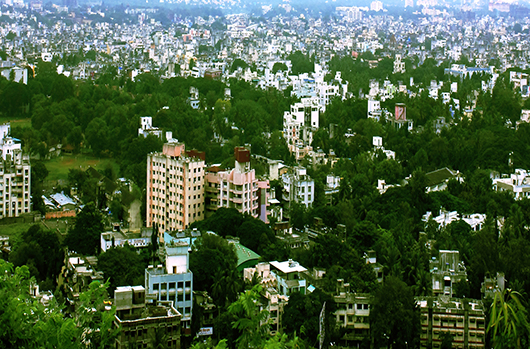 As part of our ongoing initiative to expand CrowdStrike® operations in the Asia Pacific and Japan (APJ) region, I'm excited to tell you about the new CrowdStrike Innovation and Development Center in Pune, India. Pune was chosen as the location for the center because it has grown to become an important technology and economic hub, as well as for its reputation as India's most desirable place to live. In addition, establishing a center there allows CrowdStrike to form partnerships with the excellent universities in the region, and to take advantage of the talent attracted by Pune University and the College of Engineering, Pune, among others. Partnering with these institutions of higher learning will not only benefit CrowdStrike, but can help fulfill a global need for qualified cybersecurity graduates.
The Center's Primary Mission: Innovation in Products and Internal Processes
The new Pune Innovation and Development Center will serve as a focal point for CrowdStrike's engineering, driving research, development and innovation to help support the growing demands of our expanding global footprint.
The Pune Center engineering staff will be focused on multiple areas, beginning with CrowdStrike Falcon Spotlight™, the industry's first scan-less endpoint vulnerability assessment solution. Built on the Falcon platform, it delivers timely, zero-impact assessments of endpoint security posture and provides on-demand access to the results, enabling security teams to make better decisions, faster. The work of our engineers in Pune will be centered on the Spotlight content database and building a center of excellence around this product. Their secondary focus will be on the Falcon platform's Linux and Mac sensor, and developing Falcon Prevent™ and Falcon Insight™ features to enhance performance and drive quality. Pune engineers will also be concentrating on validation and sample collection to enhance our machine learning technology, which is a crucial component of the Falcon platform's behavioral analytics capabilities. Going forward, we are looking at proactive malware research being driven from Pune. These vital contributions are going to help CrowdStrike maintain the unmatched efficacy of our endpoint protection technology, as well as contribute to the ongoing expansion of the CrowdStrike Falcon® platform.
Other CrowdStrike Services in Pune
Although the Pune Center's primary mission focuses on engineering innovation and development, the center also houses a large contingent of CrowdStrike's rapidly expanding finance and sales departments. The Pune Finance Group will process a wide range of transactions and assist the global CrowdStrike Finance Department with worldwide tax and compliance efforts. As with engineering, Pune is an outstanding location for accounting and finance talent, given the presence of local universities and the number of chartered accountants available in the area. The sales team in Pune supports CrowdStrike's efforts to provide next-gen cybersecurity to organizations throughout India.
CrowdStrike Foundation Activities in Pune
As part of the commitment to cybersecurity education led by the CrowdStrike Foundation, a 501(c)(3) nonprofit organization created by CrowdStrike, we will be engaging engineering students from The College of Engineering, Pune, and other universities cited above, to work and learn as interns at the new center, alongside our experienced engineering staff.
This educational initiative is particularly near and dear to my heart, as I spent from 10th grade through college in Pune and have very fond memories of my time there. In fact, the College of Engineering, Pune, is my alma mater, so it is especially rewarding to be able to contribute back to the community. When I graduated and started working in India in the '90s, a key problem was the lack of cutting-edge work in product development. Although that situation has improved significantly, India still lags behind in being able to offer challenging projects that talented engineering graduates can participate in. CrowdStrike is addressing this problem by offering deserving students an opportunity to work with the industry's leading cybersecurity technology and learn from some of India's foremost engineers who will staff the center.
Pune Center employees have also been participating in CrowdStrike Foundation outreach efforts in the community, and recently partnered with the Society for Door Step Schools, which brings education and support to underserved children in Pune. The group from CrowdStrike visited two of the schools, spending time with the children on educational games, serving them lunch and helping them with their studies.
A New Managing Director for Southeast Asia
I also want to highlight that Jagdish Mahapatra has joined CrowdStrike as managing director, Asia, and will be located in our Singapore office. His hiring illustrates our continued goal to not only expand globally but also our commitment to hiring the best talent in the world. Jagdish comes to CrowdStrike with a long and successful track record in the cybersecurity industry, including as director of McAfee India and the South Asian Association for Regional Cooperation (SAARC), where he was instrumental in building their strong partner and alliance ecosystem. His talent at forging successful partnerships is an invaluable asset for CrowdStrike as we strive to expand into new markets in the APJ region.
We have also hired experienced talent to manage the day-to-day business in our new Pune Center, including Jhilmil Kochar, who is managing director for the CrowdStrike Innovation and Development Center and leads the Pune Engineering Group, and Ajay Nag, who serves as senior director of the Pune Finance Group.
Symposium With The College of Engineering, Pune
As part of our partnership with the College of Engineering, Pune, CrowdStrike is sponsoring a symposium at the Pune Innovation and Development Center, to be held during the third quarter of this year. This event will feature keynote speakers, learning sessions and other activities that will give students and professors an opportunity to meet with CrowdStrike engineers for vital discussions and networking around today's critical cybersecurity issues.
Additional Resources
Read the press release on the CrowdStrike Pune Innovation and Development Center.
Learn more about the CrowdStrike Foundation.
Learn more about the CrowdStrike Falcon platform.
Get a full-featured free trial of CrowdStrike Falcon Prevent™ and learn how true next-gen AV performs against today's most sophisticated threats.