CrowdStrike Named an Overall Leader in 2022 KuppingerCole Leadership Compass for EPDR Market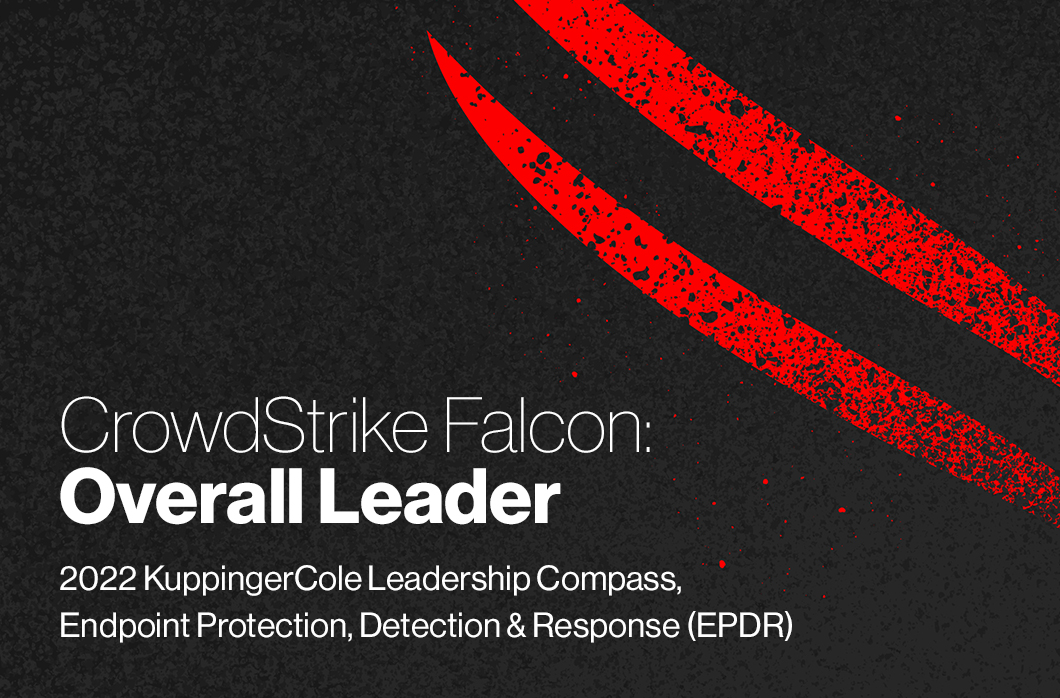 CrowdStrike is proud to announce its recognition as an Overall Leader with the highest rating in the 2022 KuppingerCole Leadership Compass for vendors in the Endpoint Protection, Detection & Response (EPDR) market. The Overall Leadership ranking provides a combined view of ratings across Product, Innovation and Market Leadership categories.  
Our acknowledgement as an Overall Leader in this report underscores CrowdStrike's continued leadership in EPDR and commitment to EPDR innovation. This leadership in the EPDR market makes CrowdStrike well-positioned to lead the emerging market of extended detection and response (XDR), which according to KuppingerCole must encompass aspects of endpoint, network and cloud. 
In this EPDR report, KuppingerCole Analysts AG covers trends influencing the EPDR market and essential capabilities required of solutions in this space, as well as how solutions from 12 different security vendors meet KuppingerCole's expectations. This marks the first time CrowdStrike has participated in this analyst report, and our results are a testament to the strength of our technology and continued innovation in a competitive EPDR market segment.
CrowdStrike earned "strong positive" ratings across categories including Innovativeness, Market Position, Financial Strength, Security, Functionality, Interoperability and Usability. 
In listing CrowdStrike's strengths, KuppingerCole highlights the strength of the CrowdStrike Falcon®® platform's fully cloud-native management, comprehensive management services, the use of advanced deep learning detection algorithms, options for identity threat detection and prevention, many connectors for IT management and security tools integration, and having all major security certifications as well as detection model updates that don't require reboot. 
The report also points to CrowdStrike's "excellent, customizable investigation and threat hunting interface." The analyst interface "is its forte," says KuppingerCole of the Falcon platform, noting that the Falcon console is "intuitively laid out and yet customizable for each user if needed."
CrowdStrike's Falcon technology streams all endpoint activity to the platform so security teams can quickly address our AI-prioritized alerts and proactively hunt for new threats. Human skill and expertise are a critical force multiplier essential to stopping the hands-on-keyboard and living-off-the-land tactics that modern adversaries rely on to evade the detection capabilities of autonomous-only solutions. CrowdStrike's platform is built to help security teams address security threats as they continue to evolve.
A Leader Across All Categories
CrowdStrike is recognized as an Overall Leader across Product Leadership, Innovation Leadership and Market Leadership. 
Product Leadership: CrowdStrike's Falcon platform takes a top spot in this category, in which analysts examine the functional strength and completeness of services offered. We are recognized as a leader in the field with technology that is both "comprehensive and advanced" in terms of its protective capabilities, the report states. 
Innovation Leadership: KuppingerCole calls this a core capability in all IT market segments. Innovation is not an ongoing flow of new releases, according to the report, but a customer-oriented approach that delivers on customer requests and produces cutting-edge new features compatible with earlier versions. CrowdStrike is a leader in EPDR innovation, which KuppingerCole defines as the use of advanced malware identification technologies and deep learning detection models, intuitive interfaces for investigation, ability to construct playbooks for remediation, workflow and case management, and integration with customers' security architecture. 
Market Leadership: The EPDR market is large — as the report notes,  in today's threat landscape all servers, desktops, laptops, tablets and phones need EPDR technology. Market leadership is determined by several metrics including numbers of SMB and enterprise customers, the numbers of protected endpoints, geographic distribution of customers and partners, and the vendor's overall financial position. CrowdStrike is named a "Market Champion" as our product strength closely correlates with our market position.
"The Falcon console is easy to understand and use, which makes it suitable for both highly experienced threat hunters and junior SOC analysts. CrowdStrike also has identity threat detection and prevention tools for the endpoint. Many connectors are available on the CrowdStrike Store to integrate with existing customer infrastructure. Organizations interested in a cloud-hosted endpoint security solution with deep investigative capabilities and an emphasis on automation will want to put CrowdStrike Falcon® on their shortlist for EPDR." — The 2022 KuppingerCole Leadership Compass for EPDR
Building a Future in XDR
While this report focuses on the strengths of EPDR solutions and leaders, it also recognizes XDR as an emerging category of security tech.  
CrowdStrike believes that to be a leader in XDR, you must first be a leader in EDR. EDR solutions with rich endpoint data are often the go-to resource for incident responders as they offer a wealth of valuable insight. When paired with additional non-endpoint data in an XDR solution, endpoint data provides the context needed to surface sophisticated attacks that cross domains and hide between the gaps of siloed security solutions. CrowdStrike's leadership in EPDR is why we are well-positioned to drive innovation and lead the XDR market forward. CrowdStrike provides customers with the strongest foundation on which to build XDR strategies. 
Additional Resources
Related Content