CrowdStrike Wins Technology Innovation Leadership Award, Continues Dominance in Endpoint Security Market
"CrowdStrike leads the industry with regards to the application of artificial intelligence/machine learning to endpoint security, as well as providing unparalleled prevention of malware and malware-free attacks on and off the network." — Frost & Sullivan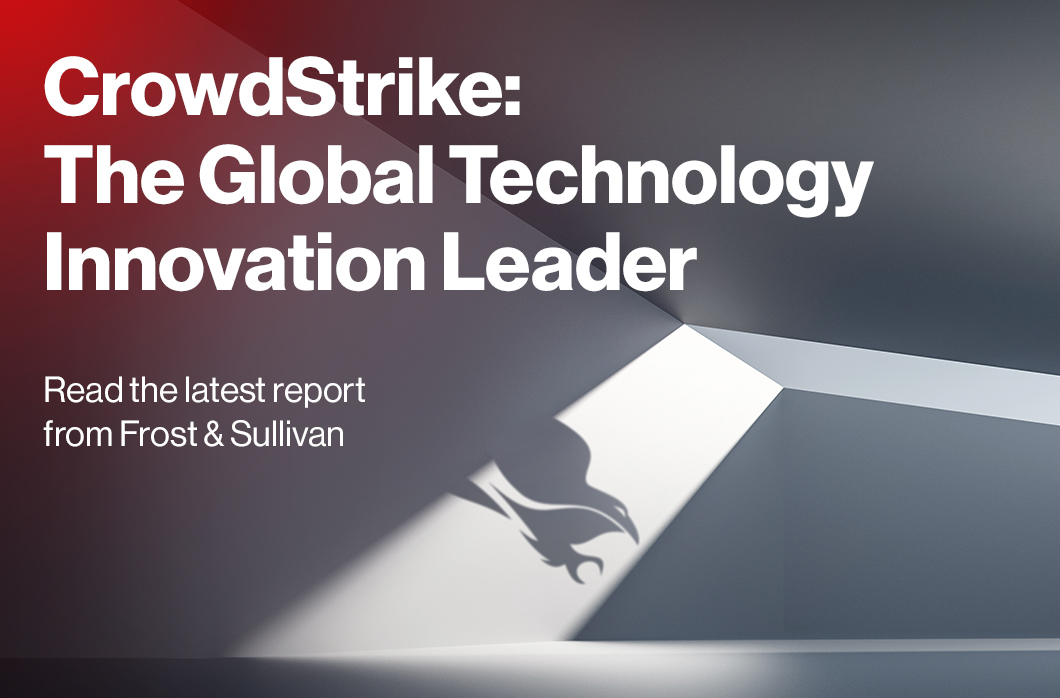 CrowdStrike is proud to receive Frost & Sullivan's 2022 Global Technology Innovation Leadership Award in the endpoint security sector. This recognition reflects CrowdStrike's continued investment to drive innovation and deliver more value to its customers through its industry-leading Falcon platform.
The global shift to remote work has driven a tremendous increase in internet traffic, the number and diversity of endpoint devices, and adoption of BYOD (bring your own device) programs — all of which have contributed to the evolving complexity of endpoint security. Modern security tools must be able to defend against a vast spectrum of threats, from high-volume commodity cyberattacks to more sophisticated, targeted and evasive ones.
At CrowdStrike, our mission is stopping breaches, and we built the cloud-native CrowdStrike Falcon® platform to deliver the most advanced, holistic capabilities to defend the entire enterprise. Foundational to our platform are our industry-leading endpoint protection capabilities that span next-generation antivirus (NGAV), endpoint detection and response (EDR), extended detection and response (XDR), integrated threat intelligence, device control and firewall management — all delivered from a unified platform through a single lightweight, intelligent agent. In fact, more than 70% of CrowdStrike's customers use four or more modules, underscoring the strength of this unified platform approach.
"CrowdStrike continues to evolve and refine its endpoint security solution to stay ahead of adversaries and stop breaches by securing the most critical areas at risk of compromise."

— Frost & Sullivan, 2022 Technology Innovation Leader, Global Endpoint Security Industry
Building the Future of Enterprise Security
Stopping the most advanced adversaries requires relentless innovation. From Day One, CrowdStrike has worked to develop new innovations and defensive techniques to stay one step ahead of the adversaries. For example, our Falcon agent achieves low performance overhead by running detection technologies — including artificial intelligence and machine learning — both on the agent and in the cloud, without interfering with the user experience. CrowdStrike's approach appeals to the growing number of CISOs who seek reduced agent bloat, improved protection and productivity, and stronger interoperability between the security products they use.
Innovations such as these, combined with CrowdStrike's strong overall performance, have earned Frost & Sullivan's recognition as an industry leader in endpoint protection:
"CrowdStrike leads the industry with regards to the application of artificial intelligence/machine learning to endpoint security, as well as providing unparalleled prevention of malware and malware-free attacks on and off the network."

— Frost & Sullivan, 2022 Technology Innovation Leader, Global Endpoint Security Industry
While endpoint security is crucial, it's one of many core capabilities available in the Falcon platform. Today's forwarding-looking organizations must take a unified approach to detect and prevent attacks across endpoints, cloud workloads, identity and data. Our platform's capabilities extend beyond the endpoint to include cloud security, identity protection, vulnerability management, security hygiene, threat intelligence, file integrity monitoring, observability and log management, and native security orchestration automation and response (SOAR). CrowdStrike leads the industry in delivering tightly integrated, complementary capabilities, in contrast to traditional approaches that require multiple point products and interfaces to access critical information.
An Industry-Leading Innovator
CrowdStrike quickly established itself as an endpoint security leader and continues to set the industry standard with continuous innovation and immense growth. We are privileged that more and more customers trust us to stop breaches. This success is the result of our best-in-class technology, relentless focus on driving the next stage of cybersecurity innovation, and human-led expertise, all combined with tight integrations across our platform.
In the last five years, CrowdStrike has achieved the highest growth rate across the global endpoint security industry; since 2018, we have recorded market share gains each year. The customer base has substantially grown in the United States and expanded into EMEA, Latin America and APAC as well. In the years to come, CrowdStrike strives to continue supporting organizations as they seek to strengthen their defenses against advanced security threats.
"Frost & Sullivan applauds CrowdStrike for establishing a rapidly strengthening position in the Endpoint Security market," the report states. "CrowdStrike's endpoint security solutions have had the highest growth rate over the last five years among global endpoint vendors, produced market share gains each year since 2018, and the highest three-year CAGR among the top ten endpoint vendors in a very crowded and competitive industry that demands continuous innovation."
CrowdStrike continues to be the preeminent security leader across critical areas of enterprise security, as evidenced in the following achievements, awards and analyst recognitions:
Additional Resources
Related Content