CrowdStrike "Dominates" in Endpoint Detection and Response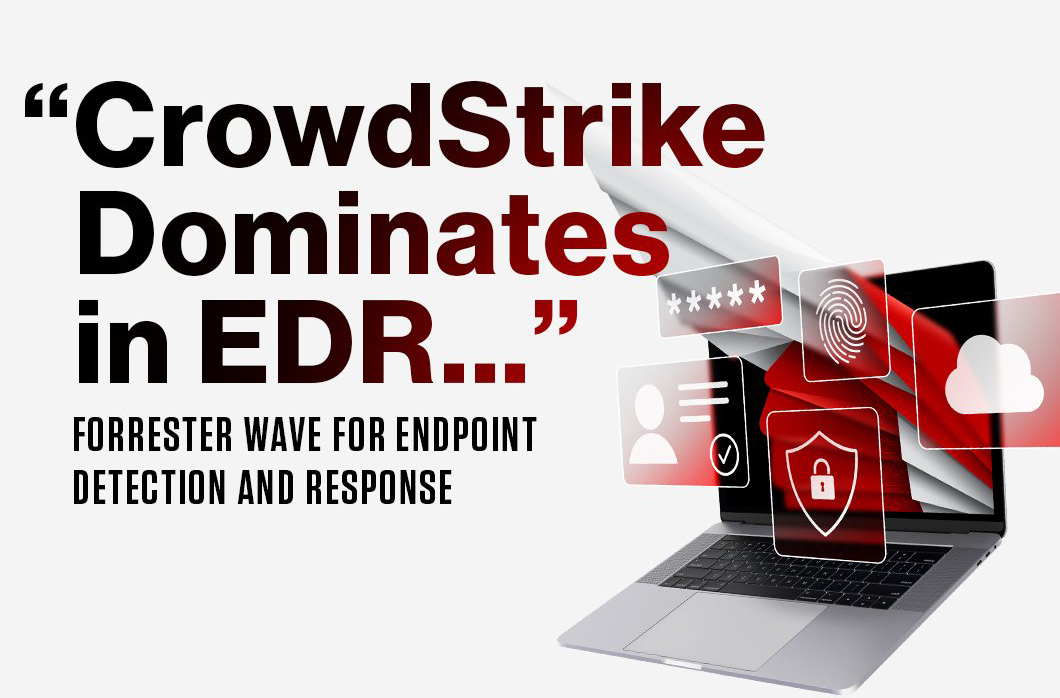 "CrowdStrike dominates in EDR while building its future in XDR and Zero Trust." — The Forrester Wave™: Endpoint Detection and Response Providers, Q2 2022
We are excited that Forrester has named CrowdStrike a "Leader" in The Forrester Wave™: Endpoint Detection and Response (EDR) Providers, Q2 2022 and recognized us as dominating in EDR while building our future in extended detection and response (XDR) and Zero Trust. We believe that to be a leader in XDR, you must first be a leader in EDR, which is why we are well-positioned to drive innovation and lead the XDR market forward. 
We believe endpoint security is the most critical aspect of the security stack, the foundation of XDR, and the core of a strong Zero Trust security strategy where workloads, identities and data must be protected. Think about how the endpoint has evolved: today's employees authenticate via the endpoint; they use the endpoint to access cloud applications. Data flows through the endpoint. As the endpoint evolves as a centralized area of enterprise risk, technology to protect it must evolve as well.
While XDR is the future of enterprise security, EDR continues to be an acute pain point most security teams grapple with today. Forrester states there are still meaningful gains to be made in EDR — specifically in features that improve analyst workflow while prioritizing resilience and providing customization for investigation, response and threat hunting. Many organizations are still looking for a robust EDR offering that has a feature set for an enterprise environment, according to the report.
For customers that want to adopt XDR, this is important as XDR must start with EDR technology and build upon that foundation.
The Forrester Wave evaluated the 15 most significant EDR vendors based on 20 criteria. CrowdStrike was named a "Leader" and received the highest possible score in 15 of the 20 total criteria. We believe CrowdStrike's recognition as a leader in this Forrester Wave further validates our vision and execution in the market. We continue to demonstrate industry-leading innovation in endpoint security while simultaneously building toward a future that breaks down security silos and embraces new tiers of protection through offerings like XDR, cloud security, identity protection and Zero Trust.
CrowdStrike Stands Out Where It Matters Most
In this report, Forrester advises security and risk buyers on how to approach today's EDR market and which features and capabilities deserve more of their attention. These areas also map to where CrowdStrike received the highest possible scores:
Meaningful contextualization for analyst functions:

Forrester recommends security buyers prioritize EDR solutions that improve the user experience through streamlined telemetry context, intuitive event linking, and dynamic risk scoring. CrowdStrike received the highest possible scores in the related criteria of Endpoint Telemetry, Detection Capabilities, Investigation Capabilities and Threat Hunting Capabilities.

Flexible response orchestration and automation:

In its report, Forrester says security buyers should "select an EDR provider that not only allows for orchestration and automation for response, but also builds it seamlessly into the analyst workflow…" With our security orchestration, automation and response (SOAR) framework,

Falcon Fusion

, CrowdStrike delivers a streamlined experience for EDR response workflows — with the highest scores possible in the Response Capabilities and User Experience criteria.

A strong and differentiated product vision. When it comes to choosing the right EDR solution, Forrester states "Having a clear product vision is vital…" and recommends that security buyers "…shortlist vendors that have a defined, scoped vision…" Again, CrowdStrike received the highest possible scores in the Product Vision, Planned Enhancements and Innovation Road Map criteria.
CrowdStrike Drives Faster Detection and Response
CrowdStrike pioneered the concept of EDR and changed the way security was delivered with our lightweight agent and cloud-native architecture. The CrowdStrike Falcon® platform is built to protect the modern enterprise and harness massive amounts of data needed to effectively detect and respond to advanced attacks and stop breaches. The platform continuously monitors all endpoint activity and analyzes data in real time to automatically identify malicious activity and prevent advanced threats as they happen, unlike the batch processing approach of many competing solutions.
"CrowdStrike is best suited for those that want a powerful EDR tool with a plethora of high-quality threat intelligence seamlessly integrated into the offering," Forrester writes in its report. "It is also a good fit for security teams looking to outsource some capabilities through managed services."
With the Falcon platform, all endpoint activity is streamed to the platform so security teams can quickly respond to our AI-prioritized alerts and proactively hunt for new threats. Human skill and expertise are a critical force multiplier that is essential for stopping hands-on-keyboard and living-off-the-land techniques that modern adversaries employ to evade the detection capabilities of simple autonomous-only solutions.
These innovations are essential to defend against attackers who are becoming more sophisticated and increasingly exploiting compromised credentials and identities to carry out their campaigns. The CrowdStrike 2022 Global Threat Report found that 62% of attacks involve non-malware, hands-on-keyboard activity. These shifts demand stronger security measures, and CrowdStrike is leading the charge in protective technologies.
We believe our recognition as a leader in this report is a testament to our commitment to protecting customers across key areas of risk as the endpoint remains a top adversary target. Once adversaries gain access to a target device, they can move throughout the organization to access high-value assets and conduct malicious activity such as stealing data or intellectual property. Data is a high-value target: CrowdStrike Intelligence observed an 82% increase in ransomware-related data leaks in 2021.
CrowdStrike's Industry-leading EDR: The Strongest Foundation for XDR
As Forrester stated in a previous report on XDR, "Good XDR lives and dies by the foundation of good EDR." Today's report shows, in our opinion, that CrowdStrike provides customers with the strongest foundation on which to build their XDR strategies.
"Its strategy stays true to its DNA as an endpoint-first security tool while methodically expanding into XDR and embracing Zero Trust," Forrester writes in the latest Forrester Wave for EDR. "Its roadmap follows this trend, continuing to prioritize feature enhancements in EDR, prevention capabilities, and an expansion into additional XDR capabilities around identity, data, and third-party ingestion." 
CrowdStrike will continue to drive customer-focused innovations that extend our industry-leading protection to the most critical areas of enterprise risk: endpoints, cloud workloads, user identities and data. Our relentless focus on delivering customer-focused innovation builds on our EDR leadership to provide organizations with the most powerful capabilities including XDR, identity-based security, threat intelligence, cloud security and more, all through a unified cloud-native platform. 
Get your complimentary copy of The Forrester Wave: EDR Providers, Q2 2022.
Thank You, CrowdStrike Customers!
We would like to thank our customers for their continued trust and support. We remain committed, first and foremost, to their success and ensuring they have the strongest, most effective and comprehensive endpoint protection. Reference customers spoke incredibly highly of the support they received through the technical account management program, Forrester states in its report. CrowdStrike wishes to thank its growing base of loyal customers and we look forward to working with you in the years to come.
Additional Resources 
Related Content