What the New AV-Comparatives' Approved Business Security Product Award Means for CrowdStrike Falcon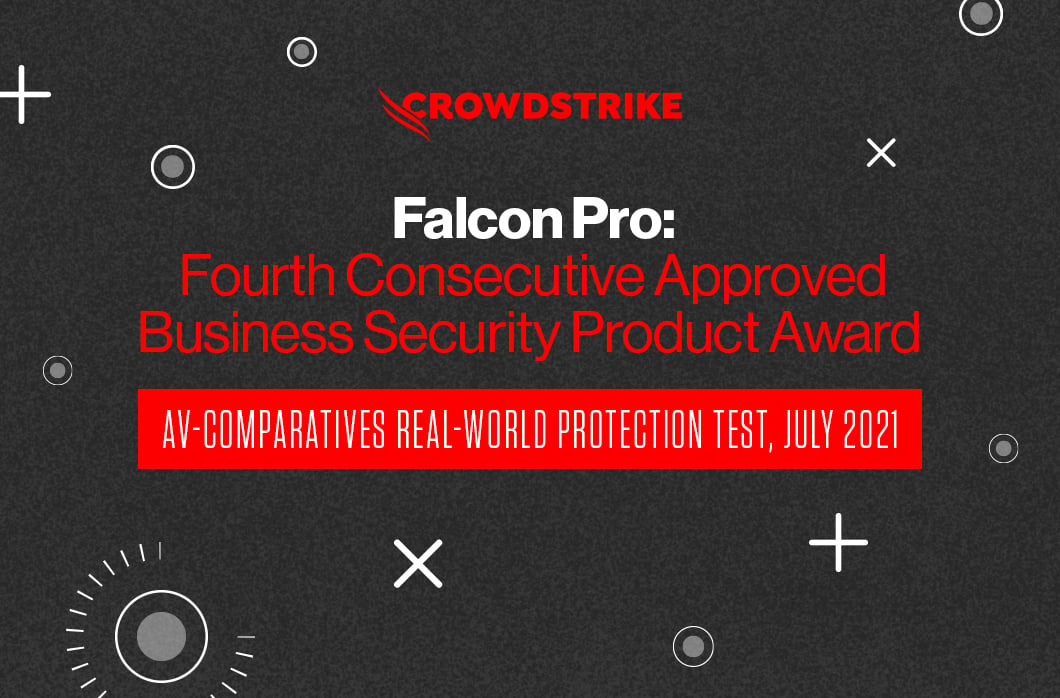 The new award demonstrates the ability of the CrowdStrike Falcon® platform to protect against real-world threats using the power of machine learning and behavioral detection

CrowdStrike is committed to participating in independent tests for full transparency and visibility into how our technologies protect against real-world threats

The Falcon platform achieves public testing parity in protecting businesses from real-world Windows and MacOS malware

Falcon platform testing reveals zero business disruptions caused by false positives on common business software
CrowdStrike Falcon Pro™ won a fourth consecutive AV-Comparatives' Approved Business Security Product award in July 2021, where the Falcon platform achieved 99.5% protection in the Real-World Protection Test. What this means for customers is that the Falcon platform protects them from real-world malware using the power of machine learning, behavioral detection and powerful remediation capabilities against new and unknown malware. 
Mimicking real-world malware attacks that business users might encounter, such as experiencing drive-by downloads from malicious websites to installing malicious software, organizations can turn to the Real-World Protection Test, part of the mid-year Business Main-Test Series of 2021, for guidance into how endpoint security solutions fare against real-world threats.
About AV-Comparatives Testing
The recent mid-year report from independent testing organization AV-Comparatives has three main testing pillars: Real-World Protection Test, Malware Protection Test and Business Performance Test. 
The methodology for the Real-World Malware Protection Test received numerous awards and certifications, such as the Constantinus Award given by the Austrian government. This emphasizes the importance and the quality of the testing scenario. 
This particular test involved 759 test cases (such as malicious URLs), tested from the beginning of March 2021 through the end of June 2021. The test is intended to mimic realistic in-the-wild malware infection scenarios and ascertain the ability of endpoint security solutions to prevent and protect against real-world malware. CrowdStrike Falcon achieved a 99.5% protection rate throughout this testing round, demonstrating both full transparency and visibility into how our technologies protect against real-world threats as well as how machine learning and behavioral detection can make traditional endpoint security technologies obsolete. 
The Malware Protection Test (March 2021) included in the same report also tested the ability of endpoint security solutions to accurately protect systems from malware before, during and even after execution, while also assessing their ability to accurately identify business software. This testing scenario is meant to evaluate the level of accuracy in terms of preventing and blocking malware. Otherwise, potential business disruptions caused by incorrectly tagging legitimate business software as malicious can have a serious impact on organizations, as false positives may trigger automated remediation procedures affecting the performance of the machine and leading to downtime until systems are brought back into production. The Malware Protection test involved the use of 1,008 recent malware samples, and CrowdStrike Falcon achieved a protection rate of 99.8% and zero false positives on business software. 
The Business Performance Test (June 2021) part of the same Business Main-test Series of 2021 is meant to assess the performance impact that endpoint security solutions have on machines. Some of the test cases performed by AV-Comparatives' own testing methodology involve file copying, archiving and unarchiving, installing applications, launching applications, and downloading files and browsing websites, in an effort to determine performance penalties during some of the most common use cases in business environments. CrowdStrike Falcon achieved an AV-C Score of 85, demonstrating minimum performance impact on protected endpoints.
What Makes CrowdStrike Falcon a Winner
This recent Approved Business Security Product award from AV-Comparatives is an acknowledgment of both the power of machine learning (on-sensor and in the cloud) and behavioral detection capabilities when it comes to protecting against real-world threats. 
CrowdStrike previously achieved excellent results in other tests, such as a fourth consecutive Approved Security Product award for Mac and the highest AAA rating in Q1 SE Labs Enterprise Endpoint Protection report. The CrowdStrike Falcon platform has not only established an excellent track record of protecting against real-world malware in public testing but also at protecting enterprise systems regardless of whether they are running Windows or macOS. 
Using both on-sensor and in-the-cloud machine learning, coupled with behavioral detection capabilities based on indicators of attack (IOAs), the CrowdStrike Falcon platform was built from the ground up to protect organizations with industry-leading machine learning efficacy and behavioral detection with IOAs.
Committed to Continued Excellence
Achieving excellent results in tests from leading independent testing organizations — such as AV-Comparatives, MITRE and SE Labs — that focus on assessing detection and protection capabilities against real-world malware is a tribute to how CrowdStrike Falcon leverages the power of machine learning to detect and protect against real-world malware.
The half-year report from AV-Comparatives for the Business Main-Test Series of 2021 contains detailed results for the Business Real-World Protection Test (March-June), Business Malware Protection Test (March), Business Performance Test (June) and Product Reviews.
Additional Resources

Related Content