CrowdStrike Falcon Pro for Mac Wins Fourth AV-Comparatives Approved Security Product Award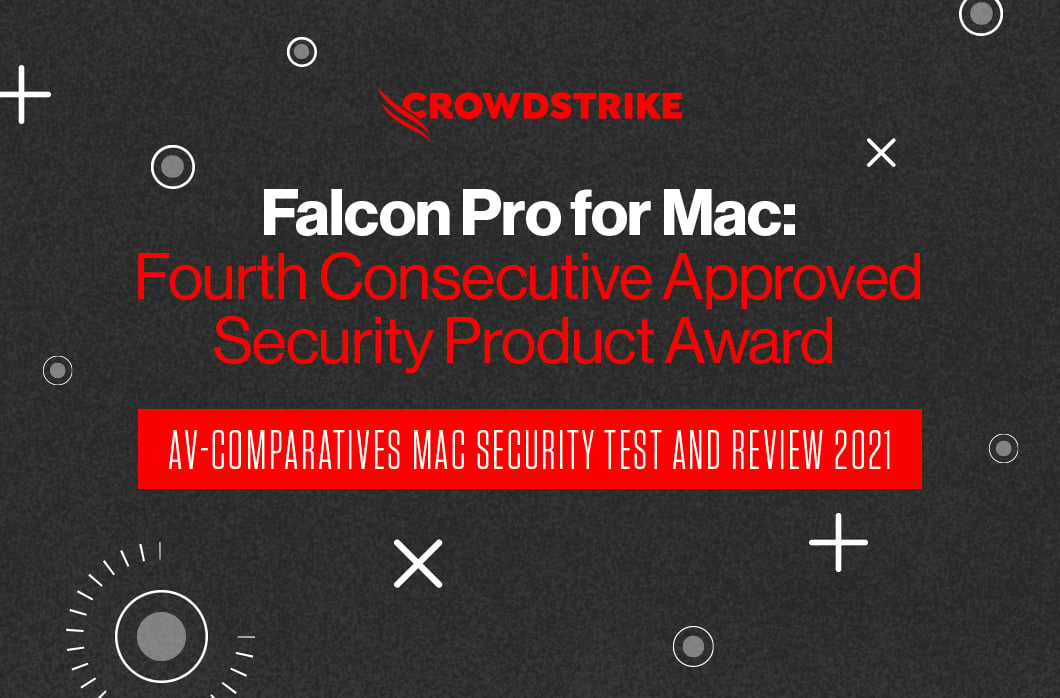 CrowdStrike Falcon Pro™ for Mac recently won a fourth consecutive Approved Security Product award from leading independent testing organization AV-Comparatives, achieving 99.8% Mac malware protection. The AV-Comparatives Mac Security Test and Review 2021 took place in June 2021 and evaluated the efficacy of 10 endpoint security products for Mac when tested against 538 malicious samples.
CrowdStrike telemetry for the past three months also confirms Mac malware to be a rising concern to Mac users, despite mass misconception that macOS is immune to malware. CrowdStrike telemetry shows a 130% increase in Mac malware detections over the past three months (April vs. June 2021) confirming that Mac malware protection tests from leading independent testing organizations, such as AV-Comparatives, further emphasize the increased need for protecting Macs against malware.
What This Award Acknowledges About CrowdStrike
Consistent commitment to delivering award-winning Mac malware protection 

Proven capability in using the power of cloud-based and on-sensor machine learning to accurately detect and block new and unknown malware

Demonstrated proactive out-of-the-box detection and protection against Mac malware 

Accurate CrowdStrike visibility into Mac malware evolution and detection
About the Test
AV-Comparatives is one of the leading third-party independent testing organizations dedicated to testing the efficacy of endpoint security solutions when protecting endpoints against malware. Testing scenarios aim to assess the full breadth of detection and protection capabilities against malware, specifically recent and representativeMac malware for this round of testing, beyond traditional signature-based detection. Malware samples chosen for the AV-Comparatives Malware Protection Test were specifically selected to reflect new families and new variants of true Mac malware seen throughout 2021, each modified to avoid signature-based detection employed by traditional endpoint security solutions.
How Falcon Pro for Mac Performed in Testing
The Falcon sensor for Mac fully leverages the power of machine learning and behavior-based malware detection to offer layered and award-winning protection and remediation against new and unknown malware for Mac. This means it prevents attacks during pre-execution and is effective at stopping new, polymorphic or obfuscated malware, which is often missed by legacy AV solutions. 
Throughout the AV-Comparatives Malware Protection Test, Falcon was able to detect with high sensitivity and accuracy and also quarantine Mac malware as soon as it touched the system, instantly protecting endpoints. This directly speaks to Falcon's capability to proactively protect Mac endpoints right out of the box, using configurations customers use in real-world scenarios and require no user interaction. 
Testing from AV-Comparatives involved assessing if Mac endpoint security vendors correctly detect legitimate Mac applications without triggering false alarms. CrowdStrike Falcon for Mac produced perfect results in this regard, triggering no false positives and clearly demonstrating it can correctly determine between clean and malicious. 
Disruptions resulting from endpoint security solutions that incorrectly identify clean applications as malware can severely impact business operations, which is why distinguishing between malware and legitimate software is a vital part of the AV-Comparatives Malware Protection Test. False alarms triggered by endpoint security solutions can be costly for organizations as they may involve additional person-hours from security operations center (SOC) or IT teams, spent on bringing back into production systems affected by automated remediation processes. 
Protecting organizations is something we at CrowdStrike take very seriously, and this new milestone in achieving a fourth consecutive AV-Comparatives Approved Security Product for Mac is a testament to both Falcon's continued leadership in delivering machine learning-powered, layered endpoint security, and to our commitment to independent third-party testing from leading organizations like AV-Comparatives.
Additional Resources

Related Content