Gartner Peer Insights "Voice of the Customer": Endpoint Protection Platforms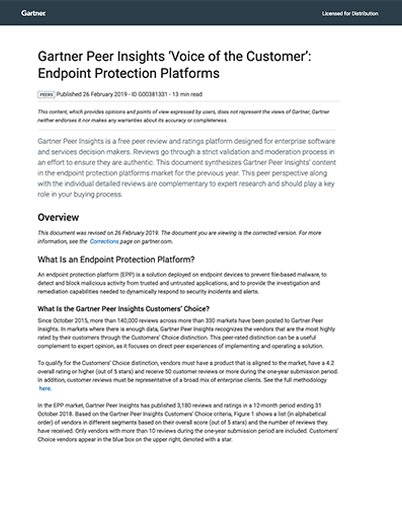 Learn why CrowdStrike was considered the highest overall provider of endpoint protection platforms
CrowdStrike was named the highest rated vendor (4.9/5.0) in the Nov. 2018 Gartner Peer Insights Customers' Choice 'Voice of the Customer' for Endpoint Protection Platforms. As Gartner notes in granting this recognition, peer perspectives, along with the individual detailed reviews, can serve as a complementary resource to expert research. Peer reviews should play a key role in your buying process.
Learn why CrowdStrike was considered the highest overall provider of endpoint protection platforms across all six listed categories of analysis and read what reviewers have to say about the Falcon platform. The report also provides granular details on how other vendors are viewed by customers.
This report includes:
A comparison of 23 EPP vendors rated on a scale of one through five across six distinct categories
Qualitative and quantitative analysis of EPP products by the customers who use them
Additional research designed to supplement the Gartner Magic Quadrant and Critical Capabilities for EPP
Necessary attribution/disclaimers: Source: Gartner, Gartner Peer Insights 'Voice of the Customer': Endpoint Protection Platforms, Peer Contributors, 26 February 2019. Gartner Peer Insights Customers' Choice constitute the subjective opinions of individual end-user reviews, ratings, and data applied against a documented methodology; they neither represent the views of, nor constitute an endorsement by, Gartner or its affiliates. Ratings were as of 31 Oct. 2018, based on 180 reviews: https://www.gartner.com/reviews/customers-choice/endpoint-protection-platforms [gartner.com].
The GARTNER PEER INSIGHTS CUSTOMERS' CHOICE badge is a trademark and service mark of Gartner, Inc., and/or its affiliates, and is used herein with permission. All rights reserved.