2019 Gartner Magic Quadrant (MQ) for Endpoint Protection Platforms (EPP)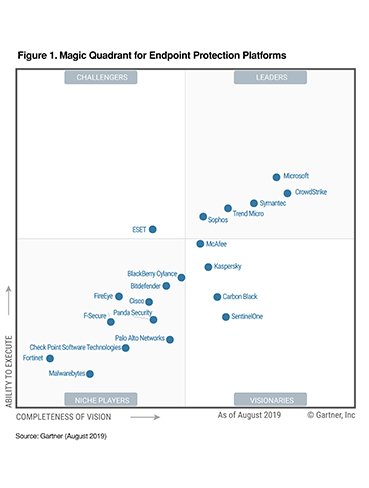 CrowdStrike Named a Leader in the Magic Quadrant for EPP
Gartner defines an endpoint protection platform as "a solution deployed on endpoint devices to prevent file-based malware, to detect and block malicious activity from trusted and untrusted applications, and to provide the investigation and remediation capabilities needed to dynamically respond to security incidents and alerts." 
CrowdStrike® is proud to be recognized as a "Leader" in the 2019 Gartner Magic Quadrant (MQ) for Endpoint Protection Platforms (EPP) in only its third year of being acknowledged. In addition to being positioned in the Leaders Quadrant, CrowdStrike is furthest for "completeness of vision," which includes Gartner criteria such as innovation, marketing and product strategies, vertical industry and geographic strategies, as well as the validity of the business model as a whole.
Download this complimentary report to learn the analysis behind CrowdStrike's positioning as a Leader and what we believe it could mean for your organization and its cybersecurity posture.
The CrowdStrike Falcon® endpoint protection platform is built to stop breaches:
CrowdStrike was founded to reinvent security for the cloud era and protect customers against all cyberattack types, using sophisticated signatureless artificial intelligence/machine learning and indicator-of-attack-based (IOA) threat prevention to stop known and unknown threats in real time.
The Falcon platform is composed of two tightly integrated proprietary technologies: our easily deployed intelligent lightweight agent and our cloud-based, dynamic graph database called Threat Graph.
We offer the first multi-tenant, cloud native, intelligent security solution capable of protecting workloads across on-premise, virtualized, and cloud-based environments.
Our cloud infrastructure and single-agent architecture eliminate complexity and add scalability, manageability, and speed.
Powered by the CrowdStrike Threat Graph®, Falcon instantly correlates more than two trillion security events per week from across the globe to immediately prevent and detect threats.
Now that you've downloaded the report…
Get free access to the Falcon platform to see for yourself why CrowdStrike was named a "leader" in endpoint protection. No credit card required.
Gartner, Magic Quadrant for Endpoint Protection Platforms, 20 August 2019, Peter Firstbrook, Dionisio Zumerle, Prateek Bhajanka, Lawrence Pingree, Paul Webber
GARTNER is a registered trademark and service mark of Gartner, Inc. and/or its affiliates in the U.S. and internationally, and is used herein with permission. All rights reserved.
Discover More at our
Resource Center
For technical information on installation, policy configuration and more, please visit the CrowdStrike Tech Center.
Visit the Tech Center