WE START REMEDIATION IMMEDIATELY SO YOU CAN GET BACK TO BUSINESS FAST
Stopping an Incident requires complete visibility & expertise
Speed counts in stopping a breach and resolving cyberattacks: The longer attackers dwell in an environment, the greater their opportunity to exfiltrate vital and valuable customer or proprietary data — the lifeblood of any organization.
---
Whether you are the chief information security officer (CISO) or security operations center (SOC) staff, key questions need to be answered once a breach has been discovered:
Who are the attackers?
How did they break through existing defenses?
What are their objectives?
How can the attack be stopped and the adversary ejected?
Those charged with protecting an organization's assets and reputation need to assure their management teams and boards of directors that they have the upper hand in defeating attackers. The CrowdStrike Services incident response team can deliver the expertise necessary to identify, attribute and stop cyberattacks quickly.
Leave Traditional Response Plans in the Past
Traditional incident response methods rely on outdated "sweep and scan" operations for detecting indicators of compromise (IOCs). This requires harvesting endpoint snapshots and scanning them for IOCs, until visibility into attacker methods and tactics is achieved. This approach is time-consuming and inefficient, and ultimately delays the start of remediation.
Other security vendors are often required to ship additional network monitoring hardware and staff to the client site before they can even attain a state of situational awareness necessary to develop a remediation plan.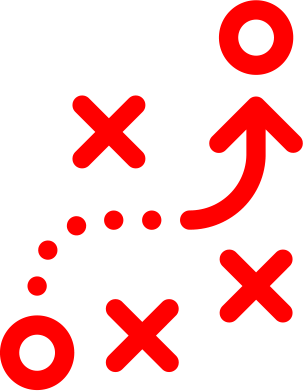 Incident Response
Solution Components
With CrowdStrike®, there is no hardware to ship: CrowdStrike's award-winning, cloud-based Falcon platform enables response and remediation to start immediately, delivering detection, prevention and overall protection. CrowdStrike Falcon® combines real-time EDR, next-gen AV, threat intelligence and 24/7 adversary hunting to start remediation on Day One to identify attackers and eject them.
CrowdStrike Services accelerates the speed of remediation by providing the most comprehensive view into attacker activity — both on the endpoint and across the network — getting clients back to normal business operations fast by:
Quickly determining the scope of an attack

and mitigating the attackers' existing access

Starting remediation immediately

— not weeks or months later

Identifying

how attackers have been or are continuing to access the client's environment

Determining

methods to track future actions and block future access
This unique approach allows CrowdStrike's team of security consultants to stop unauthorized access faster, so customers can resume normal business operations sooner.
Compare traditional incident response to the
CrowdStrike approach to IR: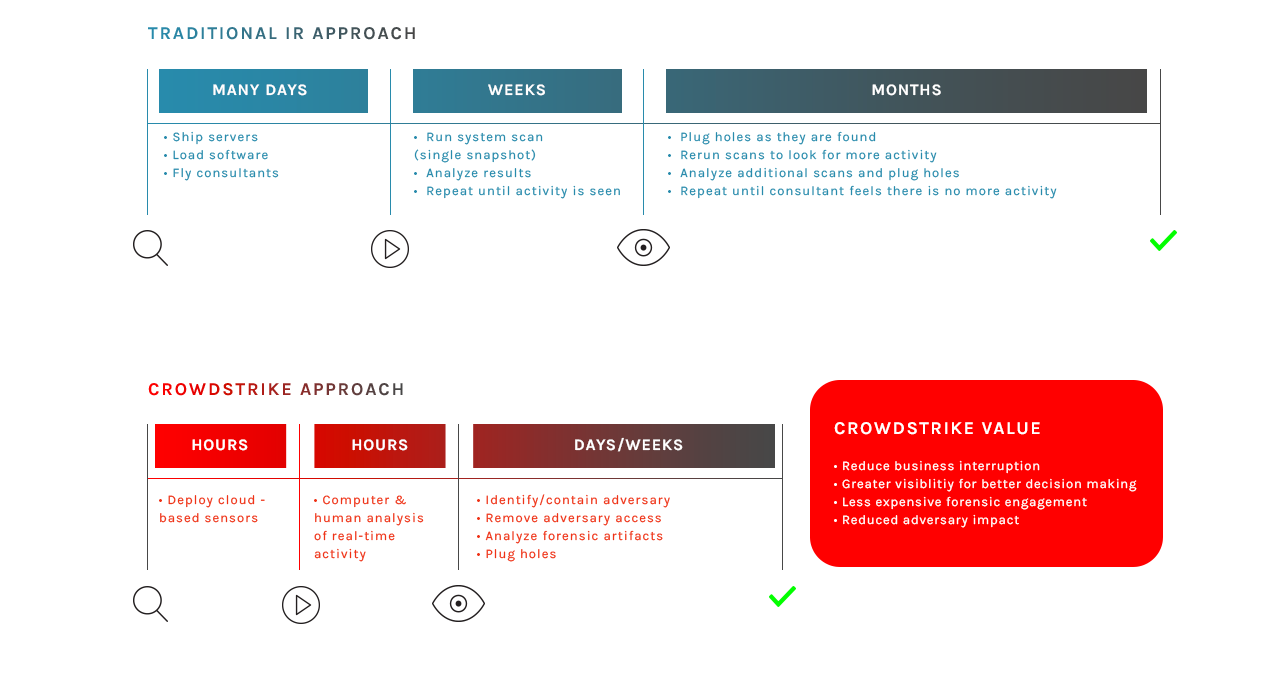 Benefits of Cyber
Incident Response Plan
CrowdStrike Services is a trusted ally in responding to cybersecurity incidents. Working in partnership with clients to defeat the adversary, depend on CrowdStrike to:
Provide faster time to visibility and remediation

with less expensive forensic costs

Reduce business interruption losses

by getting you back to business faster

Minimize cyberattack impact

by quickly identifying and ejecting attackers
CrowdStrike's incident response methodology encompasses a thorough, yet fast and efficient investigation to identify the attackers — including what they have taken and their other objectives — to provide remediation focused on an accelerated recovery timetable.
CUSTOMER SUCCESS STORIES
CrowdStrike's incident response team has investigated some of the largest and most complex cases for organizations across many verticals and the public sector. Collectively, the CrowdStrike team possesses decades of hard-won knowledge, fighting the most tenacious threat actors. That expertise shows in clients' satisfaction with successfully helping them defeat the adversary.
---
"They are subject matter experts around all topics: forensic analysis, incident response, technology, root cause analysis – it's just everything together that says this is something unique."
Brian Kelly, CSO, Rackspace
Learn more about CrowdStrike Services