CrowdStrike Services Cyber Front Lines Report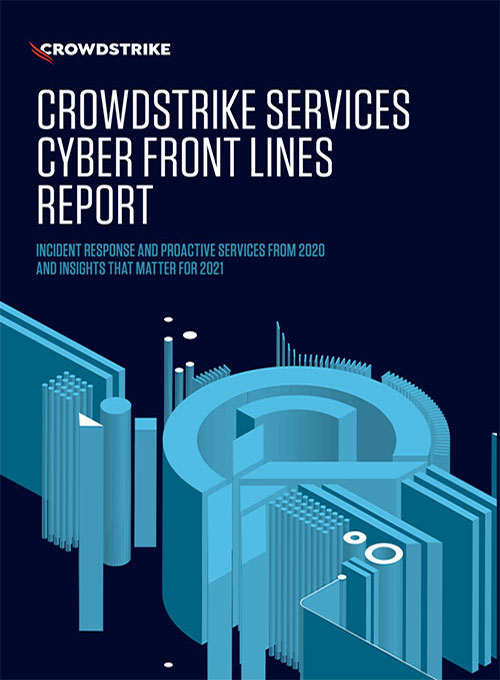 Incident Response and Proactive Services from 2020 and Insights That Matter for 2021
In a year when a global pandemic has significantly changed how and where we work, our cybersecurity practices have had to evolve quickly in the face of adversity and in response to a continued increase in more sophisticated and targeted adversary attacks.
The CrowdStrike Services Cyber Front Lines Report brings together the insights and observations of dedicated CrowdStrike team members from all corners of the globe, who work tirelessly to help organizations defend against and recover from intrusions every day. Not only does the report provide a clear picture of how adversaries are adapting to today's realities, it also includes concrete recommendations that you can implement in your organization now to improve your cybersecurity readiness.
Download the report for valuable information and guidance that can inform your security strategy for 2021 and beyond. The analysis and pragmatic steps recommended by CrowdStrike Services experts will add value to your proactive security measures and situational awareness, and help ensure that your organization doesn't become a statistic in next year's report. Here's a snapshot of five key takeaways from this year's report:
The volume of financially motivated attacks is staggering

Intrusions are no longer a one-time event

Shifting to a continuous

monitoring and response

approach changes the game

Widespread remote work has broad-reaching effects on cybersecurity

Cloud infrastructure requires special attention from defenders
Organizations focused on driving key security enhancements can stop breaches
Discover More at our

Resource Center
For technical information on installation, policy configuration and more, please visit the CrowdStrike Tech Center.
Visit the Tech Center