CrowdStrike's Adversary Universe World Tour: Coming to a City Near You!
CrowdStrike's global series of events, presented in collaboration with AWS, prepares organizations to fight today's adversaries and stop breaches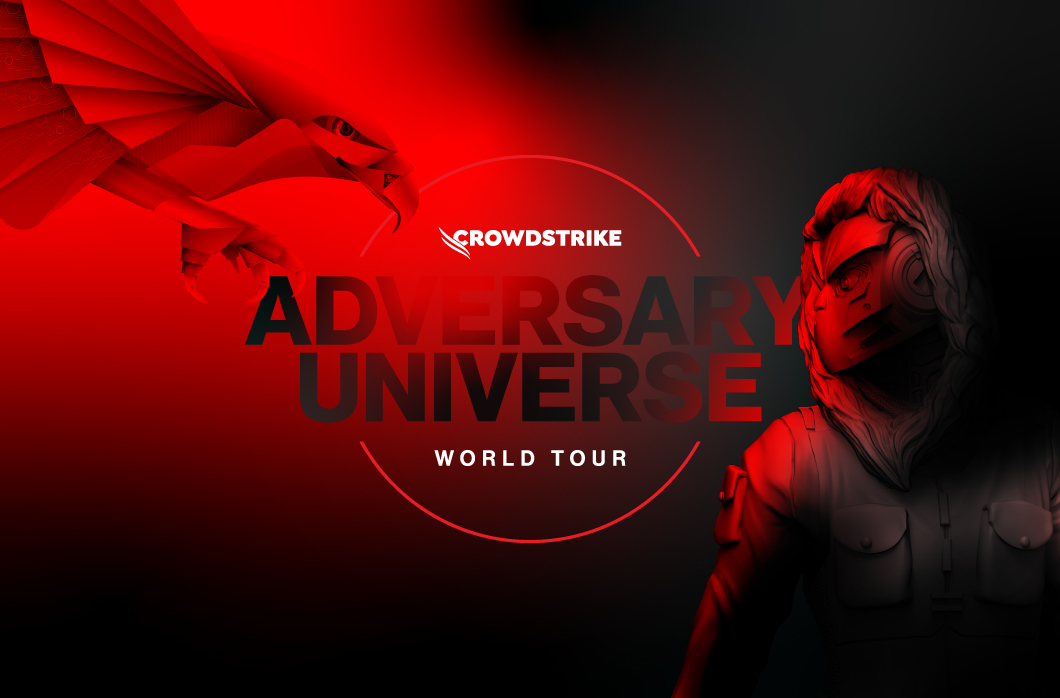 And we're off! The CrowdStrike Adversary Universe® World Tour (AUWT) kicked off with a standing-room-only event in Brisbane, Australia on July 12, 2022, followed by another full house in Melbourne on July 18. We're excited to begin this tour and share insights from CrowdStrike's elite threat intelligence and security experts with customers around the world.
In the coming weeks and months, our experts will share secrets of the Adversary Universe to give attendees the insight required to defend against adversaries' constantly evolving tradecraft. Attendees will gain a stronger understanding of the growing enterprise attack surface into the cloud, learn how CrowdStrike helps defend against threats to stop breaches, and hear from our customers about their own perspectives and experiences in fighting today's threats.
A Deep Dive Into the Adversary Universe
The AUWT, presented in collaboration with AWS, will show attendees what they need to know to stop the adversaries targeting their organizations. Our experts will answer your most pressing questions: Who are these adversaries? What are their unique motivations? How are they breaking in? And — most importantly — how can they be stopped? 
An adversary-focused approach is essential to defend against the evolving techniques of today's eCrime, nation state, and hacktivist groups. Organizations operating in different regions of the world sometimes face different threats — which is why we're bringing this incredible knowledge to you! As we visit cities around the globe, attendees will learn about region-specific threats. Our experts will discuss which industries adversaries prioritize in your region, and the tactics they employ, to keep you a step ahead of these attacks.
We'll also explore how adversaries seek to disrupt digital transformation by targeting cloud environments. As critical applications and data move to the cloud, adversaries are increasing their attacks and refining tradecraft to exploit vulnerabilities, steal credentials or host malware command-and-control — among other nefarious activities. Understanding these motivations and techniques is the foundation of an adversary-focused approach to security. 
But this critical intelligence is just part of what the AUWT is bringing to you!
Demonstrating the Critical Capabilities Required to Defeat Today's Adversaries  
Combating today's adversaries and stopping breaches requires an integrated approach that delivers strong Zero Trust protection across three critical layers: the device layer, the identity layer and the data layer. But this defense-in-depth approach has to work for your organization and users — not against you. Fighting the adversary cannot compromise your productivity.
CrowdStrike has set the bar by providing customers with the industry's leading platform for unified threat prevention, detection, hunting, intelligence and remediation — all delivered through a single lightweight agent. At each stop on the tour, we'll demonstrate how the CrowdStrike Falcon® platform is easy to deploy, easy to manage and highly effective at combating adversaries without interfering with users or productivity.
We'll also unveil and dig deep into our latest innovations, designed to strengthen your security and keep you ahead of today's threats. Here's just a taste of some innovations we'll showcase: 
Unified, agent-based and agentless cloud security

: CrowdStrike's cloud-native Falcon platform was built to give organizations comprehensive visibility, detection and remediation capabilities to secure their cloud infrastructure. On the AUWT, we'll demonstrate why CrowdStrike is the only company to deliver an agent-based and agentless approach to cloud security that provides the flexibility needed to protect cloud environments.

Modern identity protection:

Adversaries are increasingly using stolen credentials to bypass legacy defenses, masquerade as legitimate users and advance their attacks. Stopping the adversary requires the ability to stop identity-based attacks. Attendees will learn why identity and endpoint protection are better together — and how CrowdStrike is delivering these powerful capabilities through a unified platform approach.

CROWDSTRIKE FALCON® XDR: Beyond the endpoint

: The

endpoint

is the epicenter of enterprise risk and the modern battleground against today's adversaries. But as attackers evolve their tactics, organizations need to extend detections beyond the endpoint to stop adversaries where they land. We'll show you how CrowdStrike is extending the industry's leading endpoint protection and supercharging detection and response across your security stack. We'll show off major new innovations like the native automation capabilities of

Falcon Fusion

.
Most important of all, we'll demonstrate how CrowdStrike continues to deliver the industry's most powerful protection through an elegant, unified platform that eliminates friction and drives productivity. We're also excited to show you how our elite team of experts use and manage this technology for customers struggling to fill their security skills gap. CrowdStrike stands alone in the combination of best-in-class technology and the world's foremost experts in threat hunting and incident response.
Upcoming AUWT Events
The AUWT will visit 70 cities around the world. Next up, we'll continue the tour in Canberra, Australia before traveling to the United States, New Zealand, Malaysia, Singapore, Germany, France, England, Turkey, South Africa, Colombia, Brazil, Chile and several other global destinations in the coming months.
Interested in joining an AUWT event? Below are the cities next on our list, with more to be confirmed in the coming weeks. Hope to see you there!
July 20: Canberra, Australia

July 21: Charlotte, North Carolina, United States

July 22: Sydney, Australia

July 26: Tampa, Florida, United States

August 3: Auckland, New Zealand

August 10: Manila, Philippines

August 18: Kuala Lumpur, Malaysia

August 23: Nashville, Tennessee, United States

August 25: Singapore, Singapore

September 13: Istanbul, Turkey

September 14: Frankfurt, Germany

September 14: Jakarta, Indonesia

September 15: Johannesburg, South Africa

September 20: Vienna, Austria

September 22: Zurich, Switzerland
To find and register for an Adversary Universe World Tour event, you can visit the event website.
Johanna Flower is Interim Chief Marketing Officer at CrowdStrike.
Additional Resources
Related Content