CrowdStrike Falcon Intelligence Receives SC Magazine Highest Recommendation and Rating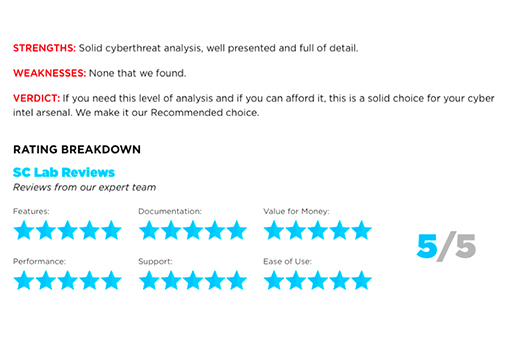 CrowdStrike Falcon™ Intelligence, powered by the CrowdStrike Global Intelligence Team, received top honors from SC Magazine with the highest possible rating of five stars across the board, earning the "SC Magazine Recommended" status. This is the same intelligence that enriches the CrowdStrike Falcon Endpoint Protection Platform – combining the two provides unparalleled protection for CrowdStrike customers.
In their review,  SC Magazine cites Falcon Intelligence as "a solid choice for your cyber intel arsenal. We make it our Recommended choice," with no weaknesses found. CrowdStrike received five stars across each of the testing parameters: Features, Documentation, Value for Money, Performance, Support and Ease of Use.
In honoring CrowdStrike Falcon Intelligence with their highest rating, SC Magazine's Peter Stephenson writes, "This absolutely is a tool worth having for organizations that are concerned with cyber espionage, particularly financial institutions, government agencies and the like."
CrowdStrike's Falcon Intelligence delivers in-depth and historical understanding of adversary activity, providing strategic, operational and technical reports that cover targeted intrusion, hacktivists and ecrime adversaries. Immediate alerting and warning as well as detailed analysis of the tactics, techniques and procedures (TTP) used by adversaries, instantly increase organizations' defense capabilities against today's most persistent and sophisticated attackers.
Other Falcon Intelligence strengths cited by the SC Magazine report include:
The depth and breadth of analysis and reporting available, delivered via a wide range of formats including HTML, PDF and API. The review mentions strategic intelligence reports, actor profiles, technical intelligence reports, actionable threat intelligence feeds and others. The review from SC labs experts also mentions CrowdStrike's tailored intelligence and quarterly intelligence briefing webinars.
The ease with which Falcon platform deploys and begins capturing data. According to Stephenson's report, "The sensor communicates automatically with the cloud and then captures all of the data it needs to begin analysis. There are a lot of options for how you analyze your system."
CrowdStrike inclusive support and documentation. The report says, "Support is included with the subscription and once this is up and running – this is an excellent product. Documentation is clear and well-written overall."
Read the entire SC Magazine article recommending CrowdStrike Falcon Intelligence.
Learn more about  CrowdStrike Falcon Intelligence and the Global Intelligence Team: Read about CrowdStrike's cyber intelligence subscription offerings.