CrowdStrike Honored as Best Enterprise Security Solution in SC Awards Europe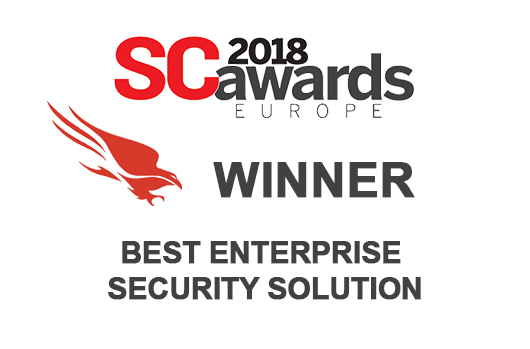 CrowdStrike® was honored by SC Media when the CrowdStrike Falcon® endpoint protection platform was named Best Enterprise Security Solution for 2018 by SC Magazine Awards Europe. The winners were announced during this year's Infosecurity Europe event held in London on June 4-7. Earlier this year, CrowdStrike received the same award – Best Enterprise Security Solution – from SC Magazine U.S. at RSA 2018 in April, and was also named Best Security Company for the second year in a row.
The SC Awards Europe arrived in tandem with CrowdStrike's announcement of a $1 million warranty on its most comprehensive endpoint protection solution, Falcon EPP Complete™.
EPP Complete is a unique offering that combines the effectiveness of the Falcon platform with the efficiency of a dedicated team of security professionals. It ensures that all aspects of endpoint security are handled — from onboarding, configuration and maintenance to monitoring, alert handling and remediation. The warranty is offered at no charge to EPP Complete customers and covers a variety of response expenses should a breach occur, including incident response, legal fees, notification, credit monitoring, forensic investigation and public communications expenses.
The SC Magazine Awards, both in the U.S. and Europe, have continued to be a hallmark of achievement for the companies and information security professionals that receive them. The awards are presented to security solutions that have been evaluated by a panel of judges, all experts chosen for their information security knowledge, experience and impartiality. The SC Awards Europe judges are from major European and global organizations, representing a wide range of industries. The awards recognize those companies and individuals that have proven to be the best at helping protect organizations from the vast array of cyberthreats and risks characteristic of today's threat landscape. With organizations continuing to experience a global rise in threats and cyberattacks, these awards offer guidance for those seeking to improve their security postures.
In naming CrowdStrike Best Enterprise Security Solution, the SC Europe Award judges highlighted some of the factors that led to their decision, including the following:
The CrowdStrike Falcon platform's modularity, which gives customers more options for replacing legacy AV and augmenting their security.
CrowdStrike Falcon's lightweight agent and cloud-enabled technology, which allows the platform to be operationalized at unprecedented speed, ensuring low total cost of ownership (TCO) and return on investment (ROI). They also cited that deployment of the CrowdStrike Falcon platform can occur within hours, requiring no hardware, configuration or fine-tuning and with virtually no impact on endpoints.
CrowdStrike's cloud-native architecture: "This architecture, where the heavy lifting is performed in the cloud, allows customers to manage the solution and scale without worrying about additional cost, time and effort."
Regarding CrowdStrike's technology, they wrote, "The use of a machine learning model for malware prevention completely eliminates the need for daily signature updates."
In closing, the judges acknowledged CrowdStrike's commitment to continuous improvement, commenting that "Technically, their whole service module is bang up-to-date with continuous improvement and excellent TCO/ROI."
Read the Press Release
Read SC Magazine Awards Europe winner profiles
Test CrowdStrike Falcon for yourself.  Sign up for a Free Trial today!