Forrester Names CrowdStrike "Leader" in the 2019 Wave for Cybersecurity Incident Response Services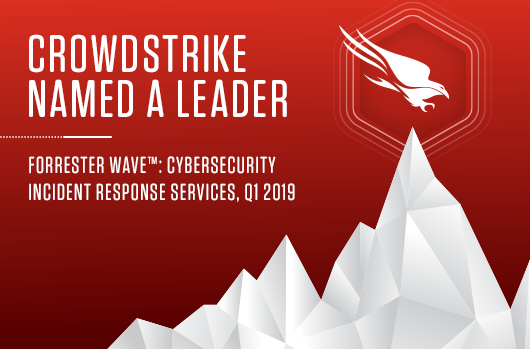 "CrowdStrike is a global company built on three pillars: threat intelligence, endpoint protection, and incident response. Each of these capabilities not only informs the others but is buttressed by complementary services as well."           
                                        – The Forrester Wave™: Cybersecurity Incident Response Services, Q1 2019
I am thrilled to announce that Forrester has named CrowdStrike® a "Leader" in the prestigious Forrester Wave: Cybersecurity Incident Response Services Q1 2019 report. Our position as a leader in this industry evaluation is, in our opinion, further evidence of CrowdStrike's commitment to and success in setting a new standard for incident response (IR) and resiliency services.
Forrester Evaluated 11 Criteria
Forrester's 11-criteria evaluation of cybersecurity IR services identifies the 15 most significant providers worldwide. The Wave evaluates each provider and offers insights that can help security and risk professionals select the right solution provider for their needs.
In the report, Forrester states that "Preparation is the key to timely incident response." We could not agree more and believe that our highest possible score (5.0) in the Incident Preparation Vision criterion in the Wave is further validation of this belief and our approach.
In fact, CrowdStrike obtained the highest possible score in a total of six criteria including:
Incident Response and Post Incident Reporting and Support (Current Offerings)
Incident Preparation Vision, IR Retainer Vision, and Talent Management (Strategy)
Hours Performing Incident Prep (Market Presence)
Applying the IR Mantra
According to Forrester Analytics 2018 survey data, 50 percent of global security decision-makers reported suffering at least one breach in the past 12 months. While suffering a breach may be inevitable, properly preparing for and quickly responding to a breach is the best way to curtail damage caused by such an event.
The Forrester Wave states that CrowdStrike is focused on helping its clients understand how to improve their cybersecurity IR capabilities, by applying the mantra, "Am I breached? Am I mature? Am I ready?"
We believe that in today's ever-evolving, always challenging cyber landscape, dynamic business leaders understand that they will inevitably be targeted by one, or even multiple threat actors. Through proper planning, proactive strategy and dedicated resources, organizations can become empowered to take control with speed and efficiency in the wake of a breach.
Thank You to Our Customers
The Wave also stated the fact that our customer references were positive, demonstrating client confidence in our cybersecurity incident response services.  I'd like to thank our customers for their continued trust and support. We are in the business of keeping our customers safe —  it has been our focus since Day One —  and we continue to make it our No. 1 priority.
Multiple Pillars Working Together to Stop Breaches
When you engage CrowdStrike Services, you not only have the advantage of decades of experience responding to hundreds of incidents across every major industry, you're also harnessing the power of CrowdStrike Cyber Threat Intelligence, CrowdStrike Falcon® endpoint protection, and Falcon Overwatch™ managed threat hunting capabilities.
CrowdStrike's next-generation IR approach, coupled with industry-leading endpoint protection technology and integrated threat intelligence, provides better protection, increased visibility and faster time to remediation. This unique methodology allows CrowdStrike to stop unauthorized access faster and prevent future incidents, as well as ensuring small breaches don't become larger.
CrowdStrike also offers proactive advisory and assessment services so organizations can improve their ability to anticipate threats, prepare their networks and ultimately reduce the likelihood of a breach from occurring.
A Powerful Combination of Services
We believe our recent industry recognition validates our powerful combination of services, technology, and intelligence. In fact, CrowdStrike has been named a Leader in The Forrester Wave™: Endpoint Security Suites, Q2 2018, The Forrester Wave: Endpoint Detection and Response, Q3 2018, and now The Forrester Wave™: Cybersecurity Incident Response Services, Q1 2019. CrowdStrike is the only vendor named a Leader in all three Wave reports.
We thank Forrester for this tremendous industry recognition.  Our passion for creating the industry's best next-generation technologies and services for defeating today's toughest adversaries will never cease.
Additional Resources
Related Content