CrowdStrike Services
CrowdStrike Services delivers incident response, technical assessments, training, and advisory services that help you prepare to defend against advanced threats, respond to widespread attacks, and enhance your cybersecurity practices and controls.
We stop breaches.
Prepare
We help you prepare and train to defend your organization against sophisticated threat actors.
Respond
We help you respond to attacks and recover from incidents with speed and precision.
Fortify
We provide actionable recommendations so you can fortify your cybersecurity practices and controls.
Recover from a breach with speed and precision
When it comes to navigating your way through a widespread ransomware attack, how will you respond?
CrowdStrike Incident Response services deliver a modern approach to rapid response and recovery from today's widespread security incidents, incorporating the seven key ingredients of IR efficacy to help breach victims get back to business faster and avoid future attacks:
Immediate threat visibility
Active threat containment
Accelerated forensic analysis
Real-time response and recovery
Enterprise remediation
Threat hunting and monitoring
Managed detection and response
Protecting critical areas of enterprise risk
Reduce risk across the critical areas of your IT attack surface with CrowdStrike Services.
Endpoint security services
Respond to incidents, investigate threats, recover from attacks, enhance endpoint security, prepare your defenses and more.
Cloud security services
Respond to cloud attacks, identify ineffective security settings, enhance security controls in your cloud environment and more.
Identity protection services
Detect credential misuse, prevent unauthorized access, reduce password fatigue, implement conditional access and more.
Network monitoring services
Monitor unprotected devices, analyze network traffic, identify threat actors in the network, stop denial of service attacks, and more.
What our customers say
"The CrowdStrike team is highly competent and customer focused. Both the Services and technology delivered on the promises made to us during the sales engagement"
Eric Hanson - Global Vice President, Information Technology, Manufacturing: Husco International
"The team assembled for our forensic assessment engagement was outstanding. From project management to technical engagement. Everyone was exceptional."
David Gates - Director, Technology Operations, Healthcare: LCMC Health
"The CrowdStrike IR team's customer service is exceptional, attention to detail and time spent on ensuring that the requirement is met, at all times."
Carl Baron - Chief Information Security Officer (CISO), Manufacturing: SIG plc
"CrowdStrike's Services team helped us through a very tense recovery situation with professionalism and courtesy."
Mark Parker - Chief Technology Officer, Public Sector: City of Knoxville
"Provide excellent support during and after the assessment."
Jason Koler - Senior Manager, Cyber Security Incident Response, Manufacturing: Eaton
"It's rare that a vendor does more than they promise - CrowdStrike does!"
Jonathan Beatty - Director of IT, Manufacturing: Patrick Industries
"The CrowdStrike IR Retainer delivers a very thorough and well defined onboarding process to ensure maximum value from the services."
David Black - CISO, Distribution: SiteOne Landscape Supply
"I am highly satisfied with the quality of service provided by CrowdStrike."
Bhavesh Goswami - Technical Manager, Incident Response, Information Technology: ServiceNow
"The team was great to work with and designed a very interesting incident for our technical walkthrough after learning about our environment."
Adrian Vargas - AVP, Information Security Risk Management, Finance: Global Atlantic Financial
Services Partners
CrowdStrike Services works with an ecosystem of trusted partners to support our customers.
Law Firms and Insurance
Engage our pre-breach, breach, and post-breach services to help your clients with cybersecurity.
Partner Services
Leverage retainer hours to receive value-added services from our ecosystem of partner services.
CrowdStrike services on demand
A services retainer gives you peace of mind with on demand access to a full range of CrowdStrike incident response and advisory services to help you stop breaches.
IR retainer: react quickly and effectively to a cyber security incident with on-demand access to skilled professionals.
Advisory services: proactively apply unused retainer hours to a range of adversary simulation exercises and cybersecurity assessments.
Retainer tiers: pre-purchase a set number of hours under retainer for on-demand access to our services.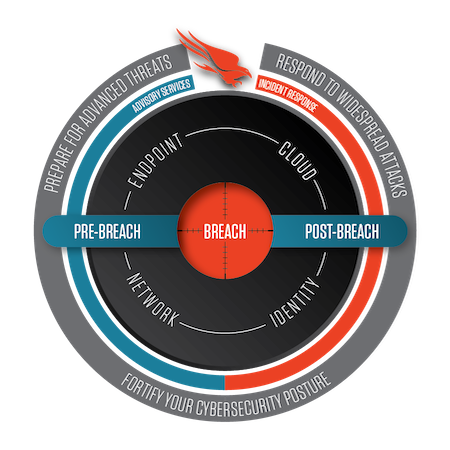 Fully managed services
CrowdStrike Services offers a range of fully managed services for detection and response (MDR), threat hunting, and digital risk protection.
Falcon Complete™: our fully managed detection and response service that stops breaches every hour of every day, through expert management, threat hunting, monitoring and remediation.
Falcon OverWatch™: our threat hunting service and elite human threat detection engine that operates as an extension of your team, hunting relentlessly to see and stop the most sophisticated hidden threats.
Falcon Intelligence Recon+™: our managed digital risk protection service that monitors potentially malicious activity across the open, deep and dark web to enable organizations to better protect their brand, employees and sensitive data.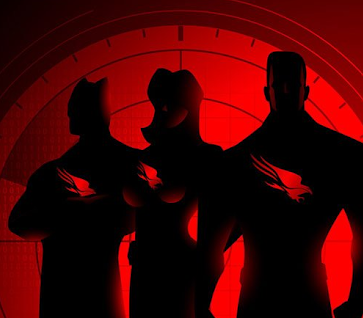 Operationalizing the CrowdStrike Falcon® platform
CrowdStrike Services can help you implement, operationalize, and achieve the highest "gold standard" level of protection with the Falcon platform.
Falcon application services:


Our consultants assist you to implement and weaponize specific applications (modules) within the Falcon platform.

Falcon operational support:


Our experts provide advice and support on how to optimize and operate the Falcon platform.

Falcon gold standard:


Our team configures the Falcon platform to the "gold standard" level of protection used by our own Falcon Complete team.
Training and certification
CrowdStrike Services offers training and certification programs so you can become expert administrators, responders, and hunters using the Falcon platform.
CrowdStrike University: Take full advantage of all that the CrowdStrike Falcon® platform has to offer with CrowdStrike University training and certification.
Falcon training: We offer eLearning and Instructor-led training courses so you can implement, manage, develop and use the CrowdStrike Falcon® platform, with the goal of helping your staff become self-sufficient and productive as quickly as possible.
Falcon certification: Get certified as a CrowdStrike Certified Falcon Administrator, Responder, or Hunter to gain the most value from the CrowdStrike Falcon® platform.
Discover the threat actors targeting your industry in our adversary universe.
Find them. Know them. Stop them.