CrowdStrike Wins SC Magazine 2018 Award for Best Security Company and Best Enterprise Security Solution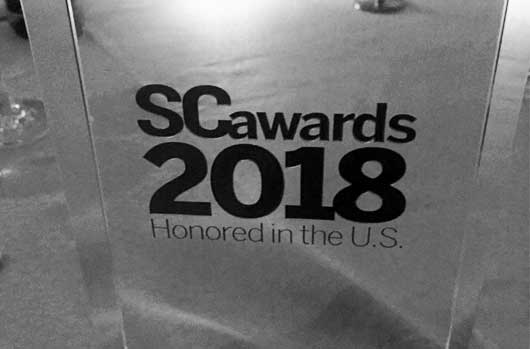 The excitement didn't stop at this year's RSA event as CrowdStrike picked up two prestigious SC Magazine 2018 Awards at the ceremony on Tuesday evening: Best Security Company for the second year in a row, and Best Enterprise Security Solution for the CrowdStrike Falcon platform. These awards come on the heels of CrowdStrike's launch of a trifecta of new products and features that were unveiled at RSA.
The SC Magazine Awards honor the achievements of companies and cybersecurity professionals who strive to safeguard their customers' critical data. The award winners were chosen by an expert panel of judges with extensive knowledge and experience in the cybersecurity industry, from both the SC Media readership and selected by SC Media's editorial team.
Second Consecutive Year as Best Security Company
In again naming CrowdStrike as the year's Best Security Company, SC Magazine first cited Falcon's powerful defense against the 2017 WannaCry and NotPetya malware attacks that disrupted a large number of organizations and caused huge financial losses across the globe. SC Magazine stated, "For organizations shielded by CrowdStrike's comprehensive endpoint protection solution, these incidents were mere blips on the radar screen." In bestowing this award, SC Magazine praised the comprehensive features that "exemplify the prowess of the CrowdStrike Falcon platform." The platform offers a collection of integrated modules that unifies next-gen antivirus (NGAV), endpoint detection and response (EDR), IT security hygiene and threat intelligence — via one single lightweight agent.
In honoring Crowdstrike with this award, SC MagazIne also mentioned several other attributes that distinguished CrowdStrike as this year's Best Security Company, including:
Falcon OverWatch™, CrowdStrike's elite team of proactive threat hunters — cited for its importance as a complement to Falcon's AI engine
CrowdStrike's unmatched threat telemetry that analyzes close to 100 billion events per day and feeds them into Falcon Malquery™, CrowdStrikes cloud-based malware research tool
The cloud-native architecture that allows the Falcon platform to be deployed across tens of thousands of endpoints — with no reboots — in hours instead of days or weeks
SC Magazine also lauded the fact that CrowdStrike has extended its global reach by expanding operations in Southern Europe, Latin America and the APAC region, with a year-over-year increase in endpoint protection platform subscriptions of 476 percent.
Falcon Platform Named Best Enterprise Security Solution
The CrowdStrike Falcon platform also won as this year's Best Enterprise Security Solution, with SC Magazine praising the "mind-boggling" number of endpoints Falcon analyzes every day across 176 countries. Also mentioned was Falcon's visibility and protection, which function on a global scale in continuous real time — rather than offering "mere snapshots in time." They also cited how Falcon uses this capability to not only detect known signatures and malware, but also to pinpoint fileless and malware-free intrusions, regardless of whether endpoints are on or off the network.
Some of the other Falcon features mentioned by the judges include Falcon Discover™,  CrowdSTrike's IT hygiene solution that provides real-time and historical application visibility and asset inventory information to ensure admin and user account compliance and reduce licensing costs. Also cited was CrowdStrike's online tech center, offering tools, templates and support for customers, calling it "an addition that nicely complements its 24/7/365 customer support center."
In accepting this recognition from SC Magazine, CEO George Kurtz said that CrowdStrike is thrilled to receive these prestigious awards. "This validates our vision to build a game-changing security technology company by leveraging the power of the cloud to stop breaches," he said. "Building on explosive global growth, we continue to revolutionize the approach companies take to protect themselves in today's fast-evolving threat landscape."
Learn more about the CrowdStrike Falcon Platform.
Sign up for a Free Trial of Falcon Prevent™, CrowdStrike's next-gen AV solution