Go Beyond Today's Cybersecurity at Fal.Con 2020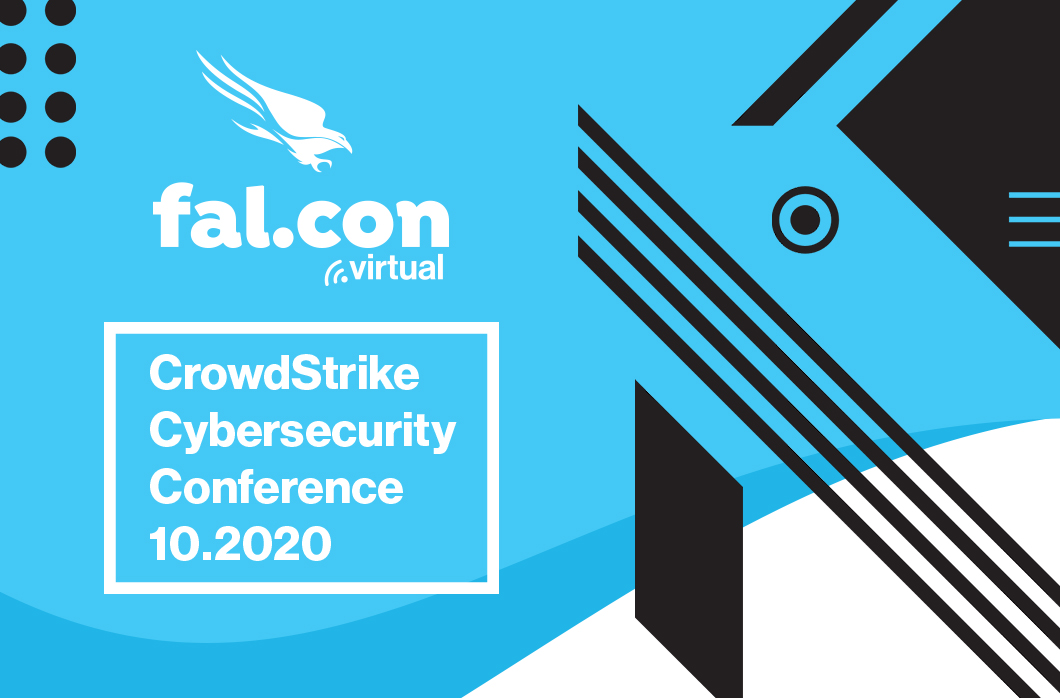 Fal.Con 2020 is less than four weeks away, and we have lots of news to share about our 4th annual CrowdStrike® Cybersecurity Conference on October 15! Fal.Con 2020 has been completely reimagined to provide a first-of-its kind virtual experience, including a fast-paced general session featuring many of the top minds in cybersecurity and digital transformation, 50+ learning sessions in five tracks tailored to your needs and interests, and an inspiring array of innovative ideas, surprising entertainment and dazzling visual effects. Our aim is to raise the bar for virtual events and provide the kind of groundbreaking experience that attendees of our past Fal.Con live events have come to expect and crave.
Fal.Con 2020
General Session 
Join leading cybersecurity strategists, thought leaders, practitioners and pioneers, along with F1 racing champion Lewis Hamilton and other special guests, to find out all about the current state of the industry and take a look at what's beyond the horizon. 
Our fast-moving livestream production will also feature ABC News Chief Business, Economics and Technology Correspondent Rebecca Jarvis along with KTLA 5 Los Angeles Co-anchor Chris Schauble. Acclaimed magician Mat Franco will provide entertaining "brain breaks" throughout the event.
Here are some highlights you can look forward to: 
Keynote

: "The World Has Changed — for Security and Beyond" with CrowdStrike President/CEO and Co-founder George Kurtz, featuring CrowdStrike Chief Technology Officer Mike Sentonas and other guests

CEO Power Panel

: "How to Survive — and Thrive — in the 'Work From Anywhere' Economy" featuring the CEOs of Zoom, Slack, and CrowdStrike

Featured customers

including thought leaders and executives from the Mercedes-AMG Petronas Formula One Team, Amazon Web Services, EY, The Home Depot, the City of New York and more

New product reveal

by CrowdStrike Chief Product Officer Amol Kulkarni

Adversary update

with CrowdStrike Senior Vice President of Intelligence Adam Meyers

Election Protection Panel

with President of CrowdStrike Services & CSO Shawn Henry and Former Europol Cyber Chief & Executive Director Sir Robert Wainwright

Q&A

with cybersecurity experts and visionaries

Live workshops

to get the most out of the CrowdStrike Falcon

®

platform

Entertainment

and interactive, hands-on games
Powerhouse CEO Panel
Mercedes-AMG Petronas Formula One Team
Other Leaders From Iconic Corporations

More news about customer, partner and special guest appearances will be announced in the coming weeks!
Fal.Con 2020
Learning Sessions 
The Fal.Con 2020 education program offers valuable knowledge for every cybersecurity professional. Whether you're a CrowdStrike customer seeking mastery of the Falcon platform, a security expert looking to stay up on your game or an exec ready to lead your organization to the next level, Fal.Con 2020 has content and training designed for you. Customize your learning in sessions in these tracks: 
Security Strategy, Architecture & Operations 

Research &

Threat Intelligence

 

IT Operations 

Cloud, Container & Data Center Security 
You'll be able to get hands-on with the CrowdStrike Falcon platform, engage in interactive workshops and see product demos from CrowdStrike experts. Plus, you'll also have the chance to win prizes, CrowdStrike swag and bragging rights by putting your security knowledge to the test in real time with our fun Falcon hands-on competitions.
Add-On Falcon Platform Training 
Take advantage of this ideal opportunity to advance your abilities and work toward becoming a CrowdStrike Certified Professional, including Falcon Hunter, Responder and Administrator. CrowdStrike University is offering half- and full-day immersive technical training sessions before Fal.Con 2020 (Oct. 5-9 and 13-14) and after (Oct. 16 and 19-23). Training options are available in several time zones to accommodate attendees in North America, EMEA (CEST) and APAC (AEST and IST). Seating is capped at 15 for each course so enroll now to reserve your spot and get the skills you need to stay ahead of the adversary!
FHT 200

: Falcon Platform for Administrators (Full Day)

FHT 201

: Intermediate Falcon Platform for Responders (Full Day)*

FHT 202

: Intermediate Falcon Platform for Hunters (Full Day)*

FHT 240

: Investigating and Mitigating Threats with Falcon Insight

TM

Real Time Response (Full Day)

CST 205

: Leveraging AutoMacTC for macOS Incident Response at Scale (Half Day) 
*Prerequisites required. See the registration page for details.
Fal.Con 2020
Executive Experience
For leaders, we're offering an invitation-only forum following the general session to address the most critical issues C-suite decision-makers are facing in these challenging times.
Executive Intelligence Briefing: State of Cybersecurity

— Learn about the current threat landscape and latest trends in intelligence, nation-state threats and eCrime to stay ahead of today's adversaries.

State of Security Panel: How Amazon and EY Leverage Innovation to Make Informed Decisions

—

Hear how two global powerhouses built strong and resilient security strategies.

Mercedes-AMG & CrowdStrike: "Perfecting the Pivot: Building a Winning Culture in Challenging Times"

— Join F1 racing champion Lewis Hamilton, Mercedes-AMG Petronas F1 Team CEO Toto Wolff, CrowdStrike CEO and GT3 race driver George Kurtz, and international sports broadcaster Danny Hornigold for a lively chat about building and maintaining world-class teams in the post-COVID era. 
When and Where to Join Us
If you haven't already, register today for FREE and plan to attend our can't-miss annual event from anywhere in the world! 
General Session

North America: October 15, 8:30 a.m. – 11:45 a.m. PDT

EMEA: October 16, 8:30 a.m. – 11:45 a.m. BST

APAC: October 16, 1:30 p.m. – 4:45 p.m. AEDT

Japan: October 27, 2:00 p.m. – 5:00 p.m. JST

Learning Sessions

North America: October 15, 12:00 p.m. PDT 

EMEA: October 16, 12:00 p.m. BST

APAC: October 16, 5:00 p.m. AEDT

Executive Experience

North America: October 15, 12:00 p.m. – 2:00 p.m. PDT (Invitation Only)

EMEA: October 16, 12:00 p.m. BST 

APAC: October 16, 5:00 p.m. AEDT
Additional Resources