Join CrowdStrike at the Black Hat 2020 Virtual Event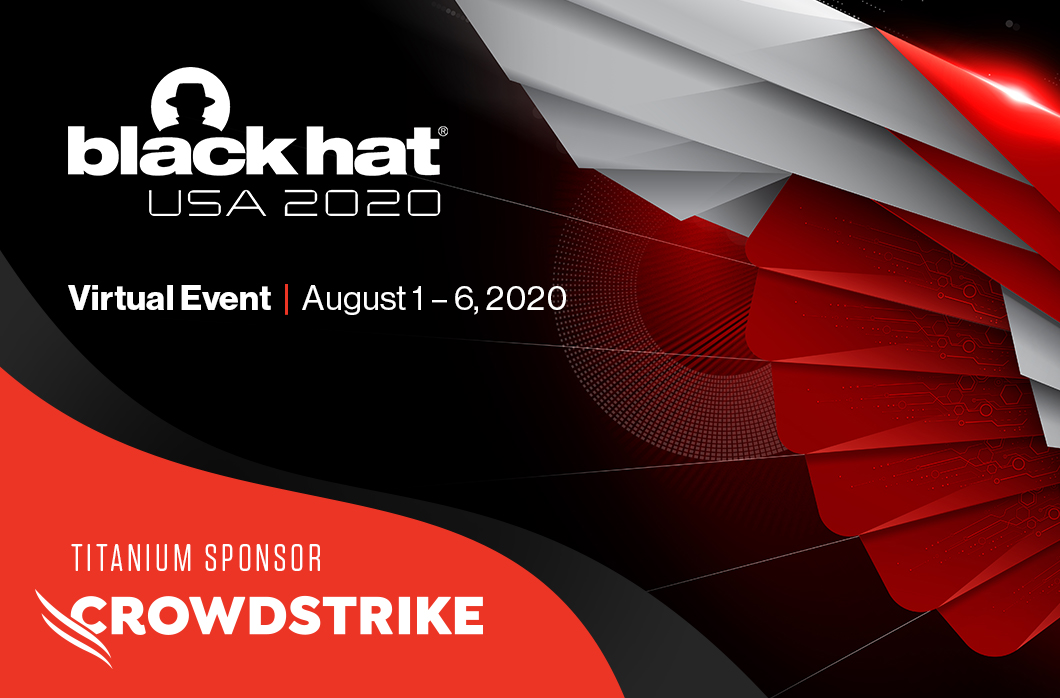 Black Hat 2020 will be a virtual event for the first time in its 23-year history, and CrowdStrike is thrilled to be a Titanium sponsor for this iconic conference. Even though this year's event is virtual rather than in-person, the CrowdStrike team is bringing the same level of excitement and enthusiasm with informative sessions on critical topics, demonstrations of the powerful CrowdStrike Falcon® platform and opportunities for one-on-one meetings with a CrowdStrike world-class expert. 
Register for Black Hat 2020 by visiting the registration page.
Once you're a registered attendee, visit this page to access the CrowdStrike virtual booth.
Enabling Your Remote Workforce
This year has seen most organizations rapidly transition to a remote workforce model as a result of the global COVID-19 pandemic. Industry experts expect this shift to persist with more organizations continuing to support a distributed workforce or some hybrid combination of remote and in-office workers. Attend CrowdStrike's sessions and product demos to learn how we are uniquely positioned to help your organization strengthen security for a remote or hybrid workforce model. You'll learn how CrowdStrike can be a key component in enabling your employees to work from anywhere and at any time while experiencing the same level of protection you expect in an office setting. 
Don't Miss CrowdStrike's Exciting Lineup
Black Hat 2020 will feature an action-packed week of keynotes, sessions and workshops, and CrowdStrike will be on hand to showcase the industry-leading Falcon platform with demonstrations, informative sessions, presentations from CrowdStrike partners and opportunities for one-on-one meetings with our experts. 
Attend a Learning Session
You won't want to miss these live online sessions where you'll have the opportunity to ask the speakers questions:
Dealing With Ransomware While Your Workforce Is Remote
Speaker: Jesse Travis, CrowdStrike Sales Engineering Manager
Date and Time: Thursday, August 6, 11:00-11:40 a.m.
Session Description: This session will cover some of the more prolific ransomware operators currently targeting organizations and the tactics, techniques and procedures (TTPs) they are using to take advantage of the emergence of many new remote workforces. Learn how you can be better prepared to protect your remote workers against these increasingly sophisticated ransomware attacks.
Avoid the Breach, Save the Weekend: Top Lessons Learned with CrowdStrike Services
Speaker: Tim Parisi, CrowdStrike Services Director of Incident Response
Date and Time: Thursday, August 6, 1:30-2:10 p.m.
Session Description: It's Friday. The weekend is upon you, but the phone rings, that email chime sounds, and another breach has happened. It's another weekend spent looking through logs and answering the "who, what, when and how" of it all. But could this have been prevented? Join the speaker to hear lessons learned from the IR front lines, and discover real-world lessons in how your security team can avoid the breach and save your weekends.
You can also watch an on-demand session:
Working With CrowdStrike APIs
Speaker: Adam Hogan, CrowdStrike Sales Engineering Manager
Time: On Demand
Session Description: This session will introduce the various APIs and related resources available within the CrowdStrike Falcon platform. The speaker will share the built-in Swagger page and explain why it is the preferred tool for both reference and experimentation with CrowdStrike® APIs. He will also demonstrate how to use these tools to prototype integrations within the platform and then move to a more extensible script. Examples will include working with CrowdStrike threat intelligence feeds, and reporting and using the Falcon endpoint protection platform to respond dynamically.
Visit Our Virtual Booth
CrowdStrike's online booth will be open on Wednesday and Thursday, August 5-6. Join us to watch a demonstration of the Falcon platform's powerful features or download a white paper or other digital asset. You'll also be able to live chat with one of our representatives or schedule a one-on-one with a CrowdStrike expert.
The following demonstrations will be available in our virtual booth. Learn how CrowdStrike makes anywhere, anytime security possible:
Overview of the CrowdStrike Falcon Platform

How CrowdStrike Secures

Cloud Workloads

Threat Intelligence the CrowdStrike Way

How CrowdScore™ Increases Efficiency

Lateral Movement

Detection with a Remote Workforce

How to Gain Visibility into Mobile Devices
Join in the Fun!
You won't want to miss our Falcon Trivia game, August 5-6, where you can win prizes while touring the Falcon console. To play, just click on the link provided in our virtual booth, and access questions about the platform. The answers you need can all be found in the Falcon console —  just pick up the login key at our booth and start playing. Answer quickly and you just might find your name on the leaderboard! 
Register, Participate and Win a Great Gift
You could be the recipient of an exclusive "Bringing Vegas to You" kit for your participation in the online activities CrowdStrike has lined up. We'll be sending kits to 500 attendees who participate in at least three of the following activities: attend a speaking session, watch a demo, schedule a meeting with a CrowdStrike expert, engage in a live chat and download a digital asset. 
We'll miss seeing you in Las Vegas, but we look forward to meeting you online at Black Hat 2020!
Additional Resources