The CrowdStrike Services Cyber Intrusion Casebook 2018 Offers Compelling Stories from the Front Lines of Incident Response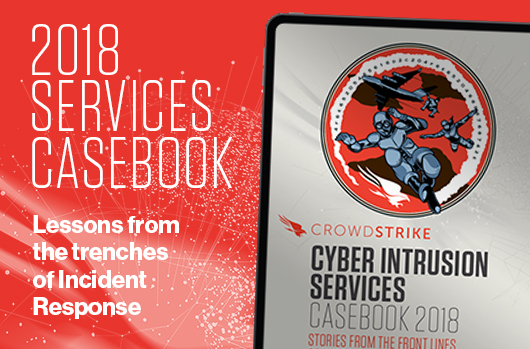 Download The CrowdStrike Services Cyber Intrusion Casebook 2018
In the last few years, the cybersecurity world has seen a rise in destructive attacks unlike any we've experienced before. Adversary groups don't observe geographic or industry boundaries, criminal groups have learned to work together to increase their effectiveness, and these malicious actors continue to innovate to achieve their geopolitical or financially-motivated objectives. The impact of these developments is that cybersecurity can no longer be considered an IT problem. It is a business problem.
Just a few of the challenges addressed by the CrowdStrike's Services team in 2018 included: helping with midterm election security; exposing persistent eCrime actors and nation-state adversaries; helping Fortune 500 enterprises and government agencies recover from complex ransomware outbreaks; identifying active attackers in government organizations and critical systems; and addressing vulnerabilities in supply chains.
And we've advocated for better cybersecurity for all, preaching the "1-10-60" rule that defines metrics for accountability and readiness, and briefing boards of directors and C-suites on the criticality of making cybersecurity a top priority. In 2018, our global Services team focused resources, intelligence and technology to detect and disrupt future attacks. We've analyzed the massive amounts of security data collected from every engagement this year and we've gained new insights into what challenges organizations face and how they can better prepare for the next wave of threats. This casebook presents some of the findings and recommendations we've made in key engagements across a representative sample of the work we performed last year.
The CrowdStrike Services Cyber Intrusion Casebook 2018 digs into:
Emerging and notable trends

Examples of ill-prepared organizations and the devastating effects of the breaches they suffered

Essential recommendations to prevent companies from becoming another statistic of poor security planning and execution
This casebook also underscores the expertise of our team and the important work we're doing at CrowdStrike® Services. As you read the case studies, you will see that CrowdStrike stands shoulder-to-shoulder with our clients as we work together to stop adversaries and repair damage. But this casebook is not just for CrowdStrike clients — we want everyone to become better prepared to overcome their adversaries in 2019.
Learn More:
Download the 2018 CrowdStrike Services Cyber Intrusion Casebook.
Read the press release.
Register for a webcast on the Cyber Intrusion Casebook: Stories From the Front Lines of Cybersecurity in 2018 and Insights that matter for 2019.
Learn more about CrowdStrike's next-gen endpoint protection by visiting the Falcon platform product page.
Test CrowdStrike next-gen AV for yourself: Start your free trial of Falcon Prevent™ today.