CrowdStrike Falcon®'s Autonomous Detection and Prevention Wins Best EDR Award and Earns Another AAA Rating in SE Labs Evaluations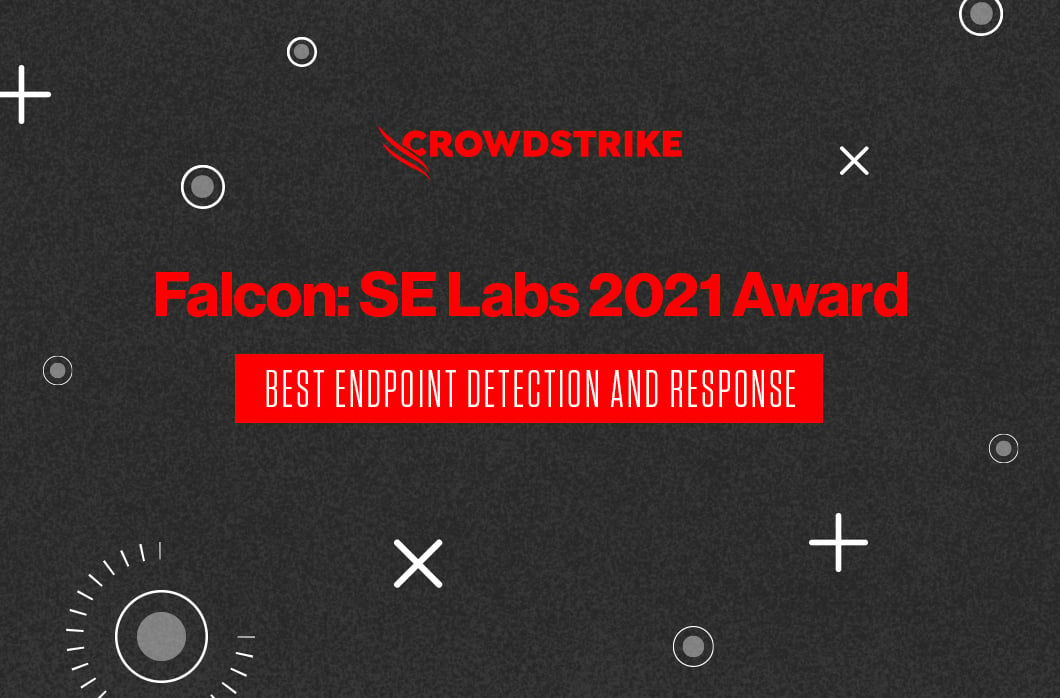 CrowdStrike wins the prestigious SE Labs "Best Endpoint Detection and Response" 2021 award. 

This marks CrowdStrike's second consecutive year winning Best EDR from SE Labs, the highly regarded independent testing organization, based on stellar EDR performance and testing results observed over the past 12 months.

Earlier this week, CrowdStrike  once again earned the highest AAA rating in the SE Labs Enterprise Endpoint Protection, Q3 2021 report, achieving detection scores of 99% total accuracy and 100% legitimate accuracy.

This is the 12th AAA rating in EPP for the CrowdStrike Falcon®

®

platform, dating back to

March 2018.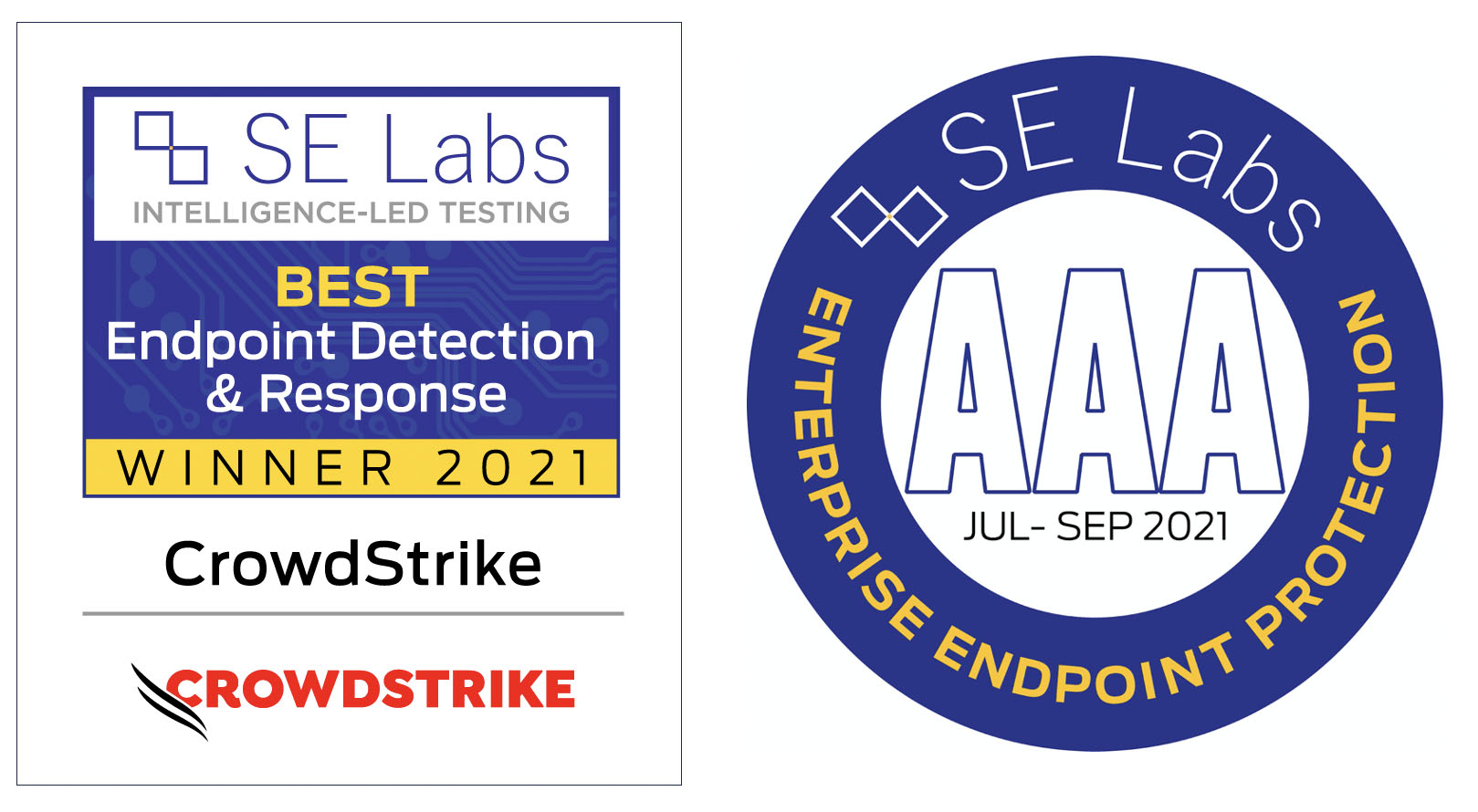 CrowdStrike Falcon® has been named best Endpoint Detection and Response, winning the award for the second time since independent third-party testing organization SE Labs first introduced it in 2020. The achievement speaks directly to Falcon's outstanding automated detection and prevention capabilities in tracking elements of sophisticated attack chains and protecting customers from breaches.
CrowdStrike also received a new AAA rating from SE Labs in its recent Endpoint Protection report, demonstrating consistent achievements in SE Labs testing in terms of automated protection and remediation capabilities using on-sensor indicators of attack (IOAs) and machine learning. This latest achievement underscores our commitment to transparency and constant improvement of our capabilities. 
The Falcon platform achieved a 99% Total Accuracy rating in protecting against both in-the-wild commodity threats and targeted attacks, according to the recent Q3 SE Labs Enterprise Endpoint Protection report. In this evaluation, CrowdStrike, a next-generation cloud endpoint detection and response (EDR) vendor, outperformed legacy vendors such as Microsoft, Symantec and McAfee. Falcon achieved outstanding testing score results, with CrowdStrike placing in the top three vendors in overall final score, with nearly in a tie for the best three solutions tested.  
Regularly participating in independent third-party tests drives us to build relevant, meaningful and valuable capabilities that can protect against sophisticated adversaries and threats as well as commodity malware. 
Falcon Once Again Wins Highest AAA Ranking from SE Labs
In the latest report, CrowdStrike Falcon® was awarded the highest AAA rating, speaking to Falcon's capability of automated detection and protection against sophisticated adversaries and unrelenting effectiveness in neutralizing and blocking threats.
SE Labs testing aims to offer a complete view of the capabilities of endpoint security solutions by using common attack tools typical of early stages of attempted breaches and in-the-wild commodity malware that is representative of the current threat landscape. CrowdStrike Falcon® has consistently participated in SE Labs testing, with an excellent track record of AAA ratings in SE Labs Enterprise Endpoint Protection reports dating back to March 2018. This marks the 12th time Falcon has been awarded an impressive AAA rating in Enterprise Endpoint Protection evaluations from SE Labs and the third time in 2021. 
Testing scenarios for detection and protection from general threats involved the ability to accurately identify web-based threats, such as URLs that attackers commonly use to trick users into downloading threats or executing malicious scripts. Identifying and blocking exploits and accurately identifying legitimate applications are also part of the testing scenario, with CrowdStrike Falcon® achieving an AAA award with 99% Total Accuracy and 100% Legitimate Accuracy rating. False positives generated by incorrectly identifying legitimate applications and websites as malicious can create serious disruptions in business operations. A 100% legitimate accuracy rating means businesses will spend less time, effort and money on remediating false positives and bringing systems back into production. 
Testing every layer of detection and protection against typical stages of an attack employed by sophisticated adversaries measures how the security solution responds to each stage of the attack. CrowdStrike Falcon® achieved a 99 Protection Score, which reflects the overall level of protection across multiple attack stages. This SE Labs score assesses the ability to protect systems by detecting, blocking or neutralizing threats based on how severe the outcomes of an attack could be. 
Products that detect and neutralize threats during the early stages of an attack are rated better and will protect systems from sophisticated threats. Conversely, the test severely penalizes security software that blocks legitimate applications, creating false positives. Blocking threats early in the attack chain enabled CrowdStrike Falcon® to achieve excellent results in automatically detecting and protecting against incidents.
CrowdStrike Falcon® Testing Achievements
By repeatedly participating in independent third-party cybersecurity testing, CrowdStrike demonstrates transparency in Falcon capabilities, and public results serve as a track record for validating consistency in automated protection and remediation. Since there is no single independent third-party test to determine an industry leader, Falcon's capabilities are validated by our ongoing participation in tests and evaluations from leading organizations, and by obtaining verifiable and repeatable detection and protection results. 
Falcon has demonstrated a superior track record for participating and excelling in third-party independent tests, with consistent results in terms of automated protection and remediation capabilities. For example, CrowdStrike was named a strategic leader in AV-Comparatives Endpoint Protection and Response tests and a leader in the Gartner Magic Quadrant for Endpoint Protection Platforms (EPP). With awards and certifications from leading testing organizations including AV-Comparatives, SE Labs and MITRE, CrowdStrike remains fully committed to supporting independent third-party efforts.
While these are only a handful of achievements, CrowdStrike has never been more unwavering and committed to our mission to stop breaches.
Additional Resources
Related Content