CrowdStrike Falcon Scores 100% Protection in AV-Comparatives Real-World Protection Test (March-April 2021)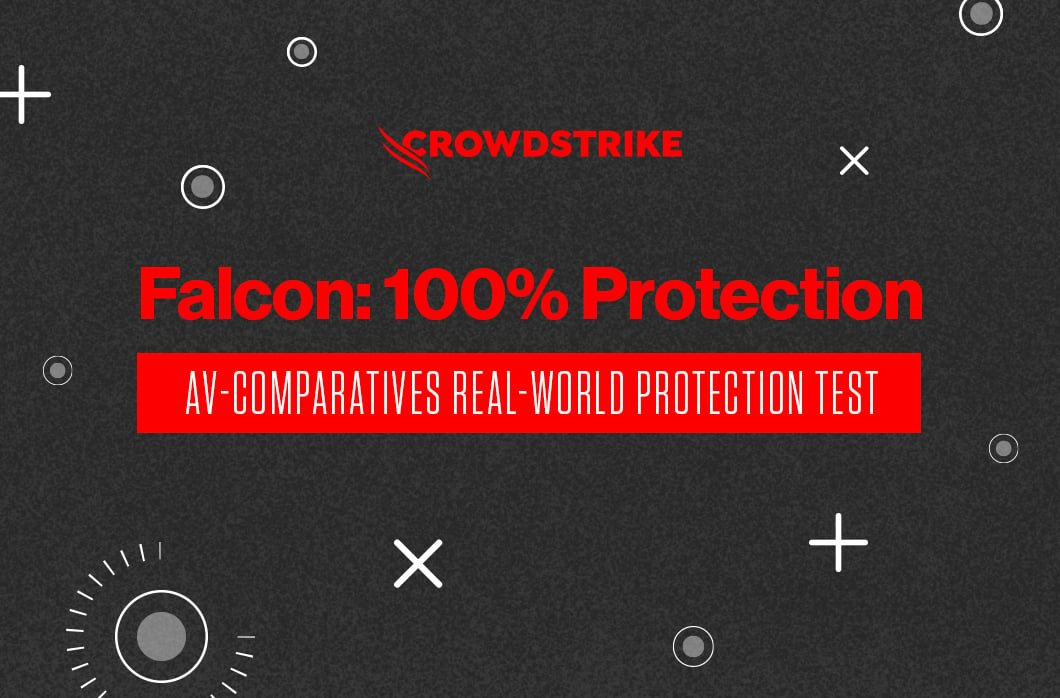 Recent high-visibility ransomware attacks — such as the disruption of a major U.S. East Coast fuel pipeline caused by DarkSide ransomware — underscore how critical it is for companies to protect themselves against sophisticated adversaries that may target their organizations. 
Disruptions caused by ransomware attacks can significantly impact business continuity by affecting critical production environments. With such attacks on the rise, organizations more than ever need a security solution with proven capability to robustly protect against these threats. The solution must be able to identify malicious intent — without requiring signatures, product updates or prior knowledge of the threat — and give visibility into an organization's infrastructure.
The Latest Testing Results from AV-Comparatives
We're pleased to share that CrowdStrike Falcon® scored 100% in the Business Real-World Protection Test, according to the recently released Business Test Fact Sheet March-April 2021 from AV-Comparatives. This test evaluated 19 enterprise products and performed 373 test cases (such as URLs) over a two-month period.
Separately, AV-Comparatives also performed a Malware Protection Test using 1,008 recent malware samples, and a critical component of that test was to ensure that enterprise security solutions can successfully identify and classify common business software as legitimate. Any false positives for these common applications could lead to business disruptions triggered by automated remediation processes, which can turn into costly time to bring systems back into production and overburden an already overworked security operations center (SOC) or IT team. CrowdStrike Falcon produced zero false alarms on common business software in this test, highlighting its ability to lower total cost of ownership without disrupting business operations. 
The complete AV-Comparatives Enterprise Endpoint Protection (EPP) Main-Test Series report will be released in July once full testing has been completed. 
The Importance of Independent Testing 
When organizations are evaluating the capabilities of security solutions, they often turn to leading independent testing organizations. CrowdStrike remains committed to regular, recurring third-party testing as a means of providing full transparency and visibility into how our capabilities fare in real-world testing scenarios. CrowdStrike Falcon has consistently proven its detection and protection capabilities in tests performed by leading independent testing organizations including MITRE, SE Labs and AV-Comparatives.
Additionally, CrowdStrike Falcon was recently reaffirmed as a Leader in the recent Gartner Magic Quadrant for Endpoint Protection Platforms (EPP), Q2 2021, placing furthest of all security vendors in the Completeness of Vision category. This was on the heels of our Leader designation in The Forrester Wave™: External Threat Intelligence Services, Q1 2021, and CrowdStrike Falcon Complete™ managed detection and response (MDR) being named a Leader in the 2021 Forrester Wave for Managed Detection and Response. 
The Power of the Falcon Platform
With companies increasingly facing more complex, covert and insidious adversarial tactics and tools, such as the SUNSPOT malware in the supply chain attack in December 2020, security solutions with a demonstrated ability to protect organizations from threats and real-world breaches are now a necessity — especially security solutions such as Falcon that fully leverage the power of the cloud and signatureless machine learning models to detect threats.
The Falcon platform was designed from the ground up to leverage the power and scale of the cloud to aggregate and analyze large-scale threat telemetry data. Coupled with the lightweight Falcon sensor, which uses built-in machine learning and behavioral detection, it can identify and block real-world threats and advanced adversarial tactics. This layered approach allows Falcon to immediately detect, block and quarantine ransomware-like behavior and prevent sophisticated adversarial tactics from compromising critical systems.
We remain unwavering in our commitment to deliver a unique, innovative and battle-proven security solution to help organizations defend against adversaries in the rapidly evolving threat landscape and stop breaches — and we're very pleased that third-party testing continues to reflect the ongoing success of our mission.
Additional Resources

Related Content