Forrester Names CrowdStrike a Leader in the 2018 Wave for Endpoint Detection And Response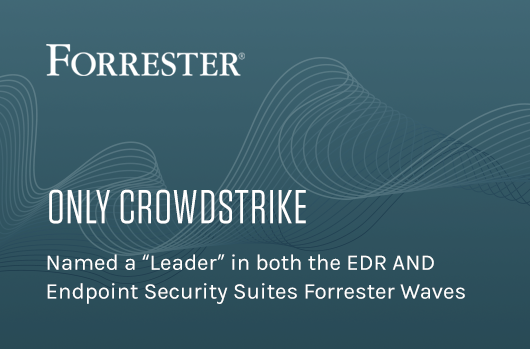 "CrowdStrike understands and articulates the problem of combating sophisticated actors better than anyone."                                          
We've always known that to be true, now Forrester has confirmed it. These are the exact words Forrester used to describe CrowdStrike in the just-published 2018 Wave for Endpoint Detection and Response (EDR) and we couldn't agree more.  We are thrilled to announce that Forrester has named CrowdStrike a "Leader" in this prestigious report.
The Forrester Wave evaluates vendors in three main dimensions: current offering, strategy, and market presence. Let's take a look at how CrowdStrike fared:
Current offering — This includes factors such as alerting configurability, agent effectiveness, forensic capabilities, deployment options and response actions. CrowdStrike received the top ranking out of all vendors.
Market presence — This includes factors such as enterprise installed base and number of enterprise customers.  CrowdStrike received the top ranking out of all vendors.
Strategy — This evaluates a vendor's product visions, planned enhancements, and market approach.  CrowdStrike is tied for the top ranking.
Out of all of the criteria above, CrowdStrike received the highest possible score in 14 individual criteria. In describing CrowdStrike, Forrester states that CrowdStrike "has built an EDR product company that is buttressed with threat intelligence and digital forensic services, which are widely respected across the industry." We believe the key factor in driving our success in this area is our cloud-delivered platform. The Falcon Platform was architected as a cloud-native solution from day one to ensure that it can process the massive amounts of data necessary to do EDR effectively. This report, as well as recent testing results from MITRE and other testing organizations, further validate, in our opinion, the effectiveness of this approach.
CrowdStrike is Leading the Way
The endpoint security market is in the midst of a major change. New technologies and solutions are emerging, and buyers have more choices than ever. We believe CrowdStrike stands apart from the competition because we are the only vendor to be named a leader in both the Forrester Wave for EDR and the Forrester Wave for Endpoint Security Suites.
As the pioneer of cloud-based endpoint security, CrowdStrike is able to release additions to the Falcon platform, enabling customers to easily expand their portfolio of capabilities ahead of cyber threats. In the past year alone, CrowdStrike has introduced data center coverage, the world's fastest cybersecurity engine, a new vulnerability management module, the industry's most advanced threat analysis capability, and additional features enabling real-time response and real-time search. These critical new advances of the CrowdStrike Falcon® platform are only possible because of the cloud native architecture of the technology. As a result, customers and the industry more broadly have accepted cloud-based endpoint security as the new standard for threat protection.
As such, CrowdStrike is rapidly gaining market share within the billion-dollar antivirus marketplace, expanding the market cap for the company's technology and services, and experiencing explosive global growth. Today, CrowdStrike's technology is deployed in 176 countries and CrowdStrike serves more than 20 percent of the Fortune 500 companies.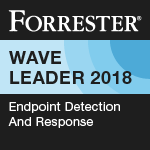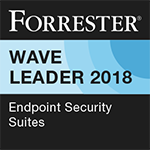 We believe being named a leader in both Forrester Waves is strong validation of CrowdStrike's standing as a leader in the endpoint security market. Delivering all of this functionality in a single solution means our customers not only get better protection, but also consolidate agents and simplify their security operations. We believe the combination of better protection, better performance and better value is how the Falcon platform will maintain its differentiation in the endpoint security space.
The Future Looks Good for CrowdStrike
Forrester states, "As legacy endpoint technologies become outdated and malicious cybercampaigns grow more sophisticated, improved threat detection, response, and hunting will dictate which providers will lead the pack." This is very much in line with CrowdStrike's philosophy and strategy. CrowdStrike has set a new standard in the market by combining next-generation antivirus, endpoint detection and response (EDR), managed threat hunting, IT hygiene, and threat intelligence — all delivered via the cloud using a single lightweight agent. With our growth and strong customer and industry validation, we believe CrowdStrike is demonstrating that our pioneering cloud-based approach is the future of endpoint security.
We believe our customers are the real leaders, taking CrowdStrike's internationally recognized, next-generation technology and using it to revolutionize the way security is delivered in their own organizations, every hour of every day. Their validation is the one that really matters, and the results they are achieving with the Falcon platform are what has prompted the analyst community to take notice. In that spirit, CrowdStrike wishes to thank its growing base of loyal customers and congratulate them on choosing to join us in the Leaders circle
Related Content