CrowdStrike Named a Leader in Frost & Sullivan's 2022 Frost Radar for Cyber Threat Intelligence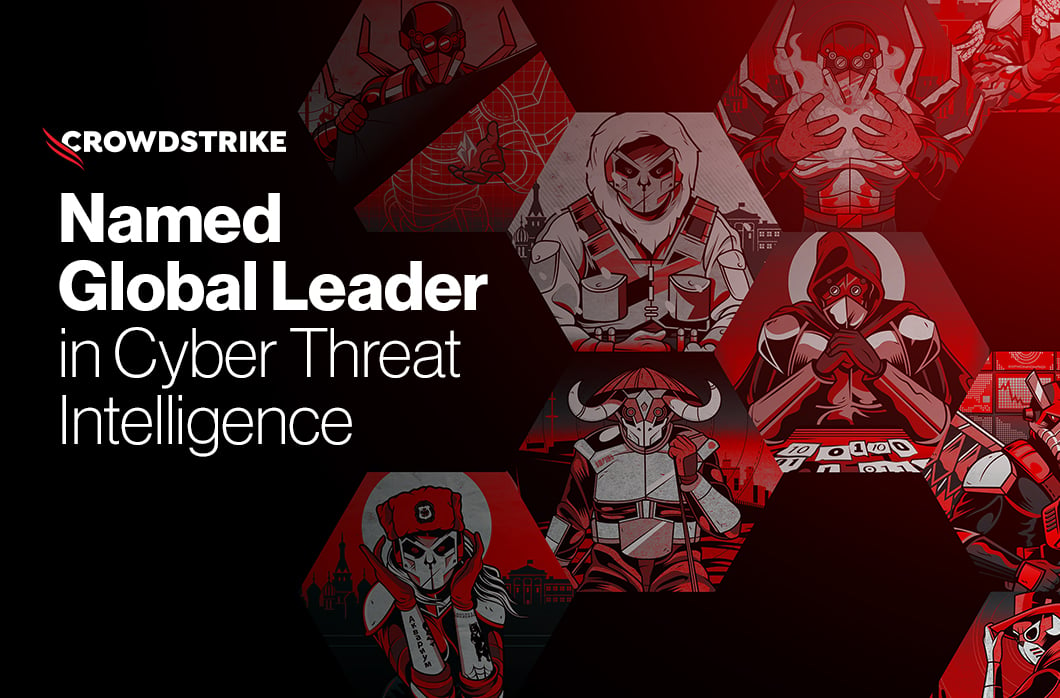 CrowdStrike is excited to announce we have been recognized by Frost & Sullivan as a global leader in the Frost Radar™ Global Cyber Threat Intelligence Market, 2022 analysis. Earlier this year, CrowdStrike was named a leader in the 2022 SPARK Matrix for Digital Threat Intelligence Management by Quadrant Knowledge Solutions; last year, we were named a leader in The Forrester Wave™: External Threat Intelligence Services, Q1 2021.
These industry recognitions validate CrowdStrike's continued innovation and delivery of comprehensive cyber threat intelligence capabilities with a strong value proposition. As a result, all organizations, regardless of size or expertise, can easily operationalize intelligence within the security operations center (SOC), monitor malicious activity outside of their perimeter and receive best-of-breed intelligence reporting with analysis backed by a trusted team of intelligence professionals.

Threat Intelligence Keeps CISOs Ahead of Attacks 
The 2022 CrowdStrike Global Threat Report reveals stark examples of the increasing sophistication and speed of adversary attacks: 62% of cyberattacks have become malware-free, interactive intrusions rose 45% year-over-year and the average breakout time dropped to 98 minutes. 
These trends pose substantial challenges to CISOs and their teams and are driving demand for threat intelligence. Security teams are hampered by a lack of resources and expertise. They require new solutions and insights that help keep them ahead of the quickly evolving threat landscape and deliver more effective detection and faster response to attacks.

Threat intelligence empowers CISOs and their security teams to strategize and take action on threats specific to their organization. When the inevitable attacks happen, this approach complements traditional preventive controls by providing an understanding of "who, when and how." It also helps organizations prioritize investment in defenses against future attacks. 
It's important to remember that it's not enough to "set it and forget it" when it comes to successfully adopting threat intelligence. Threat intelligence must be integrated into the SOC workflow, correlated to the latest vulnerability information, and most importantly, trusted by the entire security team to continuously provide timely, unique and relevant threat insights. Developing defensive strategies solely based upon publicly sourced, low-fidelity, after-the-fact intelligence exposes the organization to even more risks and unnecessary costs. 
CrowdStrike's Threat Intelligence Stands Alone
In its report, Frost & Sullivan takes a deep look into the 13 most significant threat intelligence providers and recognizes that "unlike most vendors on the Frost Radar, CrowdStrike can leverage client threat telemetry from deployments of its endpoint solution." This is a critical differentiator.

CrowdStrike delivers intelligence across the spectrum of use cases, while providing unique intelligence made possible by our expansive data collection strategy. This starts with the trillions of high-fidelity events per day collected by the CrowdStrike Security Cloud, which powers the protection of millions of endpoints across the globe and provides visibility into real-time and zero-day attacks. This telemetry enables CrowdStrike to track adversaries and their attacks around the world and is the key ingredient that makes the threat intelligence we deliver to our customers the most accurate, timely and unique.
Our comprehensive collection strategy, with the CrowdStrike Falcon® platform at its core, underscores CrowdStrike's ability to collect data that no one else can, resulting in threat intelligence no other vendor can provide.
Threat Intelligence for Everyone
The impact and operationalization of threat intelligence can differ across organizations and is typically dependent on the size and skills of the security team. For many organizations early in their intelligence journey, "threat intelligence" may simply describe indicators of compromise (IOCs) to block or open-source news alerts sent when a new cyberattack happens. As organizations mature, their needs expand to include enriched context for detections, threat hunting and investigation, dark web monitoring and malware sandboxing. As intelligence becomes more strategic, CISOs and board members may have questions that require in-depth research from a dedicated cyber threat intelligence team.

The CrowdStrike Falcon® Intelligence suite provides comprehensive coverage of threat intelligence use cases, enabling customers to adopt just the right set of intelligence capabilities for where they are on their journey, with the ability to easily expand as they grow. This suite is broken into three modules, addressing the following outcomes:
Automated, actionable intelligence: The Falcon Intelligence suite is the only solution in the Frost Radar analysis that is built into an industry-leading security platform. Our intelligence goes beyond powering Falcon platform detections and informing our machine learning models. It is seamlessly available in the team's workflow, enriching other CrowdStrike modules with insights. In addition, CrowdStrike Falcon Intelligence automates time-consuming incident investigations and places the resulting insights at the user's fingertips, thereby empowering SOC teams to make better, faster security decisions.

Visibility into active external threats:

As organizations lock down their environments they begin to look outside the perimeter, requiring visibility into external risk.

CrowdStrike Falcon Intelligence Recon

enables security teams to identify and mitigate threats such as brand impersonation, lost or stolen data, and credentials for sale in underground markets.



Building a strategic defense

: To gain an advantage over the adversary, organizations need a team of experts to track their activity, understand their capabilities and expose their campaigns. Yet the cost of such a team is beyond the scope of most organizations. The CrowdStrike Intelligence team tracks down hundreds of adversaries across eCrime, nation-state and hacktivism and provides their insights to our customers.

CrowdStrike Falcon Intelligence Premium

delivers industry-leading research that exposes threats against businesses. 
Threat intelligence is part of CrowdStrike's DNA and has been a cornerstone from the day the company was founded. CrowdStrike not only collects and produces intelligence, it also continuously consumes it to strengthen every Falcon module. This integrated approach results in threat intelligence that helps customers understand their threat profile from an adversary perspective to keep them ahead of the next attack, prioritize future investments and maximize ROI of existing threat risk mitigation initiatives.
Additional Resources
Related Content