CrowdStrike Receives Highest Overall Score in the 2018 Gartner Peer Insights Customers' Choice for EPP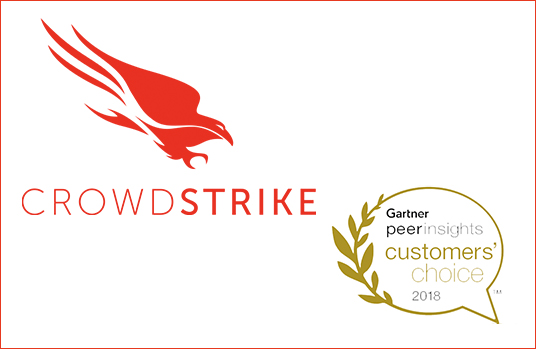 We are excited about some fantastic recognition we received today, when CrowdStrike® was named in the 2018 Gartner Peer Insights Customers' Choice for Endpoint Protection Platforms.
Although the Gartner Peer Insights program has been around since 2015, this is only the second year Gartner has compiled this list of  EPP vendors. The list represents a top-level synthesis of the vendor products that are most valued by customers in our market.
The Gartner Peer Insights Customer Choice is based 100 percent on customer reviews. To be included in this exclusive list is especially gratifying because CrowdStrike believes it highlights the positive experiences customers are having with the CrowdStrike Falcon® platform, and reflects their views on our technology and our organization as a whole. It also emphasizes CrowdStrike's continued commitment to ensuring customer satisfaction while protecting our global customer community from today's sophisticated and persistent cyberattacks.
CrowdStrike has held a continuous rating of 4.8 out of a possible 5 stars for the past twelve months in the Gartner Peer Insights for EPP. This is the highest rating of all vendors, with more than 249 verified customer reviews. The Gartner Peer Insights Customers' Choice distinction is based on feedback and ratings from end-user professionals who have experienced purchasing, implementing and/or using the Falcon platform. Top vendors noted in the report must have 50 or more approved ratings and an average overall rating of 4.2 stars or greater.
Customer Reviews In Gartner Peer Insights
Here are some examples of CrowdStrike customer reviews from the Gartner Peer Insights portal:
"Best Endpoint Security Tool on the Market"
"Having worked with CrowdStrike's top three competitors I am blown away with the feature set available to me and my team, especially after such a negligible effort to deploy and tune. The installation time, excluding planning, took less than 12 hours to roll out to a few thousand endpoints. There is not a single use case we have that is not covered by the Falcon platform, and the additional modules available to implement as we scale as a security program ensures we will be able to meet the needs of our business with just a single agent."
Security Engineer in the Healthcare Industry
 "Effective, Class Leading Product And Services From A Highly Progressive Company"
"The solution is easy to deploy, quick to configure and shows fast time to value. The product gives us unprecedented visibility into attacks, a large library of IOCs and tools to investigate the incident. The performance is very fast and works whether client devices are in or out of the office, due to being cloud based. The service has always been prompt, professional and effective."
Head of EA and Governance in the Energy and Utilities Industry
"The Gold Standard for Next Generation AV"
"EDR and NGAV are soon to be the gold standard for enterprise environments. Falcon has provided us with a blend of tools that made the transition to adaptive security architecture possible."
Manager Information Security in the Finance Industry
"Incredibly easy implementation: Up and protected in just a couple hours"
"Falcon agents were incredibly easy to install throughout our infrastructure. Getting all of our servers and workstations protected took just a couple minutes per computer. The client is very lightweight but has some very robust protections behind it."
 VP, Information Technology in the Finance Industry
"CrowdStrike Falcon Host Best Next-Generation Endpoint Protection Solution at end of POC"
"CrowdStrike Falcon Host was the best solution among the three vendors chosen from a field of fifteen EPP solutions reviewed in the space. Deploying CrowdStrike Falcon Host onto the test devices in our test lab, took minutes as compared to the other solutions, which took hours, days and up to a week to deploy."
Cyber Security Analyst in the Energy and Utilities Industry
Three Recognitions From Gartner
This is our third important recognition from Gartner in 2018. We believe this continued momentum is a testament to the fact that we've been able to navigate the changes in customer demand faster than the competition.
In late 2017, Gartner offered new insights and perspective on the state of endpoint security. In its report, "Redefining Endpoint Protection for 2017 and 2018," Gartner's revised definition of endpoint protection platforms offered a bold and detailed analysis of the challenges faced by today's endpoint security vendors. The report provided new and valuable recommendations for security and risk management leaders as they evaluate their options.
Shortly after Gartner redefined the market for endpoint protection platforms, CrowdStrike went on a winning spree that's been echoed by both analysts and customers in what we believe are Gartner's three most important customer-focused assets produced in 2018, including the recognition we received today.
In addition to being named to the Gartner Peer Insights Customer's Choice list, CrowdStrike has achieved the following recognition from Gartner:
Gartner Magic Quadrant: Highest and Furthest to the Right in the Visionary Quadrant
During the first quarter of this year, Gartner released its 2018 Magic Quadrant for Endpoint Protection Platforms. Not only was CrowdStrike positioned the highest and furthest to the right in the Visionary quadrant, we were one of the only vendors that moved up and to the right from the previous year. The majority of vendors remained stagnant or declined. Being positioned as the top visionary showcased how CrowdStrike has evolved to meet the needs of a changing market. Our cloud platform and our leading-edge technologies were rewarded for being disruptive and forward-leaning.
Gartner Critical Capabilities: Top 3 in all Categories
The Gartner Critical Capabilities Report is a continuation of the analysis conducted for the Gartner 2018 MQ for EPP and uses the same data collected during that research period. The Gartner Critical Capabilities Report enhances the Gartner MQ with deeper insights into vendors' product and service offerings by providing product ratings of key capabilities in different usage scenarios. CrowdStrike placed in the top three for each use case.
CrowdStrike believes the Gartner Critical Capabilities report is an important complement to the Gartner MQ for EPP because the former focuses solely on product capabilities, rather than on factors such as vendor market share. More specifically, the Critical Capabilities report helps organizations understand which vendors offer the solutions that will best fit their needs, by segmenting the assessments into different use cases.
Up And To The Right
With explosive growth and strong customer and industry validation, we believe CrowdStrike is proving that our pioneering cloud-based approach is the future of endpoint security. We expect to continue to separate from the pack of next-gen vendors and to take increasing market share from the legacy antivirus vendors. We would like to thank our customers for their continued trust and support, and for this tremendous validation with Gartner.  We remain committed first and foremost to our customers' success and ensuring they have the most effective and comprehensive endpoint protection possible.
For More Information:
Read the press release.
Learn more about the 2018 Gartner Peer Insights Customers' Choice for Endpoint Protection Platforms.
Download the 2018 Gartner Magic Quadrant for Endpoint Protection Platforms.
Test CrowdStrike next-gen AV for yourself. Start your free trial of Falcon Prevent™ today.
Gartner does not endorse any vendor, product or service depicted in its research publications, and does not advise technology users to select only those vendors with the highest ratings or other designation. Gartner research publications consist of the opinions of Gartner's research organization and should not be construed as statements of fact. Gartner disclaims all warranties, expressed or implied, with respect to this research, including any warranties of merchantability or fitness for a particular purpose.
The GARTNER PEER INSIGHTS CUSTOMERS' CHOICE badge is a trademark and service mark of Gartner, Inc., and/or its affiliates, and is used herein with permission. All rights reserved. Gartner Peer Insights Customers' Choice constitute the subjective opinions of individual end-user reviews, ratings, and data applied against a documented methodology; they neither represent the views of, nor constitute an endorsement by, Gartner or its affiliates.