CrowdStrike Falcon Named the Winner of the 2022 AV-TEST Award for Best MacOS Security Product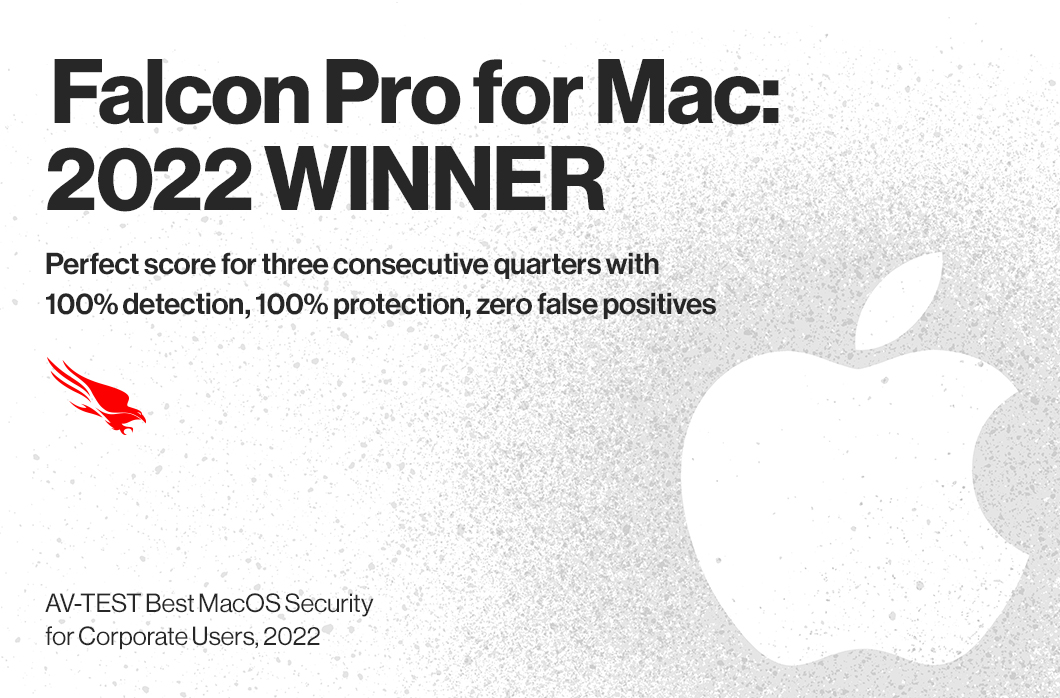 After extensive testing and analysis, the AV-TEST Institute has named CrowdStrike Falcon® Pro for Mac the Best MacOS Security Product for Business for 2022. AV-TEST completed its evaluation of macOS security products for business users for 2022 following a year-long series of tests, in which Falcon Pro for Mac was the only security product to score a perfect 18.0 points in three straight quarterly evaluations.
In announcing the decision, AV-TEST CEO Maik Morgenstern praised Falcon Pro for Mac:
"Corporate users in particular know the damage that a successful attack can inflict on their Mac systems. That is why a good endpoint solution is a perfect bulwark to fend off attacks at the corporate user level. Thus, the lab is pleased to confer the AV-TEST Best MacOS Security 2022 Award for Corporate Users on CrowdStrike for its enterprise solution, Falcon."
CrowdStrike is the winner of this award in a competition that saw the industry's leading cybersecurity vendors participating in quarterly evaluations throughout 2022.
Watch this video demo to see Falcon endpoint security for macOS in action.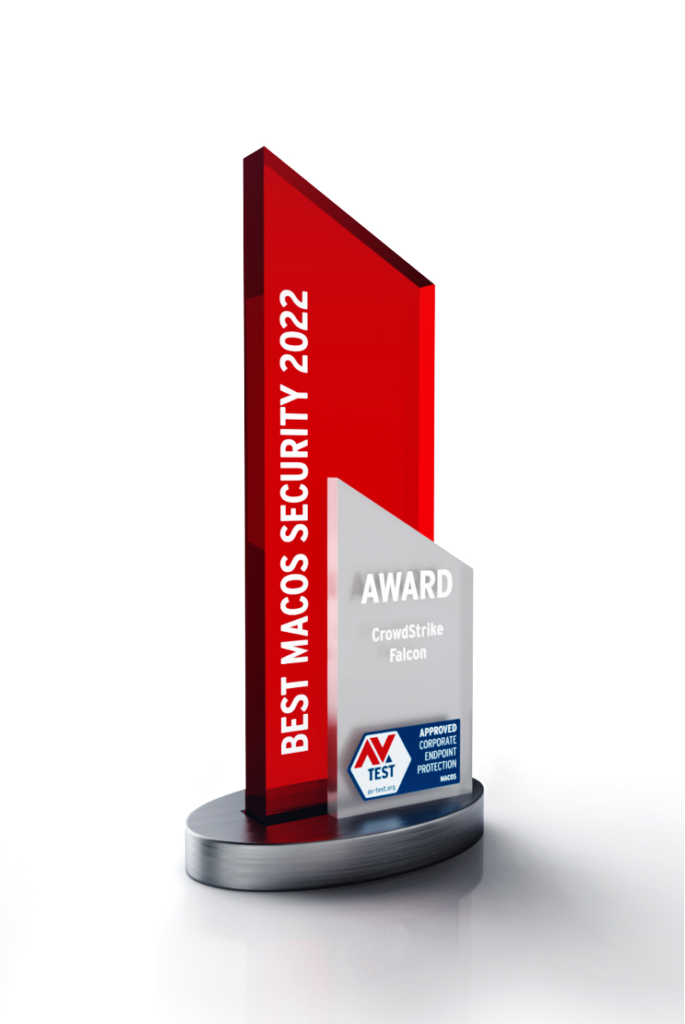 For Enterprise, Endpoint Security for Mac Best Practices Means Investing in the Best Cybersecurity Protection: CrowdStrike Falcon Pro for Mac
Apple's Mac computers have become increasingly popular among enterprises. Following innovations like Apple's introduction of its own high-power/high-efficiency M1 series chips in 2020, macOS devices surged from a 17% market share among U.S. enterprises (1,000+ employees) in 2019 to 23% in 2021. The company hasn't been immune from global economic forces, but even as PC sales stalled, Apple still managed to increase its market share in 2022. 
This era of widespread enterprise Mac adoption is colliding with a longstanding misconception that macOS is seldom targeted by or vulnerable to malware — which is hardly the case. As CrowdStrike research into the macOS malware landscape shows, Macs are being hit with a wide range of sophisticated malware, from backdoors to ransomware. And Apple itself was forced to release dozens of critical macOS security updates in 2022 as adversaries stepped up their efforts to attack the platform. 
Hoping that the built-in security capabilities of macOS will protect a Mac from a determined adversary is wishful thinking. Relying on out-of-the box Mac antivirus software is also insufficient to avoid the possibility of a costly breach.
Given what is at stake, it is more important than ever for organizations to invest in the best possible protection for their macOs computers. According to the AV-TEST Institute — a leading independent cybersecurity solution evaluation organization — the best macOS security product for business in 2022 was CrowdStrike Falcon Pro for Mac.
AV-TEST Runs Comprehensive Testing Scenarios for macOS Security Products — and Falcon Excelled
AV-TEST has designed a suite of comprehensive and demanding evaluation scenarios for macOS security products aimed at the business market.
First and foremost, the security solution must both detect and protect against threats. AV-TEST employs hundreds of samples of prevalent Mac malware including worms, viruses and trojans. Malware that is missed sets the stage for a breach, so a high score is important. The second part of the test evaluates performance, ensuring that use of the security solution doesn't slow down the performance of Mac computers during daily use. When computers slow down, users complain and productivity takes a hit. The third component is usability, which measures the security solution's incidence of false positives. False positives are disruptive and waste valuable SecOps time for investigations.
Through the four quarterly macOS security for business evaluations that AV-TEST conducted in 2022, CrowdStrike Falcon Pro for Mac narrowly missed a perfect score for the year, with a perfect 18.0 points across three of the four sessions and 17.5 points (out of 18.0) in the fourth. 
This consistent, outstanding performance earned CrowdStrike Falcon Pro for Mac the AV-TEST award as Best macOS Security Product for Business for 2022. 
In announcing the award, AV-TEST said of CrowdStrike's achievement and the importance of protecting enterprise macOS endpoints:
"The days when there was only a small number of malware threats for MacOS have long since passed. The AV-ATLAS statistics system from AV-TEST tallied only a few thousand malware samples 15 years ago — now there are nearly 1 million. The threats for consumer users, and especially for corporate users, are to be taken seriously. CrowdStrike is acutely aware of such threats, and demonstrated in the lab in the year 2022 how well its software solution is able to protect corporate users. For this outstanding performance, the institute conferred the AV-TEST Best MacOS Security 2022 Award for Corporate Users on CrowdStrike Falcon."
You can read the full announcement from AV-TEST here.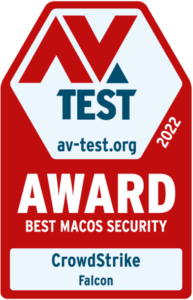 Why CrowdStrike Is Committed to Third-Party Testing
The AV-TEST award was another notable win for Falcon and for CrowdStrike the recognition is an opportunity to educate customers on making the best choices for their organizations' Mac computer security needs. 
CrowdStrike remains committed to independent, third-party testing of our products and being transparent about our participation. Constant testing of Falcon by a wide range of organizations helps us to improve our product based on their feedback. Third-party testing also provides the ability for customers to get a clear picture of the advantages of Falcon's technology and capabilities — including the use of advanced machine learning and indicators of attack (IOAs) for automated threat detection. 
CrowdStrike's continued market leadership is recognized through awards like this one. As the world's most tested next-generation security platform, we want to continually demonstrate that Falcon is a generational platform that provides the comprehensive protection and outcomes that our customers require and deserve.
Additional Resources
Related Content