CrowdStrike Debuts Product and Partnership News at AWS re:Invent 2019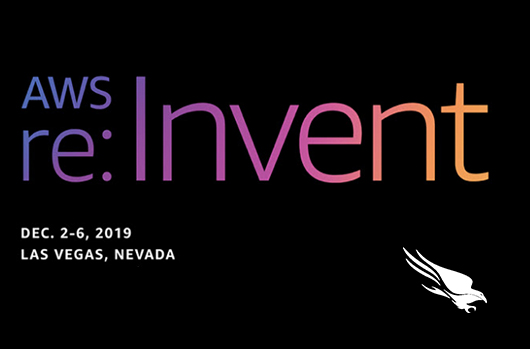 CrowdStrike® is thrilled to be attending AWS re:Invent 2019 this week as an AWS Partner Network (APN) sponsor. Amazon Web Services' annual conference in Las Vegas draws cloud computing professionals from all over the world for a week of keynotes, breakout sessions, chalk talks, workshops, and builder sessions focused on a range of cloud services and technologies.
CrowdStrike executives and staff are on hand to showcase new CrowdStrike Falcon® platform features and capabilities, and CrowdStrike is being featured as a key AWS Partner Network (APN) partner in AWS re:Invent 2019 Global Partner Summit and many breakout sessions. We will also be taking an opportunity to network with our customers, partners and other industry leaders who are among the more than 50,000 attendees expected this year.
Please stop by booth #3134 and talk to a CrowdStrike security expert to learn about our product offerings — or watch a demo and get a coveted CrowdStrike Adversary T-shirt!
CrowdStrike New Product Announcements
CrowdStrike made huge strides in the industry this year, as we continue to expand the Falcon platform capabilities. We also announced several key advancements in our ecosystem partnerships. The following are some of the product and ecosystem announcements being highlighted at this year's AWS re:Invent.
Falcon for AWS with Consumption Billing
Falcon for AWS was introduced last month to give customers industry-leading, next-generation protection and enhanced visibility across their cloud compute workloads — including containers — while also being able to scale their consumption dynamically as their business needs change. This aligns well with the AWS "Shared Responsibility Model of Cloud Security," which describes how customers can readily secure cloud workloads, from the time new instances are created, by integrating with DevOps tools and CI/CD workflows. This also allows them to optimize their spend on elastic workloads. Falcon for AWS is now available for purchase with consumption billing in AWS Marketplace.
Support for AWS PrivateLink for Sensor-to-Cloud Communications
AWS PrivateLink simplifies the security of data shared with cloud-based applications by eliminating exposure of that data to the public Internet. It allows customers to connect their AWS workloads to services hosted on AWS without the data having to traverse the Internet. Customers will be able to use AWS PrivateLink with Falcon for AWS to enable their sensor-to-cloud traffic, from their AWS hosted instances, to flow via PrivateLink. This dramatically simplifies customers' network architecture because there are no additional gateways required for communicating with the CrowdStrike cloud platform. It also ensures that the security risk of exposure to the internet is minimized for customers subscribing to CrowdStrike products and services in AWS Marketplace.
CrowdStrike Partnership Announcements
CrowdStrike is proud to be an AWS APN Advanced Technology Partner and honored to have received the AWS Security Competency status. Our continued collaboration with AWS has resulted in CrowdStrike being named a technology partner for Amazon GuardDuty, as well as AWS Security Hub. CrowdStrike is also featured as an upcoming technology partner for additional releases in AWS' new product launch announcements at this year's re:Invent conference. The following includes other partnership announcements from this year's event.
Partner for Graviton-based EC2 Instances
As highlighted by David Brown (VP, EC2, Amazon Web Services) at his "Redefining Amazon EC2 for every workload" leadership session on Tuesday, Dec. 3, CrowdStrike was announced as a security POC partner to provide cloud-native endpoint protection for Amazon EC2 A1 instances powered by AWS Graviton Processors, and the upcoming C6g, M6g and R6g EC2 instances based on the new Graviton2 Processors.
There has been increased demand for Amazon EC2 A1 instances because they deliver significant cost savings for scale-out and ARM-based applications. Applications built on open-source software, including web applications, containerized microservices and ARM-native use cases can leverage the flexibility and scalability provided by EC2 instances in conjunction with 64-bit ARM processors. Customers require the same seamless protection across different compute instance types. They also want to extend security and visibility into EC2 A1 instances without compromising performance. With the Falcon lightweight agent, there is minimal impact on runtime performance and there are no requirements for reboots, "scan storms" or invasive signature updates — making CrowdStrike Falcon an ideal choice to secure Linux workloads running on ARM.
Partner for AWS Outposts
AWS Outposts was designed to run applications that have a bandwidth or low-latency dependency on an on-premises solution, bringing native AWS services, infrastructure and operating models to any data center, co-location or on-premises facility. Customers will be able to create application architectures on Outposts the same way they do on the AWS Cloud, providing them with their preferred security solutions as part of the architectures they deploy on Outposts.
CrowdStrike is looking forward to extending partnership with AWS by providing customers with the same security solutions for applications in Outposts as it is currently providing for applications running on the AWS Cloud. Wherever the customer workloads are located, CrowdStrike will be able to protect them — on- or off-network, in the data center and in public/private/hybrid cloud environments.
Visit the CrowdStrike Booth
If you are attending AWS re:Invent 2019, please stop by Booth #3134 to watch a product demo, get a fantastic adversary T-shirt and learn more about our new product offerings and capabilities!
Additional Resources