Our Customers Have Spoken: CrowdStrike Delivers the Best in EDR, EPP and XDR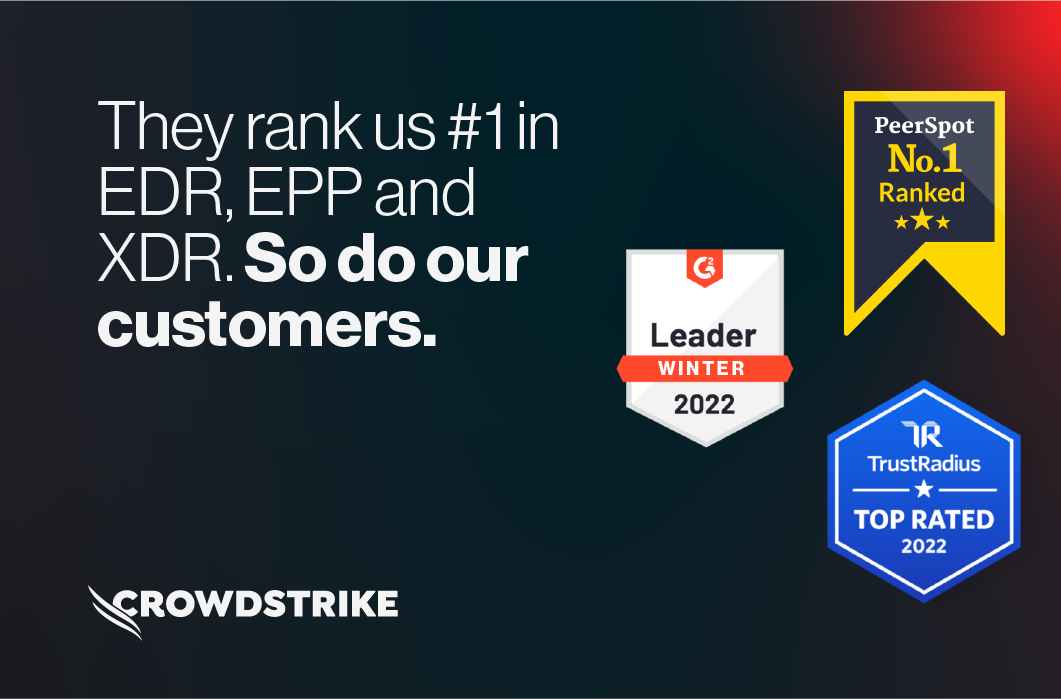 Time and again, analyst reports, independent tests and numerous other awards and acknowledgements affirm CrowdStrike is a leader in cybersecurity. Why is this important?  Because when CrowdStrike is #1, it's our customers who win.
But to us, the best validation of the power of the CrowdStrike Falcon® platform comes from our customers themselves. We are proud to have earned the trust of so many organizations — over 20,000 customers and counting — around the world.
Our customers consistently tell us they choose CrowdStrike because our products simply work. And they often tell their peers as well. So much so, in fact, that three leading customer review sites recently recognized CrowdStrike with top rankings spanning the cybersecurity market. We're humbled that so many of our customers have enthusiastically shared their success stories of using the Falcon platform with the industry. 
Collectively, our customers' voices verify CrowdStrike's ability to provide the platform, expertise and intelligence they need to keep their organizations moving forward. 
Leading Customer Review Sites Validate CrowdStrike As #1 Across Multiple Market Categories  
Based on verified customer reviews, three leading customer review sites — G2, PeerSpot and TrustRadius — recently recognized CrowdStrike as having the top offerings in numerous cybersecurity market categories, including endpoint detection and response (EDR), endpoint protection platform (EPP) and extended detection and response (XDR). 
First, let's cover CrowdStrike's market-spanning rankings:
G2: CrowdStrike finished #1 in the Winter 2022 Report for EDR in the Enterprise, Mid-Market and Overall categories, and #1 in the Winter 2022 Report for XDR in the Enterprise and Overall categories. CrowdStrike was the only Leader listed in the Enterprise category for EDR. CrowdStrike also finished #1 in the Winter 2022 Report for Threat Intelligence in the Enterprise and Overall categories, and #1 in the Winter 2022 Report for Antivirus in the Enterprise category. 
PeerSpot: CrowdStrike earned a 2022 PeerSpot Gold PeerAward in EDR, EPP and Anti-Malware Tools, and also received No. 1 Ranked badges in EDR, EPP, Managed Detection and Response (MDR) and Threat Intelligence Platforms. 
TrustRadius: CrowdStrike won 2022 Top Rated awards for Endpoint Security, Extended Detection and Response (XDR), Antivirus, Cloud Computing Security, Incident Response, Intrusion Detection, MDR, Threat Intelligence and Vulnerability Management.
When we win, our customers win. That's why we are so excited to hear these real-world anecdotes from our customers on the value they are receiving from the Falcon platform. Here are just a few of their stories:
"We were using Windows Defender before Falcon. […] With Falcon installed, I know that we'll find out if our users get attacked or compromised so that we can deal with it right away,"

said a director of IT

at a mid-market company (via G2). 

"[The CrowdStrike] Falcon ecosystem is very vast and with a SINGLE and lightweight agent it can provide many different security related protection capabilities. The console is very easy to understand, [and] it's cloud native so it also saves money with regards [to] infrastructure and maintenance,"

said a verified enterprise user

in hospital and health care (via G2).

"The features for CrowdStrike Falcon far outweigh the competition. From the cloud infrastructure, implementation, deployment, and even the support staff, [CrowdStrike] Falcon is beyond anything that we have used,"

said a technical support specialist

at Northwestern University (via TrustRadius).
Read the press release.
Learn how the powerful CrowdStrike Falcon platform provides comprehensive protection across your organization, workers and data, wherever they are located.
Our Customers Tell Us Why They Chose and Use CrowdStrike to Help Their Peers Do the Same 
Fal.Con, CrowdStrike's annual premier cybersecurity event, is where industry professionals discover how to strengthen their security posture and protect their organizations in today's rapidly evolving threat landscape. It is also an opportunity for us to visit face-to-face with our customers, whose feedback not only helps guide CrowdStrike product development but also validates our cloud-native, single lightweight agent approach to cybersecurity. 
At Fal.Con 2022, a number of our customers sat with our camera crew to help create the following video, in which they share their CrowdStrike success stories to assist their industry peers as they navigate their own decision-making journeys.
At CrowdStrike, we know that market leadership is more than just having the best technology. It includes delivering the best outcomes for our customers by extending our industry-leading Falcon platform protection across their greatest areas of risk. Though we will never stop fighting every day to be and stay #1, as the customer-sourced awards and feedback above attest, our customers are glad to be along with us for the journey.  
The industry-leading CrowdStrike Falcon platform sets the new standard in cybersecurity. Watch this demo to see the Falcon platform in action.  
Additional Resources

Related Content