CrowdStrike Named A "Strong Performer" in the Forrester New Wave for XDR Providers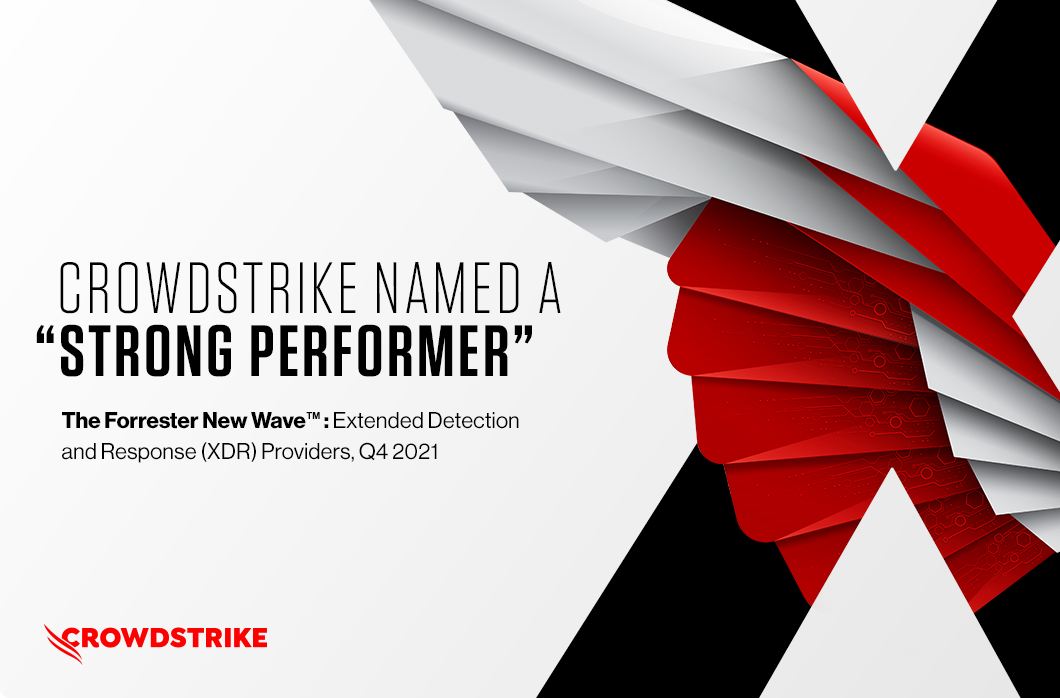 We are thrilled to announce that Forrester named CrowdStrike a "Strong Performer" in The Forrester New Wave™: Extended Detection And Response (XDR) Providers, Q4 2021, its New Wave market evaluation of 14 XDR providers.
XDR Is the Future of EDR
This Forrester New Wave signals the next frontier for the endpoint detection and response (EDR) market and outlines the unified, threat-oriented approach needed to stop breaches across the security stack in the years to come. More specifically, this Forrester New Wave offers important guidance for security and risk professionals to evaluate the current and future state of XDR technology, including that:
The goalposts for XDR success are set.

The XDR market is still in its infancy, with basic definitions and terminology still varying widely.

Now with this independent market evaluation, security and risk professionals will shift from asking "

What is XDR?

" to "When should I adopt it?"

Endpoint detection and response (EDR) is at the core of XDR.

The battle to define the XDR market is over — and

SIEM

and

SOAR

have lost. It's clear that endpoint protection capabilities are not just important for XDR but a base requirement. To be considered for inclusion in the Forrester XDR New Wave, vendors had to demonstrate "EDR efficacy" and participate in recent MITRE ATT&CK® evaluations.

CrowdStrike offers "distinct capabilities with an aggressive roadmap…"

Forrester scored CrowdStrike as differentiated in the criteria of "product security" and "planned enhancements" for its XDR offerings — while also ranking CrowdStrike among the top of all 14 XDR providers in the Strategy category. With a strong XDR foundation now in place and a compelling roadmap, CrowdStrike is incredibly excited about what's on the horizon for XDR and the CrowdStrike Falcon®

®

platform.

The future of XDR at CrowdStrike is already here. Earlier this week, CrowdStrike made seminal XDR announcements, introducing the new CROWDSTRIKE FALCON® XDR module and dedicated CrowdXDR Alliance to partner with other leading security and IT providers for a true, integrated best-of-breed XDR ecosystem.
"CrowdStrike has built a portfolio of products and services that customers rave about." — The Forrester New Wave™: Extended Detection And Response (XDR) Providers, Q4 2021
Extend Beyond the Endpoint
With CROWDSTRIKE FALCON® XDR and the CrowdXDR Alliance, CrowdStrike is once again setting the industry standard for comprehensive security by delivering:
Extended detection and response across environments:

Customers can optimize real-time threat detection, investigation and hunting across environments and domains through the seamless ingestion and correlation of the most relevant security telemetry from a wide and growing range of third-party data sources, including identity, network security, email security, cloud infrastructure protection, web security and more.

Visualized context-rich detections across domains:

CROWDSTRIKE FALCON® XDR provides faster, comprehensive correlation with custom, automated alerting for cross-platform detection and investigation that unearths previously unseen malicious behaviors and activity within each unique customer environment.

Index-free observability and hunting.

Explore live, fast-moving threats like never before with

Humio

as a foundational architectural component of CROWDSTRIKE FALCON® XDR.

Improved efficiency and efficacy:

CROWDSTRIKE FALCON® XDR eliminates operational inefficiency of disparate tools and solutions by tightly integrating with customers' existing solutions to build a cohesive and more effective cybersecurity stack.

Accelerated full-cycle response:

CROWDSTRIKE FALCON® XDR natively inherits all of the benefits of the Falcon platform including

Falcon Fusion

to accelerate response actions by enabling customers to orchestrate and automate any security workflow, building real-time active notification and response capabilities along with customizable triggers based on detection and incident categorizations. Falcon Fusion is an integral component of the

CrowdStrike Falcon® platform

and is now available to all customers for free.
View the complete Forrester New Wave for XDR.
Additional Resources
Learn more about the CrowdStrike

CROWDSTRIKE FALCON® XDR

module.

See how CrowdStrike extends XDR further through the

CrowdXDR Alliance

.

Watch the

CROWDSTRIKE FALCON® XDR demo

. 

Navigate the XDR landscape and where to start —

read the Forrester report

"Adapt or Die: XDR Is On A Collision Course With SIEM AND SOAR"

Watch CrowdStrike CEO, George Kurtz, introduce CROWDSTRIKE FALCON® XDR during his opening keynote session at Fal.Con 2021 — 

view the recording

.

Learn how the

CrowdStrike Falcon® platform

provides comprehensive protection across your organization, workers and data, wherever they are located.
Related Content