CrowdStrike CEO and Co-founder George Kurtz Wins Ernst & Young Entrepreneur of the Year for Security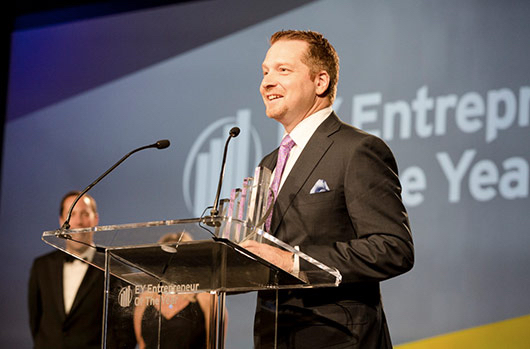 CrowdStrike®  added a prestigious award to its many achievements when CEO and co-founder, George Kurtz, was named Ernst & Young (EY) Entrepreneur of the Year in the security category for Northern California. The award was presented at a special gala event at the Fairmont in  San Jose on June 23.
This award is given to entrepreneurs who are excelling in areas such as innovation, financial performance and personal commitment to their businesses and communities. However, it goes beyond other, similar awards because in making their selections, the EY's independent panel of judges also considers attributes such as vision and leadership — celebrating those who take risks to achieve success and give back to their communities.
This award is especially gratifying for Kurtz, who sees it as a resounding confirmation of CrowdStrike's mission. "Receiving this recognition in Northern California, the most competitive technology market, is truly an honor and a testament to the innovation and transformative work our team at CrowdStrike has applied to our mission to stop breaches," he said. "This award validates that the CrowdStrike Falcon platform has set a new standard in endpoint security."
As a regional winner, Kurtz is now eligible to be considered for the Entrepreneur Of The Year 2017 national program, which will be announced at the Entrepreneur Of The Year National Awards gala in Palm Springs, Calif., on Nov. 18, 2017. The awards are the culminating event of the Strategic Growth Forum™, one of the nation's most prestigious gatherings of high-growth, market-leading companies.
CrowdStrike solutions exemplify Kurtz's unwavering commitment to keeping organizations secure. From the beginning, he has been dedicated to ensuring that the cure for stopping breaches isn't worse than the disease. In a video on the EY site, Kurtz related some of his impetus for co-founding CrowdStrike by recounting an incident that occurred while he was CTO of McAfee. He was on a plane and saw that a passenger near him was running McAfee's security suite on his laptop, but it seemed to be taking him an inordinately long time to get his computer working.  "I just looked at this and said, 'This is a terrible –  I'm the CTO of McAfee and this is such a poor user experience, there has to be a better way.'"
Kurtz explained that one of the major obstacles entrepreneurs have to overcome is the fear of failure. He emphasized that conquering self-doubt is challenging, but the rewards make it worth the sacrifices. "Making yourself and your company successful is extremely fulfilling," he said.
Read the CrowdStrike press release.
Visit the Ernst & Young Entrepreneur of Year website.