CrowdStrike Falcon Discover for AWS: Visibility That Ensures Security in The Cloud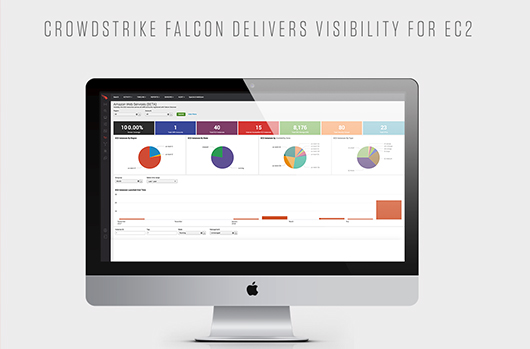 CrowdStrike® is thrilled to introduce Falcon Discover™ for AWS, a new solution that delivers our next-generation IT cloud hygiene features across AWS workloads, ensuring advanced visibility into AWS EC2 (Elastic Compute Cloud) services.
AWS (Amazon Web Services) has continued to be a leading cloud provider for organizations in every industry, yet many of the customers they serve lack the security resources and capabilities needed to manage both their enterprise assets as well as the dynamic AWS EC2 assets available to them. This security challenge has sent organizations looking for solutions that are easy to deploy, manage and integrate and ones that can help them take full advantage of their AWS resources. The CrowdStrike Falcon® next-gen platform, now with Discover for AWS, solves this challenge.
Organizations Continue to Move Workloads to The Cloud
In the Forrester report, "Predictions 2018: Cloud Computing Accelerates Enterprise Transformation Everywhere," analysts forecast that by the end of this year, more than half of global enterprises will rely on at least one public cloud platform for digital transformation. This accelerated move to the cloud is understandable considering the massive compute power the cloud offers. However, as more organizations migrate their critical workloads, they are creating hybrid cloud environments that are both on-premises and in the cloud, which makes maintaining consistent security challenging. Falcon Discover for AWS was built to solve this challenge by helping customers ensure consistent security and risk management of their assets both on-premises in the cloud.
Visibility and Context Across AWS EC2 Instances Are Key
Today, customers may have limited visibility into AWS EC2 Instances, forcing them to rely on inadequate and complex third-party products, or build an in-house solution, which can burden IT security resources.
CrowdStrike Falcon Discover for AWS integrates the next-gen functionality of CrowdStrike's IT hygiene solution to solve two important challenges for AWS customers:
Visibility — The fragmented ownership of AWS assets can prevent discovery of those assets as well as security violations across your enterprise
Lack of AWS metadata  — Customer's need detailed AWS metadata so that detections can be prioritized and responded to quickly
Falcon Discover for AWS delivers an integrated, streamlined solution that provides immediate and comprehensive visibility into all managed endpoints equipped with CrowdStrike Falcon endpoint security, and unmanaged assets across all accounts. In addition, Discover for AWS is able to cross boundaries to see virtual private clouds (VPCs) and subnets, and collect data from all endpoints — even those that are unmanaged — as well as all hybrid infrastructures. The rich AWS content Falcon Discover delivers allows organizations to quickly understand and prioritize instances and immediately ensure that the Falcon agent is fully deployed, dramatically improving organizations' security postures.
Benefits of Falcon Discover for AWS
As the only cloud-native, next-generation security solution of its kind, Falcon Discover for AWS offers streamlined integration not available with other third-party solutions, and saves organizations the time and expense of trying to develop these capabilities in-house. Falcon Discover for AWS offers the following benefits:
Identifies security gaps with comprehensive and consistent visibility across all EC2 instances and endpoints: By uniquely combining information from Falcon Discover and AWS metadata, security teams are able to baseline existing EC2 deployments instantly across all regions and subsequently monitor cloud trail logs for any modifications to the environment. This holistic asset management across all data centers and AWS cloud resources allows you to identify unmanaged assets — pinpointing security gaps and closing them.
Prioritizes detections for faster and more effective response: Falcon Discover for AWS delivers rich AWS metadata on EC2 instances, so that unprotected assets and impacted systems are quickly prioritized. It provides the critical answers analysts need such as: Is this system internet accessible? Does it have Amazon IAM ( identity and access management) roles applied with elevated privileges? Is it on the same Amazon VPC as critical assets? Armed with this context-rich information, organizations can apply proactive measures to dramatically improve their security posture
 Ensures consistent security across hybrid environments: As organizations move to the cloud, they are implementing hybrid data centers with workloads running on-premises and in the cloud, which can impede a consistent level of security. Falcon Discover for AWS provides visibility across all assets whether they are on-premises or EC2 instances in AWS. In addition, this visibility extends to both managed and unmanaged assets — allowing organizations to quickly ensure that all assets are being protected.
Conserves resources with easy deployment and integrated management: Often security teams find they must pivot across a variety of tools and workflows as they attempt to span physical, virtual and cloud environments. Falcon Discover for AWS is one tool that provides instant visibility and control over existing on-premises endpoints and EC2 instances without requiring any additional agents, or installing scripts that can burden teams and slow performance. As a cloud-native security tool, Falcon Discover deploys instantly and scales easily with no hit to performance and no requirement to reboot. It is powered by the Falcon sensor, a single lightweight agent, and managed via the unified Falcon console.
CrowdStrike is Committed to Improving Security Operations
CrowdStrike remains laser-focused on helping our customers protect their organizations against today's sophisticated adversaries by providing the comprehensive visibility needed to effectively secure even the most widely distributed enterprises. This means providing the ability for their security operations centers (SOCs) to provide a complete picture across networks, systems and applications so that customers are ensured centralized, automated management — the keys to a strong security posture. The introduction of Falcon Discover for AWS is further evidence of this commitment to our customers.
Learn more about Falcon Discover for AWS.
Read the Press Release.
Get a full-featured Free Trial of CrowdStrike Falcon Prevent™ and learn how true next-gen AV performs against today's most sophisticated threats.