CrowdStrike Ranked #1 in the IDC Worldwide Endpoint Security Market Shares Report for Third Time in a Row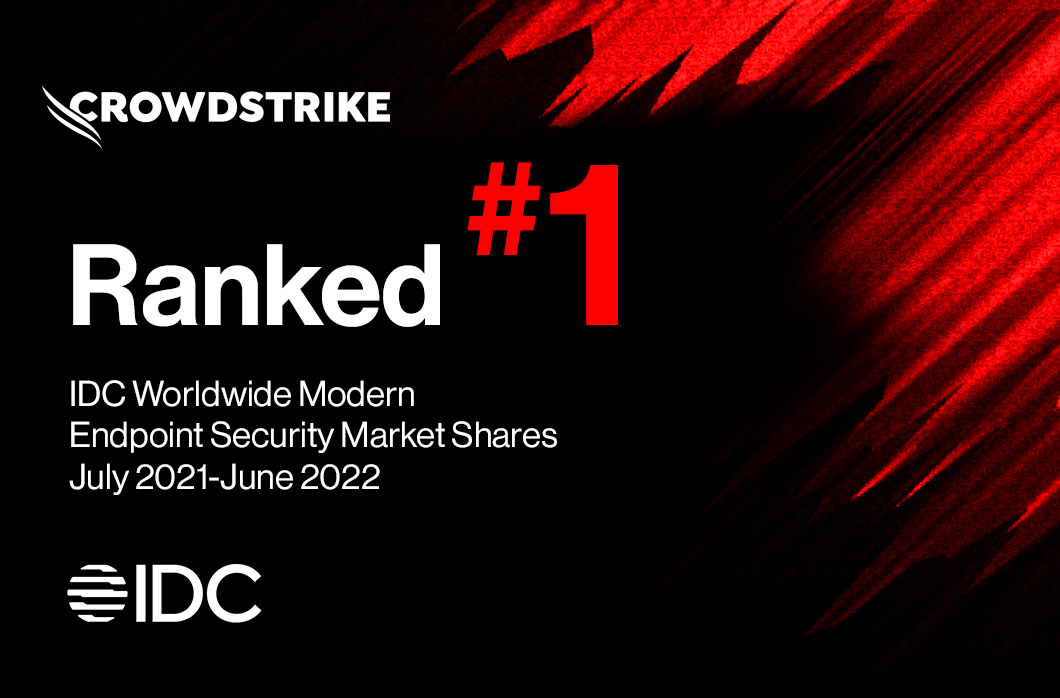 CrowdStrike maintains endpoint security market leadership with a #1 ranking in IDC's 2021-2022 report, and has been awarded Best Endpoint Detection and Response and Best Product Development by SE Labs. These recognitions validate CrowdStrike as the industry's market and innovation leader in endpoint security.
We're honored to share CrowdStrike has been ranked #1 out of 26 vendors in IDC's Worldwide Modern Endpoint Security Market Shares, July 2021-June 2022 report.1 Our mission is to protect businesses by stopping breaches; we're grateful to our customers and partners for the trust they put into CrowdStrike and for helping us achieve this milestone.
This is why we'll never stop innovating to provide our customers with the best platform and technology to stop breaches and keep their organizations moving forward. We believe the best customer outcomes require the best technology. We don't just say it — we constantly put it to the test. This is why it's so powerful to also see CrowdStrike receive the SE Labs award for Best Endpoint Detection & Response for the third consecutive time and earn the Best Product Development award for our continued innovation. 
The modern endpoint is the epicenter of enterprise risk because it's the gateway to any company's most critical assets and sensitive data. Protecting the endpoint is essential because every endpoint is a potential entry point for an adversary to gain access to valuable resources. We believe our placement in IDC's market share report demonstrates that companies trust CrowdStrike with this critical protection more than any other vendor in the world.
CrowdStrike: The World's Most Deployed EDR
IDC defines the worldwide modern endpoint security market as including endpoint detection and response (EDR), endpoint protection platform (EPP), capabilities to strengthen the secure posture of end-user devices and vendor-provided managed detection and response (MDR). Its report states CrowdStrike produced the largest increases in endpoint revenue and market share of all 26 vendors included in the report. From July 2021 through June 2022, CrowdStrike's market share increased from 13.8% to 17.7%, IDC states. This makes us the leader in IDC's endpoint security market share report for the third year running.
This market continues to see rapidly accelerated demand, largely due to a growing attack surface and the extensive damage adversaries can inflict on businesses: IDC reports the endpoint security market increased 27.1% between June 2021 and June 2022. Organizations are spending more on endpoint security and related technologies, as well as vendor-provided managed services, to defend against increasingly advanced and destructive threats.
As the IDC report shows, organizations continue to make their endpoint security investment with CrowdStrike. We'll continue to drive the innovation necessary to repeatedly earn that trust as we accelerate our innovation in extended detection and response (XDR) — the future of enterprise security technology. CrowdStrike's leadership in EDR, the foundation of XDR technology, puts us in a prime position to dominate the XDR market as organizations seek to protect a growing attack surface.
CrowdStrike: The Industry's EDR Technology Leader
In its Cyber Threat Intelligence 2023 report, SE Labs says CrowdStrike continues to provide customers with the Best Endpoint Detection & Response technology in the industry. This is the third consecutive time CrowdStrike has won the award for best EDR from SE Labs — and the latest in a series of awards recognizing CrowdStrike as the industry technology leader. CrowdStrike has recently been ranked: 
Our customers know it: leading customer review websites G2, PeerSpot and TrustRadius recently recognized CrowdStrike as providing the top offerings in several cybersecurity market categories including EDR, EPP and XDR.
It's no surprise why. CrowdStrike pioneered the concept of EDR and changed the way security is delivered with our lightweight agent and cloud-native architecture. In our view, industry-leading cybersecurity is built on two essential components: a comprehensive understanding of the adversary and a superior user experience for analysts using the platform. The only way to stop modern threat actors is with a platform approach that leverages artificial intelligence and machine learning to harness the power of trusted data to detect and block malicious activity.
"The best security involves having a good understanding of your enemy and the extent of the impact they could make (or have already made) on your IT infrastructure. Endpoint detection and response are the boots on the ground when it comes to seeing, stopping and investigating cyber threats on the network." — SE Labs Annual Report 2023
This rich telemetry and threat intelligence form the foundation of nearly everything we do, from our EDR product to the development of XDR. CrowdStrike Falcon® Insight XDR expands our detection and response capabilities to leverage a broader set of data and improve protection, gain efficiency and reduce complexity while providing a seamless user experience. CrowdStrike has demonstrated our strength in EDR and XDR to SE Labs through our strong lab performances and practical success. 
We believe leadership in EDR is essential to lead in XDR. As the technological and market leader in this space, CrowdStrike is uniquely positioned to continue driving the endpoint security market into the future.
IDC Worldwide Modern Endpoint Security Market Shares, July 2021-June 2022. Doc #US49982022, Feb. 2023

IDC Worldwide Corporate Endpoint Security Market Shares, 2021. Doc

#US48580022, May 2022
Additional Resources
Related Content