CrowdStrike Store Partners: Committed to Securing Your Remote Workforce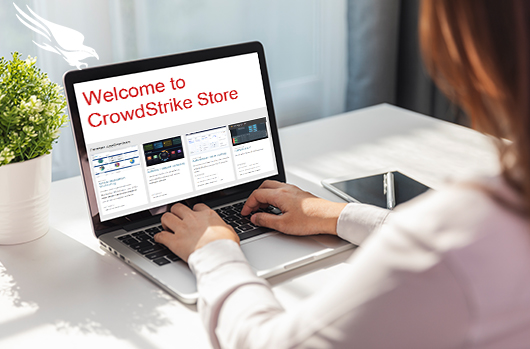 Due to the global COVID-19 pandemic, an increasing number of workers are sequestered at home while continuing their regular duties using online collaboration tools. Cybersecurity has become a primary focus as organizations struggle to protect their digital assets while their attack surface broadens to include the homes of their remote workers.
As adversaries leverage the pandemic crisis to generate COVID-19-themed phishing and ransomware attacks, CrowdStrike® is working closely with our customers to help protect their remote employees and keep their data and networks safe from these sophisticated threats. Toward that end, we have established a COVID-19 resource hub to consolidate our threat intelligence and guidance on how organizations can stay protected, and we're offering two new programs to help CrowdStrike Falcon® customers efficiently secure both company-owned and employee-owned devices without compromising business continuity.
As CrowdStrike continues to provide practical guidance and resources for our customers, we are being bolstered and supported by our CrowdStrike Store partners, who are also guiding and assisting organizations as they transition to a more remote operations model. If you are interested in leveraging any of the special offers or programs provided by CrowdStrike Store partners or participating in free trials of our applications, visit the CrowdStrike Store webpage and learn how to become a Store customer.
The following are a few examples of Store partners who are providing valuable assistance during these difficult times by extending special offers on applications that help organizations enhance protection for remote workers.
Reducing Exposure with Vulnerability Risk Management
NopSec Unified Vulnerability Risk Management (VRM) is an application that ingests vulnerabilities uncovered by the CrowdStrike Falcon platform and provides contextual enrichment and deeper insight into overall risk exposure. Having visibility into existing risks from vulnerabilities and risk prioritization helps reduce the time to remediation for critical security gaps and improve security posture across your organization.
Organizations are increasingly setting up remote working systems, such as VDI servers, remote desktop connections and others, to support employees working from home. That's why it's essential to have a robust vulnerability and security configuration management plan in place to help protect against security gaps in new remote work systems that can be leveraged by adversaries. To assist customers during the crisis, NopSec is providing a special discounted COVID-19 offer on its Unified VRM solution. This offer includes three months of NopSec Unified VRM to help assess vulnerabilities for internet-facing assets and aid organizations in protecting their remote workforces and digital footprints. Read more about their offer on this webpage: Empowering Remote Workforce During COVID-19 
Hardening Remote User Endpoints
Automox: This app empowers customers to act on any vulnerability discovered by the CrowdStrike Falcon platform, and it proactively eliminates exposure before those vulnerabilities can be weaponized. The app works by enabling patch deployment via real-time visibility into the patch status of all remote endpoints in the customer's environment.
With new remote systems getting spun up quickly to provide access to corporate assets and data, it is imperative that all vulnerabilities be monitored, prioritized and patched before they become sources of a breach.To cope with the rapid transitions caused by COVID-19, Automox is now offering a 90-day, extended free trial of its endpoint hardening and patch management solution to protect remote endpoints against existing vulnerabilities before they can be compromised. This offer provides full service and support for an unlimited number of endpoints, without the need for VPNs or corporate network connectivity. Learn more about it in this Automax blog: Supporting Remote Work During COVID-19.
Deeper Defense with Digital Attack Surface Management
RiskIQ Illuminate: This app combines CrowdStrike's endpoint telemetry with RiskIQ's comprehensive internet data to provide a 360-degree view of customers' digital attack surfaces, allowing them to better detect threats and defend their organizations.
Security teams and analysts are facing unprecedented threats and adversary attacks, compounded by the fact that they have to support a dispersed workforce and business operations that were previously restricted within the organization's corporate IT infrastructure. To help the security community defend against emerging threats, RiskIQ is providing 30-day research access to PassiveTotal, its solution for expediting the process by which analysts investigate threats and respond to incidents. RiskIQ will also provide daily threat infrastructure lists that match specific terms related to the COVID-19 pandemic, as well as a free Digital Footprint Snapshot Report to help customers understand how their attack surface is expanding. Learn more about it in this RiskIQ blog: Discovering Unknowns and Investigating Threats Amid a Global Pandemic.
Protecting Collaboration Platforms
SafeGuard Cyber: This app works with the CrowdStrike Falcon platform to extend visibility of detected threat activities occurring on protected accounts across 50-plus social, mobile and collaboration channels. This includes social platforms such as Facebook, Twitter, Microsoft Teams, LinkedIn, Slack and Salesforce.
Since the outbreak, more and more companies are adopting collaboration software to ensure business continuity and also using expanded feature sets in existing tools. With communication and new software platforms on the rise and workplaces becoming more digital, new threats from both external and internal sources are increasing. SafeGuard Cyber is offering 60 days of free collaboration security software for companies to protect their remote users and data across a number of commonly used collaboration software platforms. With the use of collaboration tools on the rise, it is critical to protect against threats including phishing and vishing attacks. Read more about it in this SafeGuard blog: COVID-19 (Coronavirus): Scaling Security for Remote Workforce Demands.
Securing Remote Access for ICS Environments
Dragos: This app provides visibility into and early warning of threats in industrial control systems (ICS)  and operational technology (OT) environments by leveraging endpoint data collected by the CrowdStrike Falcon platform. This capability reduces the risk of disrupting business operations by stopping threats before they can pivot into vital ICS/OT systems.
With the changing threat landscape and the current COVID-19 crisis, organizations with ICS and OT environments have been forced to transition quickly from traditional on-site support to remote support access. This requires adding digital connectivity across remote ICS/OT sites to allow workforces to access them from locations other than on-premises. With expanded remote access, securing ICS/OT systems, improving monitoring and visibility, and using rigorous security controls become critical factors in effectively protecting against industrial threat adversaries. Read more about the best practices Dragos recommends in this blog: A Matter of Trust: Remote Access for ICS.
"Better Together" Cybersecurity Programs
CrowdStrike and our Store partners are working together to empower our customers to defend against advanced threats during this period of uncertainty and challenging circumstances. We know that organizations need to remain nimble in order to react quickly to updated recommendations and mandates from authorities without compromising their own security. With our new programs for remote workers and CrowdStrike Store partner apps, we remain committed to removing barriers to doing business and securing your remote workforce.
To register for our two free programs, please visit the CrowdStrike Programs for Remote Workers webpage*, reach out to sales@crowdstrike.com or contact your CrowdStrike representative.
For a free trial of our CrowdStrike Store apps, click the Free Trial button when you visit the CrowdStrike Store on your Falcon UI console or reach out to sales@crowdstrike.com.
Additional Resources
*CrowdStrike reserves the right to update the terms of these program offers at any time without notice. Terms and conditions apply.