At RSA 2020, CrowdStrike Wins SC Media Excellence Award for Best Security Company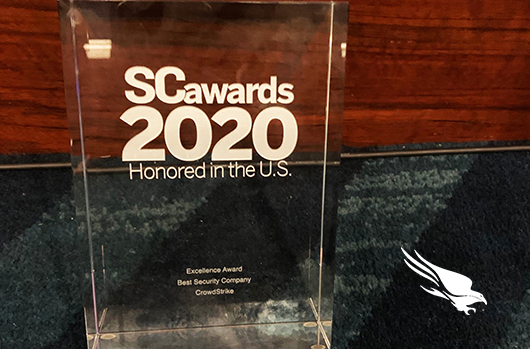 RSA 2020 has proven to be another breakthrough event for CrowdStrike®, including highlights such as winning the SC Media 2020 Excellence Award for Best Security Company. This  award was presented at a dinner gala hosted by SC Magazine on Tuesday, February 25, during RSA in San Francisco.
In granting this prestigious recognition for the third time, SC Media writes, "By any account, it was a momentous year for CrowdStrike in 2019." It goes on to cite several factors that set CrowdStrike apart this year — including our highly successful public offering on the Nasdaq stock exchange (CRWD) — but states that the primary reason for this honor "is the company's latest outstanding efforts at protecting the user community." As evidence, SC Media cites the core capabilities of  the cloud-native CrowdStrike Falcon® platform, which unifies next-gen antivirus (NGAV), endpoint detection and response (EDR), managed threat hunting, IT hygiene and threat intelligence, and delivers them all via a single lightweight agent. As SC Media states, "The solution defends customer workloads across on-premises, virtualized and cloud-based environments running on a variety of endpoints, on- or off-network."
Other CrowdStrike attributes cited by SC Media include the following:
Falcon OverWatchTM managed threat hunting: SC Media characterized the OverWatch team as "an elite force of renowned threat hunters, intrusion analysts and first responders." This year, CrowdStrike went one step further and introduced a new offering, Falcon OverWatch Elite. This extends the standard OverWatch offering by providing an assigned threat response analyst to help organizations understand the threats that are most likely to target them and how best to defend against them.
The CrowdStrike Store: Launched in February 2019, the CrowdStrike Store is a cloud-based application platform-as-a-service for cybersecurity. It allows new start-ups and technology partners to develop their own applications to integrate into the Falcon platform for user organizations to discover, try and purchase.
The Falcon Fund: SC Media also cited CrowdStrike's Falcon Fund, which acts as a co-investor and strategic partner alongside lead investors fostering innovative start-ups whose products will be added to the CrowdStrike Store.
Chief Marketing Officer Johanna Flower Honored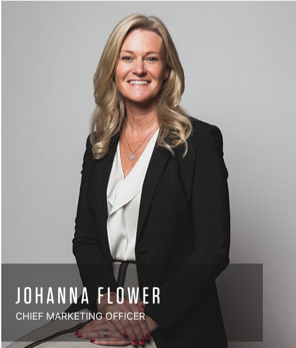 On the evening before RSA, we were thrilled to see CrowdStrike CMO Johanna Flower named Cybersecurity Marketer of the Year — Public Company. The event was hosted by the Cybersecurity Go To Market Dojo, the industry's premier community for cybersecurity marketing and communications professionals.The event was also sponsored by many leading marketing and public relations firms whose team members gathered to recognize excellence and honor this year's nominees. Judges included some of the leading thinkers and innovators in cybersecurity marketing.
In awarding this recognition, the judges lauded Flower's impressive record since joining CrowdStrike as CMO in 2014, saying, "Johanna has successfully led the CrowdStrike go-to-market efforts for over five years and is responsible for all aspects of marketing, including brand direction, corporate communications, go-to-market, demand generation, and field sales support. 2019 marked a banner year for the CrowdStrike brand, including a highly successful IPO, and category leadership recognition and results."
Another Successful RSA for CrowdStrike!
We had a record number of visitors this year and we want to thank all of our customers and interested RSA attendees who dropped by our booth and saw one of our demos or sessions, or participated in one of our events — it was wonderful to see you! We hope we were able to answer your questions thoroughly and help make your RSA experience a rewarding one.
There were packed audiences at all our sessions and our booth was very busy throughout the event. Whether you were there for product demos or to talk with a CrowdStrike security expert — your enthusiastic participation was very gratifying. It truly reflected the RSA theme of the "Human Element" in cybersecurity. In addition to our industry honors, the following are some other CrowdStrike highlights from RSA 2020:
Product and Service Announcements
We announced a number of new capabilities for the CrowdStrike Falcon platform this week. Below is a summary of the announcements and a link to each press release for more details.  These announcements were also covered in a recent blog.
Extending CrowdStrike Falcon Protection Across Public Cloud Workloads
CrowdStrike now provides comprehensive visibility across all three leading public clouds: Amazon Web Services (AWS), Google Cloud Platform (GCP) and Microsoft Azure. Read the press release.
Powerful MSSP (Managed Security Service Provider) Tools
CrowdStrike is empowering its MSSP partners by adding new capabilities to the Falcon platform. MSSPs can now offer comprehensive cybersecurity that's built for how they do business, without the overhead, friction and operational costs. Read the press release.
Automated Sensor Deployment on Google Cloud
Joint customers of Google and CrowdStrike can now easily install the lightweight CrowdStrike Falcon agent for new Google Compute Engine (GCE) resources on Google Cloud and experience a seamless deployment of the Falcon agent at scale. Read the press release. 
CrowdStrike Endpoint Recovery Services
We launched our new CrowdStrike Endpoint Recovery Services. The service helps organizations actively remediate ongoing security threats and rapidly recover from a potential incident while minimizing business interruptions. Read the press release.
ServiceNow Integrates with Falcon Spotlight
CrowdStrike Falcon Spotlight™ vulnerability management now integrates with ServiceNow's Vulnerability Response solution, providing ServiceNow customers with access to Spotlight's scanless, near real-time identification of endpoint vulnerabilities. Read the press release.
The CrowdStrike Store: Strategic Expansion
We continue to expand our strategic Store and technology alliances to further fortify customers against breaches with new apps delivered via the Falcon platform that provide social digital risk protection, autonomous threat hunting and more. Read the press release.
New CrowdStrike Falcon Platform Capabilities
CrowdStrike continues to add new capabilities to the Falcon platform with new modules and features:
Falcon Firewall Management™ delivers  simple, centralized host firewall management.
Falcon X™ Elite offers customers access to an assigned CrowdStrike threat intelligence analyst who is experienced in fighting sophisticated nation-state and eCrime adversaries.
Falcon OverWatch Elite extends CrowdStrike's standard OverWatch threat hunting services by providing an assigned threat response analyst to help customers understand, prepare for and address the threats that are most likely to target their organizations.
Popular Sessions from CrowdStrike Leaders
As in year's past, CrowdStrike world-class experts delivered standing-room-only sessions on the compelling topics most relevant to today's security professionals. These sessions included:
Tales From the Front Lines 2020: In this panel session, CrowdStrikeVP of Services Tom Etheridge and others shared stories from three of the world's most infamous incident response engagements, including the threat actors involved and the damage done, and offered recommendations for how organizations can better secure their data and prevent business disruptions. Learn more about Crowdstrike Incident Response.
Global Vulnerability Trends: Observations from CrowdStrike's Falcon Spotlight: CrowdStrike Senior Product Manager Hamilton Yang offered insight into organizations' global vulnerability exposure along with remediation trends that can help increase your cybersecurity readiness. Learn more about Falcon Spotlight.
Role of the Board in Your Cybersecurity Strategy: CrowdStrike President of Services and CSO Shawn Henry provided unique insights based on working with corporate leadership to help mitigate the risk of a cyberattack. Topics ranged from insider threats to targeted nation-state attacks, with panel members highlighting successes and failures.
CrowdStrike Special Events Were a Huge Hit!
CrowdStrike once again hit it out of the park with our special events — something our customers and partners look forward to each year, and our 2020 RSA party did not disappoint. The "Adversary Abstract: Night at the MOMA," held at the iconic San Francisco Museum of Modern Art, hosted over 500 guests who enjoyed a visual feast of art, including commissioned works portraying cyber adversaries, while dining on gourmet food and drink. We received wonderful feedback from our guests who thanked us for creating such unique experiences  — including caricature artists to provide drawings guests could take home, beautiful live music and even circus performers!
The Partner Hour was a new feature we added this year. Ten designated CrowdStrike Partners were in the booth to demonstrate their apps, which are available in the CrowdStrike Store. We especially want to thank our partners who participated; their demos were informative and audiences were highly engaged. CrowdStrike Falcon customers can visit the CrowdStrike Store to discover, try and buy these apps. Learn more about the CrowdStrike Store.
Lunch briefings were also sold-out events and included relevant and informative presentations from the CrowdStrike Intelligence team on operationalizing threat intelligence, as well as updates on the cyber adversaries today's organizations are facing. CrowdStrike President of Services and CSO Shawn Henry presented insights and recommendations taken from real-world investigations conducted by his global incident response team.
Additional Resources