Join CrowdStrike at AWS re:Invent 2020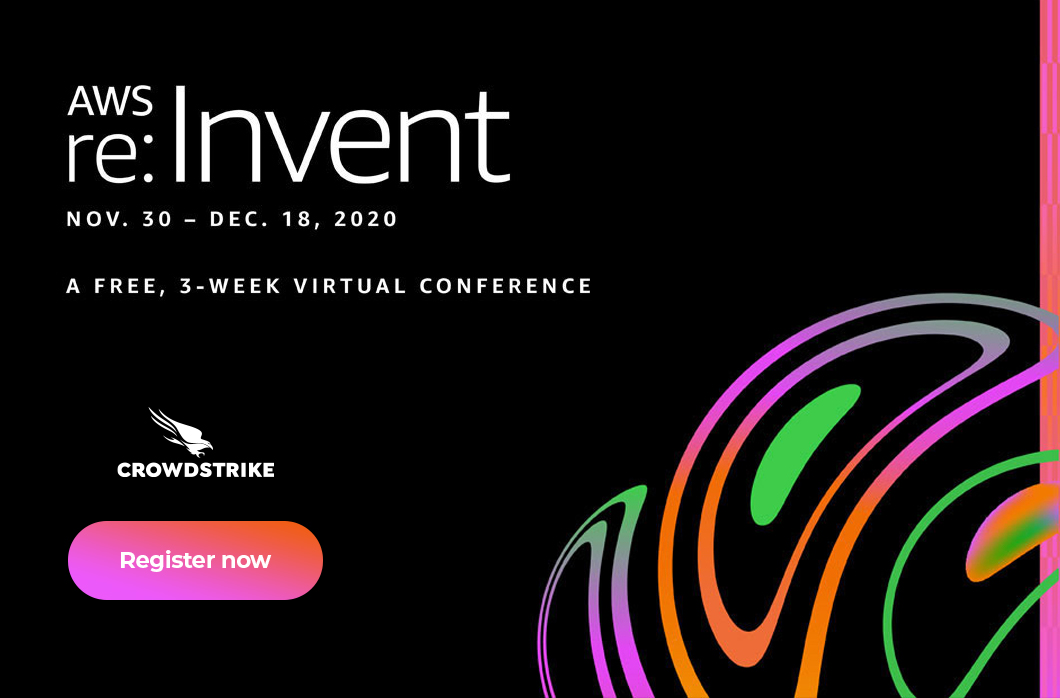 CrowdStrike is proud to be a Gold Sponsor of AWS re:Invent 2020, the world's largest and most comprehensive cloud computing and cloud learning event, happening now — November 30 to December 18, 2020. For the first time, this event is being held virtually, and the CrowdStrike team is at our virtual booth to showcase the CrowdStrike Falcon® platform and our cloud security solutions. Visit us at our AWS re:Invent virtual booth to learn how CrowdStrike and AWS provide comprehensive visibility and security for your cloud workloads, fitting into the Shared Responsibility model of cloud security while helping ensure compliance of workloads in the cloud. 
One of the highlights of our participation in this year's AWS re:Invent is a session conducted by our CrowdStrike® cloud solution architecture team. Join Jaime Franklin and Justin Harris for "See and Secure from Day 0: Better Together with CrowdStrike and AWS," December 16 at 10:15-10:45 a.m. PT — they'll go into depth about the CrowdStrike-AWS integration and answer all your questions.
Watch this informative session to learn about:
Streamlining DevOps and DevSecOps with native AWS service integrations while integrating with existing cloud environments

Achieving unified visibility across all workloads, including containers and across multi-accounts in AWS environments 

How the CrowdStrike and AWS "better together" story provides customers with the ability to better address, identify and respond to security events happening within their environment
Just Launched: CrowdStrike Cloud Security Products Integrated With AWS  
At Fal.Con 2020, CrowdStrike unveiled the tremendous strides we've made with new cloud security solutions such as Falcon HorizonTM cloud security posture management (CSPM). The latest addition to the Falcon platform, Falcon Horizon helps streamline security posture management across the application development lifecycle for any cloud, and enables secure deployment of applications with greater speed and efficiency. The Falcon Horizon module provides intelligent monitoring of cloud resources to proactively detect misconfigurations, vulnerabilities and security threats, along with guided remediation to resolve security risks and arm developers with guardrails to avoid costly mistakes.
In addition to providing CSPM, CrowdStrike Falcon for AWS is a cloud workload protection solution that provides comprehensive breach protection across AWS and hybrid environments with extensive visibility into the AWS footprint, including Amazon Elastic Compute Cloud (EC2) instances and containers. These features are all delivered via the lightweight Falcon agent and managed by the cloud-native Falcon platform.
We are also proud to announce CrowdStrike's integration with the newly launched AWS Network Firewall. With this integration, customers with Falcon XTM and Falcon PreventTM are able to leverage the Falcon platform capabilities by extending threat intelligence and deployment automation to streamline incident response (IR) and simplify operations. This includes adding domain indicators of compromise (IOCs) to the AWS Network Firewall for IR and proactive threat hunting. If you missed the learning session "Introducing AWS Network Firewall" on December 2, be sure to watch it on demand when it's available. Learn more about use cases, architecture and implementation, and how AWS Network Firewall fits in with your existing security ecosystem. 
CrowdStrike is pleased to be a launch participant in the release of Professional Services in AWS Marketplace. Initial AWS Marketplace offerings include CrowdStrike Services Cloud Security Assessment, IT Hygiene Assessment and Red Team / Blue Team Exercise — all of which will enhance the security of cloud initiatives and improve the state of the IT environment in support of a customer's digital transformation journey. With this wide selection of CrowdStrike solutions and services, customers now have an easier and faster method of enhancing the security of the products and services they need to transform their businesses, build secure cloud architectures and adapt to the latest trends. 
How to Engage With CrowdStrike at Our AWS re:Invent Booth
Visit CrowdStrike's virtual booth during the conference to:
Email us at aws@crowdstrike.com to request a meeting with the CrowdStrike team, and we will find a time to connect before, during or after AWS re:Invent 2020. 
Questions? Email aws@crowdstrike.com
Register for AWS re:Invent 2020 
Additional Resources