Innovate and Secure with CrowdStrike at AWS re:Invent 2022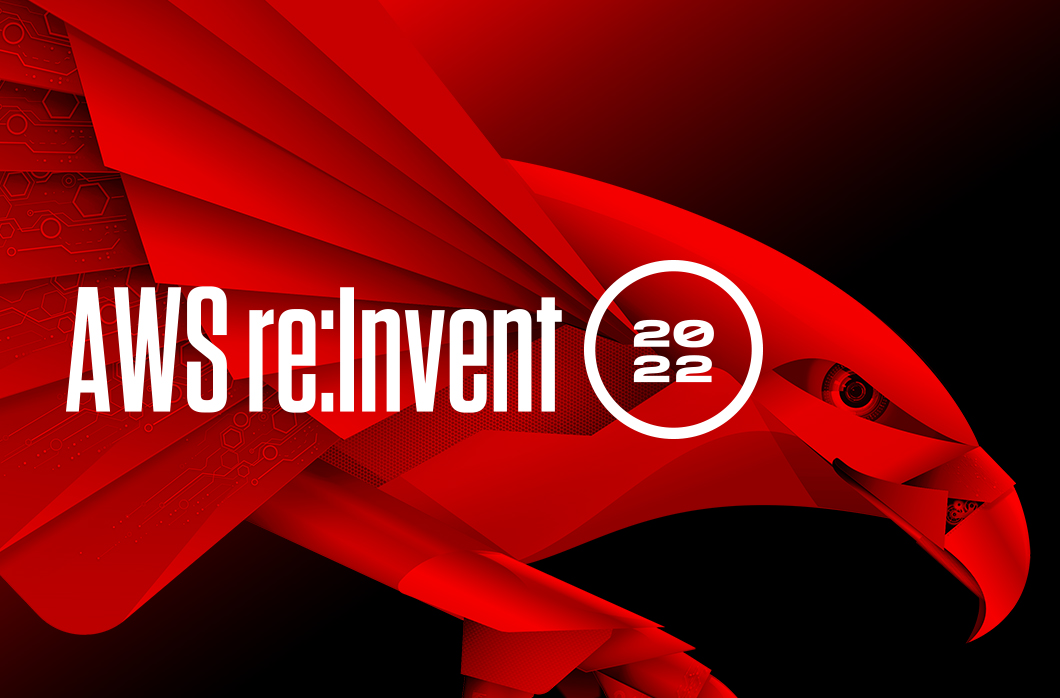 Join us in Las Vegas Nov. 28-Dec. 2! CrowdStrike is a Diamond Sponsor at AWS re:Invent, and we're looking forward to meeting with customers, partners and prospects to show how we're protecting AWS environments against increasing adversary attacks. 
Threat actors have been targeting cloud environments more aggressively, as they view the cloud as a soft target, rife with vulnerabilities and misconfigurations to exploit. Stopping cloud breaches requires a comprehensive platform approach to security that combines the power of agent-based and agentless protection that covers all workloads. 
We have a host of activities planned to help you better understand your enterprise risk and how CrowdStrike's adversary-focused approach to security can keep you ahead of advancing attacks. We'll be hosting speaking sessions, showing off new product integrations and providing one-on-one expert insight into the greatest risks your AWS environments face — and you'll learn how to mitigate those risks with the CrowdStrike Falcon® platform.
Visit us at Booth #109 to talk to our experts, watch our demos and register to win one of our new limited-edition adversary figures. 
Experience Innovation at the CrowdStrike Booth 
The CrowdStrike experience will feature in-depth demos, theater presentations, partner highlights and cybersecurity experts on standby to discuss the latest insights into the threat landscape and how CrowdStrike is helping organizations around the world defend against attacks. 
Featured Demo Stations
At AWS re:Invent 2022, we'll show you how to stop breaches through live-action demonstrations of the Falcon platform. These demonstrations allow you to experience how our endpoint, cloud, identity and data security products work in an actual AWS environment and with the AWS console. Our experts are ready to meet and discuss your biggest needs when it comes to security across your AWS infrastructure, including: 
How we integrate our container image scanning features with a DevOps pipeline

How a DevOps pipeline builds a container image and pushes it to an ECR registry

How a DevOps pipeline deploys an application to an EKS cluster using a container image from an ECR registry

How we deploy our container sensor to an EKS cluster to provide protection for vulnerable applications
Attend CrowdStrike Breakout Sessions
As organizations have embraced the cloud revolution, so too have today's adversaries. Defending the cloud requires securing a rapidly growing attack surface. IT and security teams must enforce continuous monitoring and security, from the development process to runtime. 
Innovate with AWS and Secure With CrowdStrike
Tues., Nov. 29, 1:15-2:15 p.m. PT, Mandalay Bay, Lagoon 1
Session ID: PRT275
In the last two years, the shift to cloud adoption has only accelerated. This rapid shift has reinforced the profound importance of protecting IT assets from the latest cyber threats. AWS and CrowdStrike are working together to provide joint solutions for wherever you are in your cloud journey. From migrating VMware-based workloads in a lift or shift fashion or completely modernizing your infrastructure with microservices and containers, AWS and CrowdStrike have a solution to help you innovate and secure your infrastructure. Please join us to learn how AWS and CrowdStrike are working together to make your cloud transformation faster and more secure.
Speakers:
Rob Solomon, Sr. Cloud Solution Architect – Alliances, CrowdStrike 

Sam Herath, Sr. Cloud Solution Architect – Alliances, CrowdStrike
3 Steps to Mitigate Cloud Threats with CrowdStrike and AWS
Wed., Nov. 30, 10:45-11:45 a.m. PT, Mandalay Bay, Islander F
Session ID: PRT328
As organizations have embraced the cloud revolution, so too have today's adversaries. As noted in the CrowdStrike 2022 Global Threat Report, organizations face malicious threats to cloud environments as cloud-based services are "increasingly abused by malicious actors in the course of computer network operations, a trend that is likely to continue in the foreseeable future as more businesses seek hybrid work environments."  
In this session, you'll learn how to:
Shift left and enrich CI/CD processes to detect threats and vulnerabilities before they reach production

Provide real-time protection across the control plane

Secure hosts, containers and identities
Speakers:
Justin Harris, Staff Cloud Solution Architect, CrowdStrike 

Sameer Vasanthapuram, Principal Product Manager, CrowdStrike
The Partner Hour
CrowdStrike's unique cybersecurity partner ecosystem helps simplify your security stack and protect your entire organization from modern adversaries with unified, trusted security solutions to solve real-world security and IT challenges. 
Join us at the Partner Hour hosted every day during AWS re:Invent to learn how we work with our partners to stop breaches.
Partner
Session
Times
Claroty
Extending Security to the Extended Internet of Things (XIoT)
Wed., Nov. 30, 3:45 p.m. PT

Thurs., Dec. 1, 1:15 p.m. PT

Cloudflare
Strengthen Your Zero Trust Security across Endpoints, Networks and Applications with Cloudflare and CrowdStrike
Tues., Nov. 29, 11:15 a.m. PT

Thurs., Dec. 1, 11:15 a.m. PT

Corelight
Supercharge Threat Hunting with Corelight and CrowdStrike
Wed., Nov. 30, 3:15 p.m. PT

Thurs., Dec. 1, 1:45 p.m. PT

Cribl
Unlock Your Data with Cribl Stream and CrowdStrike Falcon LogScale
Thurs., Dec. 1, 12:45 p.m. PT
ExtraHop
Stop Advanced Attacks in the Cloud with ExtraHop and CrowdStrike
Tues., Nov. 29, 3:45 p.m. PT

Wed., Nov. 30, 1:45 p.m. PT

Mimecast
Smarter XDR Demands Email Security
Wed., Nov. 30, 1:15 p.m. PT

Thurs., Dec. 1, 2:45 p.m. PT

Netskope
CrowdStrike and Netskope: Better Together to Continuously Enforce Zero Trust
Tues., Nov. 29, 1:45 p.m. PT

Thurs., Dec. 1, 11:45 a.m. PT

Okta
Simplify Secure Remote Access
Tues., Nov. 29, 11:45 a.m. PT

Wed., Nov. 30, 11:15 a.m. PT

Proofpoint
Expanding Partnership to Protect People, Their Devices and Data
Tues., Nov. 29, 1:15 p.m. PT

Thurs., Dec. 1, 10:15 a.m. PT

Zscaler
Endpoint to Application: Protected
Tues., Nov. 29, 3:15 p.m. PT

Wed., Nov. 30, 11:45 a.m. PT
Get Your Own CrowdStrike Adversary Figure 
Scoring your own limited-edition CrowdStrike adversary figure is easy as 1-2-3. You'll get a collectable adversary card when you complete each of the following steps:
Watch a theater presentation at the CrowdStrike booth 

Engage in a product demo at one of our demo stations

Post a selfie and tag #GoCrowdStrike 
Then, show your three adversary cards to a CrowdStrike representative at our booth, and you'll be rewarded with your very own adversary figure while supplies last.
Connect at Our Partner Parties 
Join CrowdStrike and our partners for refreshments and networking with peers on Wed., Nov. 30. Save your spot today!  
The MXDR Mixer: Happy Hour with Crowd-Deloitte-Zscaler-AWS, 6:00-8:00 p.m. PT
Trustworthy Brewing Co. at The Venetian Las Vegas, in the Barrel Room 
Apres-Ski Nightcap with CrowdStrike and Okta, 8:30-10:30 p.m. PT
Superfrico at The Cosmopolitan of Las Vegas, in the Ski Lodge Room 
Learn More and Register Today
For more information about AWS re:Invent 2022 and to register to attend, click here. Use code SAL5kQaKdnS to receive $150 off a full conference pass.
Additional Resources 

Related Content