Build Your Cyber Resiliency at Fal.Con for Public Sector 2021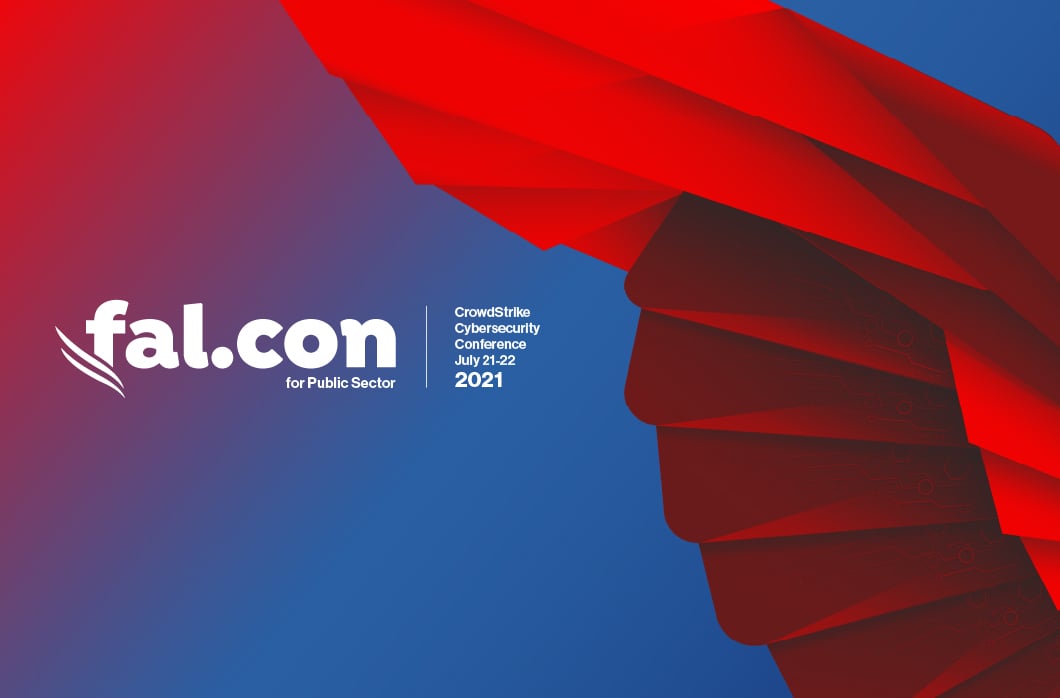 The global pandemic has accelerated the need for security transformation, and public sector agencies have found themselves targeted by attackers more than ever. In response, the recent U.S. Executive Order on Improving the Nation's Cybersecurity calls on agencies to move to the cloud with greater urgency while accelerating Zero Trust security. Embracing work-from-anywhere flexibility while trusting no one is a tricky balance to strike, but the need for agencies to do so by modernizing their cybersecurity is non-negotiable.
That's why being part of CrowdStrike's Fal.Con for Public Sector 2021 (July 21-22) is essential. Now in its third year, our annual public sector event aims to help public sector organizations update their security program and strengthen their defenses against today's attackers — and this year's theme, "Cyber Resiliency: Accelerating Innovation and Transformation," couldn't be more timely. When you join us, you'll:
Hear from leaders and other decision makers from across the public sector, education, healthcare and industry

Learn how to protect and manage growing data volumes, accelerate Zero Trust strategies, harness the latest threat intelligence and strengthen supply chain security

Engage with public sector leaders as they share their proven secure cloud adoption approaches
The two-day virtual conference is free to attend. Join us as we learn from each other and chart a path forward, for a secure future takes a shared defense.
Topics We're Covering
The Power of Data and Cloud Security

Zero Trust

and Identity

Securing the Supply Chain

Strategies for Increased Collaboration in Threat Intelligence

Security from the Keyboard to the Boardroom

IT and Security Modernization

Ransomware
Wednesday, July 21  
CrowdStrike Keynote 
Cyber Resiliency as a Catalyst to Drive Innovation, 11:30 a.m.-12:00 p.m. ET
Government Keynote
Chris DeRusha, Federal Chief Information Security Officer, Office of Management and Budget, 12:05 p.m.-12:35 p.m. ET
Breakout Sessions
The Power of Data and Cloud Security, 12:45 p.m.-1:15 p.m. ET
Zero Trust Takes Center Stage,

12:45 p.m.-1:15 p.m. ET

Connecting the Dots: Threat Intel Collaboration, 1:15 p.m.-1:45 p.m.

ET

Comprehensive Security: From the Keyboard to the Boardroom,

1:15 p.m.-1:45 p.m.

ET 
Thursday, July 22 
CrowdStrike Keynote
State of the Threat: Charting a Path Forward With Intelligence, 11:30 a.m.-12:00 p.m.  ET
Government Keynote
Bob Kolasky, Director, National Risk Management Center, Cybersecurity and Infrastructure Security Agency, 12:05 p.m.-12:35 p.m. ET
Breakout Sessions
Protect the Identity, Protect the Perimeter, 12:45 p.m.-1:15 p.m. ET
CMMC: A New Playbook for a More Secure Supply Chain, 12:45 p.m.-1:15 p.m. ET
Modernization Imperative: Transforming Your Security Stack, 1:15 p.m.-1:45 p.m. ET
The Ransomware Surge: Don't Be Held Hostage, 1:15 p.m.-1:45 p.m.  ET
Experts You'll Hear From
Nick Anderson,

CISO – Public Sector, Lumen Technologies

Curt Aubley,

Managing Director, Cyber and Strategic Risk, US Leader Cyber Detect and Respond, Deloitte

Shane Barney,

CISO, USCIS

Sol Bermann,

CISO, University of Michigan

Alma Cole,

CISO, DHS CBP

Danny Connelly,

CISO – Americas and Public Sector, Zscaler

Amanda Crawford,

CIO, State of Texas

Justin DePalmo,

CISO, General Dynamics Ordnance and Tactical Systems

Chris DeRusha,

Federal CISO, Office of Management and Budget 

Adam Ford,

CISO, State of Illinois

Mark Gamis,

Senior Vice President, Booz | Allen | Hamilton

Patrick Grimsley,

CISO, USTRANSCOM

Shawn Henry,

President of CrowdStrike Services and CSO, CrowdStrike

Esmond Kane,

CISO, Steward Health

Ken Kline,

Director of Cyber Engineering, Federal Emergency Management Agency

Adam Malone,

Principal, Cybersecurity, EY

Mary McKee,

Director, Identity Management and Security Services, Duke University

Adam Meyers,

Senior Vice President, Intelligence, CrowdStrike

Sean Plankey,

Cyber Missions Director, DataRobot

Matt Riddle,

Deputy CIO, CIA

Boyden Rohner (she/her),

Associate Director for Vulnerability Management, Cybersecurity and

Infrastructure Security Agency, DHS

Michael Sherwood,

Chief Innovation Officer, City of Las Vegas

Eric Schlesinger,

Vice President, Global Security Operations, Parsons Corporation

Pat Thornton,

Director of CIS Enablement, Corporate Information Security, Lockheed Martin Corporation

Bryan Ware,

Founder and CEO, Next5

Wes Withrow,

Public Sector Solutions Executive, Verizon Enterprise Solutions

James Yeager,

Vice President, Public Sector and Healthcare, CrowdStrike
Join Us to Build Your Resiliency 
Given today's ever-evolving threat landscape, it's more important than ever for the public sector to update and strengthen their protection against attackers and bolster their overall cyber defenses. Join us for this insightful, information-packed event — register today, and also make sure to mark your calendar for Fal.Con 2021, Oct. 12-14. The fifth annual Fal.Con is the must-attend business and technology event for the global cybersecurity community, connecting thousands of tech executives and security professionals who all share one mission: to stop breaches.
Additional Resources
Related Content