Online Learning: Staying Ahead of Cyber Threats Anytime and Anywhere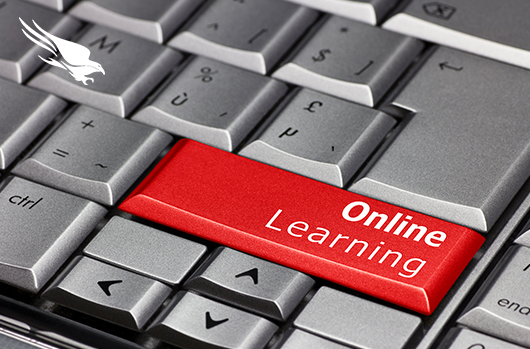 While COVID-19 is requiring many people to remain at home, cyber threats are continuing — and even escalating as adversaries seek to take advantage of the global upheaval resulting from the new coronavirus. Now is a great time to stay engaged and keep learning to stay ahead of new cyber threats. While in-person classroom experiences may not be an option right now,  online learning is a very effective method of education as long as the training is well designed.
Remote or Distance Learning Is Not New
In 2001, I enrolled in an online university for the first time. My online courses were incredibly engaging, and I got to know my fellow students on a deeper level than when I took courses at a physical university campus, because the course structure encouraged learning about the other students, reading their work submissions and asking questions. I learned not only from the pre-set curriculum but also from the experiences of other professionals who were students. The online presentation of materials and the course timing were flexible and convenient, and the classes were taught by active professionals in the field. What a fantastic opportunity it was to take a business law class from an acting judge in Indiana while sitting in my home office in Texas.
At CrowdStrike, we believe in the effectiveness of remote learning. For years, we have been offering self-paced e-learning through our online portal, CrowdStrike® University, using conferencing technology and cloud-based labs, and with instructor-led live online training options. The learning platforms we provide have been battle-tested and are outfitted to deliver exceptional hands-on cybersecurity training for organizations of any size.
What to Look For in an Online Learning Program
It's a good idea to keep these best practices in mind when choosing an online training program for your employees.
Training Delivery Options and Schedules
First, consider the program's flexibility around training delivery methods.
Look for live online instructor-led training sessions and on-site training options in conjunction with regional classroom events.
Check the frequency of courses available on the events calendar. Do classes recur at regular intervals — daily, weekly, monthly, quarterly?
Can the program accommodate the time zones your learners are in? If you have a dispersed group of remote employees, they will need convenient options that are conducive to learning.

Make note of which hours are available for learners on the East Coast versus the West Coast in North America.
Do you need classes with hours that are convenient for Europe and Asia-Pacific? Check with the training provider to see if several class times are offered or if classes are flexible enough to accommodate you, if requested.
Engaging Course Design
Next, consider whether the courses in the program are designed with interactivity in mind. Involvement in activities enhances learning, and adult learners thrive in a well-designed virtual learning event.
Does the e-learning include interactive elements? E-learning courses should have interactive elements included in the design — otherwise, learners won't remain engaged. Look for elements like easy navigation, quizzes, videos and interactive simulations that should be interwoven in such a way that the elements are varied and appropriately spaced in the lessons.
Does the classroom training offer the opportunity for class discussion or networking? Programs that include deliberate group activities or the opportunity for social interaction foster the co-creation of learning throughout the training class.
Does the program include hands-on exercises? Are they easy to complete? Instructor-led courses should offer hands-on exercises to reinforce learning. Confirm if any special hardware requirements are needed for remote learners to take advantage of those hands-on exercises. Look for programs that offer cloud-based labs that are accessible with a simple invitation to log in using a web connection.
Expert instructors
An individual may hold certifications or have advanced technical competencies, but that same individual may not have experience teaching adult learners or may not be skilled in presenting material in a way that is easily understandable to learners with varying backgrounds. It is critical that instructors have both technical competency and the ability to deliver excellent training.
When looking into an instructor-led course of any kind, ask these questions:
Who will be teaching the course and what cybersecurity industry experience and technical skills do they have? Have they worked for another cybersecurity vendor or held a cybersecurity-related job role in a company or government agency?
What certifications do they hold? In the world of cybersecurity, look for non-vendor-specific credentials like CISSP, CISA/M, GIAC or others. CrowdStrike instructors are CrowdStrike-certified professionals who hold a CCFA, CCFR and/or CCFH.
What experience or qualifications does the instructor have related to teaching adults? Have they worked at a higher education institution, or do they hold a technical trainer certification?
Meeting learners' needs
Learners primarily tend to use one of three basic learning styles: visual, auditory or kinesthetic. All courses — whether e-learning, virtual instructor-led or face to face — should vary the tool kit used to reach learners and tap into all the senses — for example, using lecture (auditory), written materials with graphics and product demonstrations (visual), and hands-on or role-play exercises (kinesthetic). Make sure the training program you are considering is designed in such a way that all of these learning styles are covered.
About CrowdStrike Training
The CrowdStrike training and certification program offers a robust catalog of classes with convenient options for your employees to help them keep their knowledge current and learn new skills — ultimately empowering them to better protect your organization and stop breaches.
Through CrowdStrike University, we provide opportunities for cybersecurity professionals to take advantage of training at their own pace or across multiple days and time zones around the globe. We provide the opportunity to practice what is learned in class in our cloud-based CrowdStrike Falcon® lab environment. Learners have the opportunity to engage with fellow students and live CrowdStrike experts.
CrowdStrike University offers a variety of options:
On-demand e-learning: Take digital courses on demand at the time and pace that is most convenient.
Virtual Instructor-led public classes: This training is available from a location of your choice because it is delivered via the internet — from the office, home or anywhere else. CrowdStrike maximizes the learning experience by ensuring engaging instructors, interactive quizzes and comprehensive hands-on labs.
Virtual Instructor-led dedicated classes: Rather than joining a public class, you can arrange dedicated classes for your employees. These classes allow learners to interact with colleagues and CrowdStrike's expert instructors in a class that focuses on the needs of your organization.
With course offerings ranging from novice to expert and including on-demand and instructor-led options, CrowdStrike training and certification are easily accessible wherever you are.
Additional Resources: