Notification Workflows with CrowdStrike
Introduction
With the increase in sophistication of today's threat actors, security teams are overwhelmed by an ever growing number of alerts. This causes alert fatigue and slows down threat identification and remediation, leading to devastating breaches.
CrowdStrike's Notification workflows allow security teams to streamline security processes with customizable real time notifications while improving efficiency and speed of response when new threats are detected, incidents are discovered, or policies are modified.
Video
Flexible Configuration for Notifications
Notification Workflows allow for customized real time alerts when a trigger is detected. Triggers can be set for new detections, incidents, or policy changes.

Multiple Conditions can be configured to focus the alerts on important events and reduce alert fatigue, allowing for streamlined processes and impactful responses.

Emailing analysts to provide real time alerts are available as actions. Additional actions, such as messaging with PagerDuty, Slack, and Web hooks, are available from the CrowdStrike store to provide multiple channels of communications and ensuring that the proper teams are notified.
Dynamic threat data fields will automatically be generated for the notifications and allows analysts to immediately identify attacks and respond quicker to stop breaches.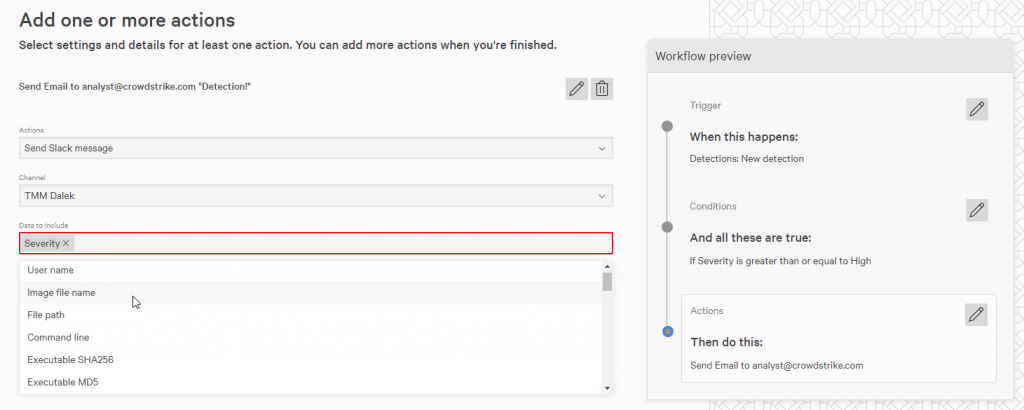 Customized messages are sent out simultaneously to all configured channels ensuring that incidents are identified quickly and minimizes the analyst's time to respond.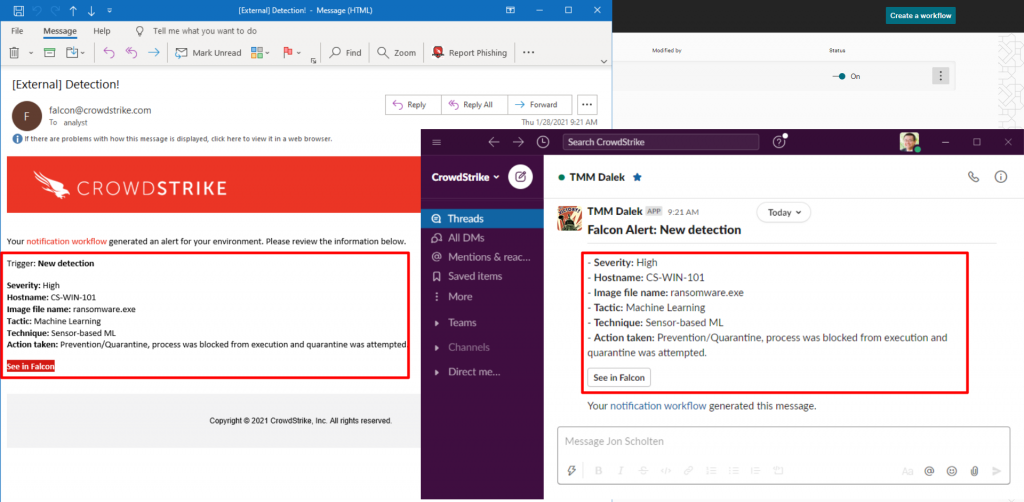 Conclusion
CrowdStrike's Notification Workflows provide analysts with the ability to receive prioritized detection information immediately via multiple communication channels.
This enables them to respond faster and reduce remediation time, while simultaneously streamlining their workflows so they can spend more time on important strategic tasks without being bogged down by a continuous deluge of alerts.
More resources