Vulnerability Management for a Remote Workforce
Introduction
IT teams around the globe are dealing with significant challenges as they contend with the physical separation of working remotely as well as having to handle the protection of a distributed workforce at a potential large scale. With little time for planning and testing, meant organizations have been forced to adopt new working practices faster than they would ever have imagined. 
Challenges in Remote Scanning
How do you protect workers and keep your organization's data safe in today's environment? Security teams face dramatic hurdles to protect an organization during this physical relocation – one that traditional vulnerability management tools are not equipped to handle. They are crushed for time – most workforces have already been distributed and there's been a sharp increase in cyber crime. The high-bandwidth networks IT could once rely on within an office environment is no longer applicable; legacy vulnerability technology needs the use of a network, leaving large quantities of devices exposed. 
What's worse, these traditional tools are inefficient. Even if they were deployed to remote devices, they require a large and cumbersome agent to be installed, severely affecting the performance of a device – limiting an organization's productivity. Furthermore, running a scan with a traditional VA tool leaves IT with immediately outdated results. A legacy tool only captures data from a specific point in time – resulting in reports that are already old.
When a critical vulnerability is disclosed, the race is on to reduce the attack surface before an exploit becomes widespread. You don't have time to scan and you no longer control the network, but you need immediate results from systems whether they are on-premises or remote – you have to know if you are vulnerable.
Stepping up to the Plate: Cloud-native, Scanless Vulnerability Management
Changes in work habits mean re-evaluating defenses to ensure that security teams continue to provide the protection, visibility and response capabilities that organizations need to keep users and data safe. CrowdStrike's cloud-native solutions allow organizations to pivot seamlessly across the full range of potential work models without sacrificing security or performance.
The Falcon platform was built from the ground up to meet the exact challenges IT teams are facing today. Since the Falcon platform utilizes the vast telemetry gathered in the cloud (nearly a trillion events per week) and an always-on agent – there's no single point-in-time scan. The data about your managed hosts is always available, bringing security teams real-time visibility of their security posture along with the ability to rapidly scale remote vulnerability management by utilizing the Falcon Spotlight module.
With users essentially working from the cloud, it makes sense to tap into that power to provide them protection. Crowdstrike Falcon platform is cloud-native. This is a game changer for those responsible for protecting an organization that is now working from home. All the security telemetry is stored in the cloud, so anyone in the security team can collect and analyze the data wherever they are – even though they are physically separated.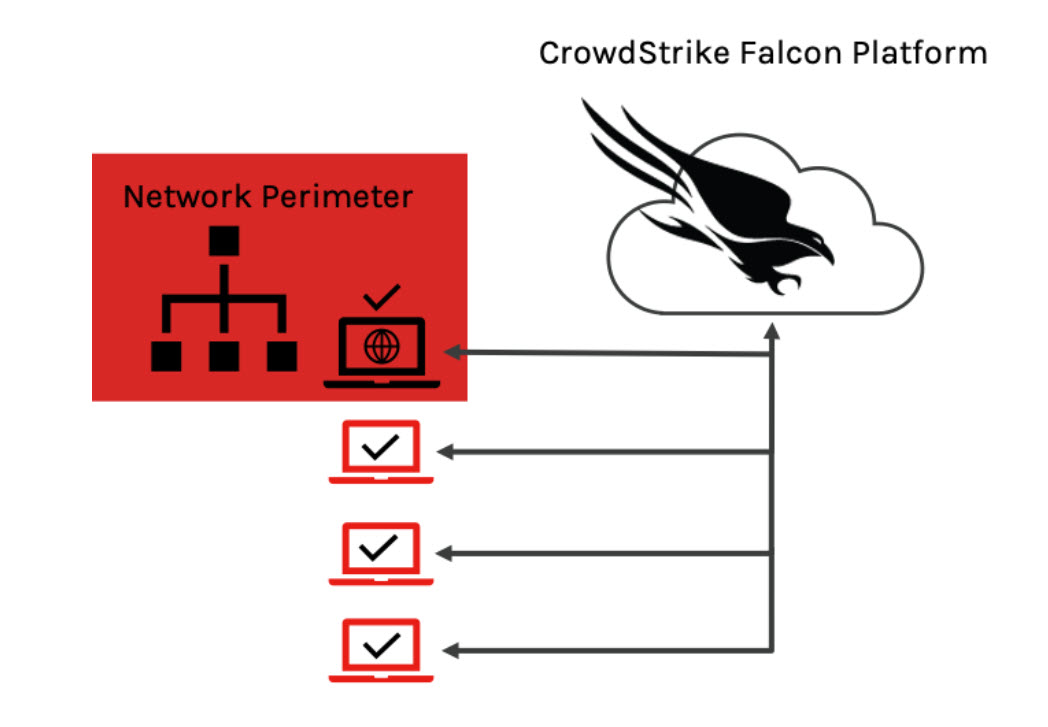 With the Falcon platform and Spotlight, it's a win-win: regardless of geography, the vulnerability status of a distributed workforce can be assessed and managed without additional agents or impacting a device's performance. 
Closing
Get immediate time to value, extend your visibility and protect your organization no matter where they are. Try CrowdStrike's Falcon platform for free: https://go.crowdstrike.com/try-falcon-prevent.html
More resources
Content provided by Alyssa Ideboen