Falcon Endpoint Protection Advanced
Full Protection with More Visibility and Control
REAP THE BENEFITS OF CROWDSTRIKE'S
FALCON ENDPOINT
PROTECTION ADVANCED
Falcon Endpoint Protection Advanced includes everything in the Standard package and takes your security to the next level by adding IT hygiene capabilities to improve your organization's overall security posture. By enabling unprecedented visibility over the computers, applications and accounts being used in your environment, you are better prepared to repel attacks and stop a breach.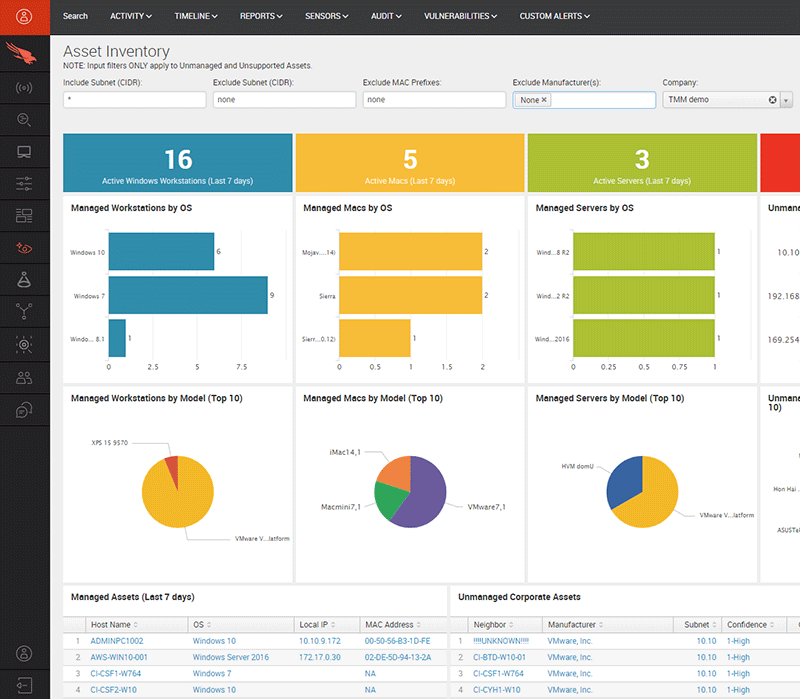 IT HYGIENE
Systems, user accounts and applications visibility →
Identify and gain real-time and historical visibility over the assets (computers and servers), applications and accounts used in your environment, driving improvements organization's overall security posture.
BUSINESS VALUE
Improve user productivity by reducing system tray bloat with a lightweight agent that requires only a 30MB footprint on the endpoint. You receive the benefits of next-gen AV, EDR and IT hygiene without incurring any performance impact on your endpoints.
Reduces operational costs
Reduces endpoint costs
Reduces risk
Improves endpoint performance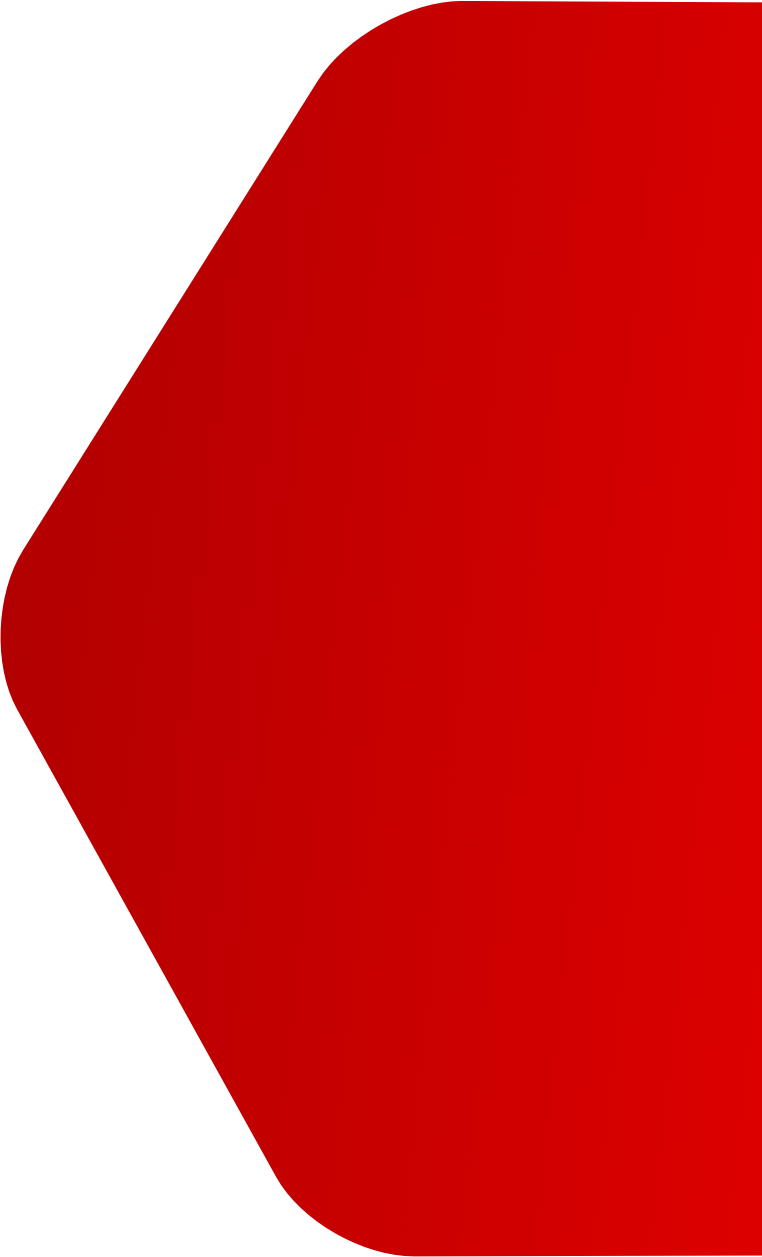 TECHNOLOGY - IT HYGIENE
← Detailed visibility over applications, assets and user accounts


Responds decisively by containing and remotely accessing in real-time endpoints under investigation



Identifies rogue computers instantly



Sees who and what is on your network at all times



Finds unprotected systems



Sees where and how user accounts are being used, including privilege accounts



Gains real-time and historical inventory of application usage in your environment.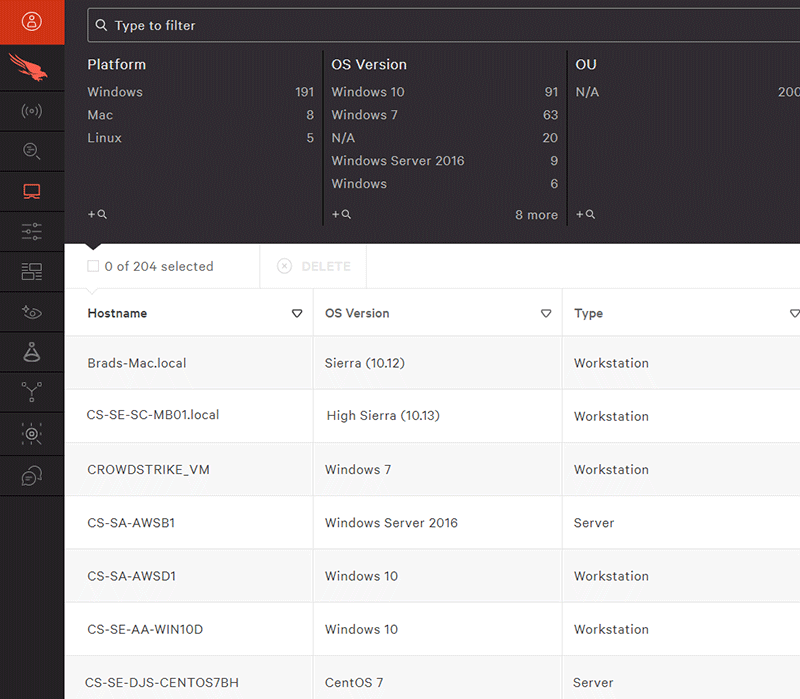 TECHNOLOGY - CLOUD DELIVERED
← Wide range of supported OSes
CLOUD-DELIVERED SAAS SOLUTION
Deploys in seconds with near zero impact on endpoint performance - even when analyzing, searching and investigating.
SINGLE LIGHTWEIGHT AGENT
Unify all capabilities in a single lightweight agent
PLATFORM SUPPORT
Supports Windows, Mac and Linux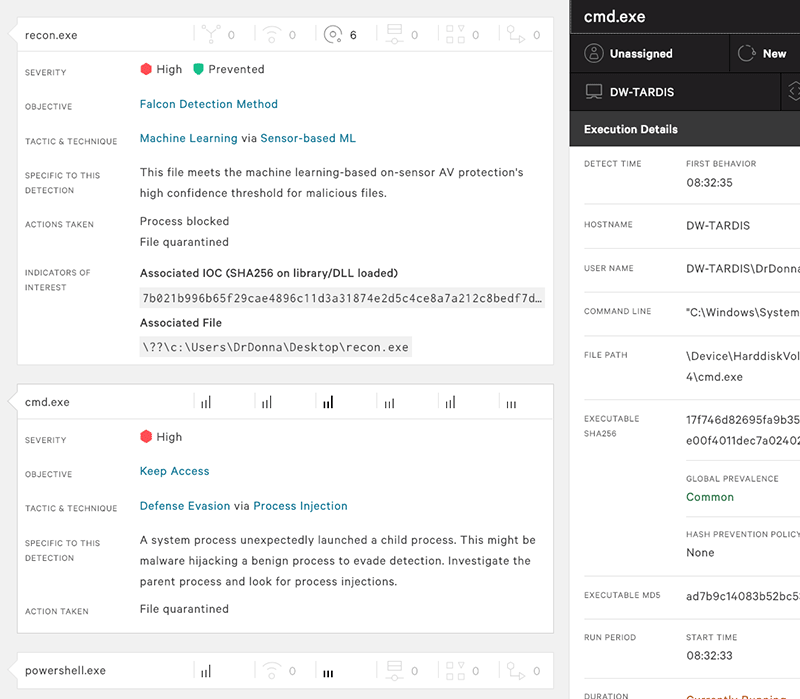 TECHNOLOGY - NGAV
← Machine learning and IOAs protect against attacks
MACHINE LEARNING AND ARTIFICIAL INTELLIGENCE
To prevent known and unknown malware, including zero-day ransomware without signatures
INDICATORS OF ATTACK
Behavioral Protection algorithms to instantly identify attacker behavior and send prioritized alerts to the Falcon UI, eliminating time-consuming research and manual searches.
TECHNOLOGY - EDR
← Immediately respond with surgical precision
CONTINUOUS RAW EVENT RECORDING
Provides full endpoint activity details to enable proactive and managed threat hunting and forensic investigations.
REAL-TIME RESPONSE
provides powerful response action to contain and investigate compromised systems, including on the fly remote access to endpoints to take immediate action.
THREAT INTELLIGENCE INTEGRATION
for additional layer of protection and to provide enriched context and attribution to alerts
INTERESTED?
A CrowdStrike security expert is standing by to offer information, advice, or help with your purchase.
Request Info