Replace your enterprise Antivirus for unrivalled protection and unmatched performance
Go beyond malware. Boost your endpoints. Simplify your security.
As traditional AV is proving increasingly inadequate, the market is responding with next-generation antivirus (NGAV) to protect against malware, zero-days, ransomware, fileless attacks and sophisticated advanced targeted attacks. Next-gen AV has become the new category of endpoint protection solutions designed to replace legacy antivirus products such as enterprise antivirus and business antivirus.
Legacy AV =
Inefficacy +
Burden +
Complexity
Modern threats are specifically designed to evade endpoint security solutions. The traditional approach has been to simply throw more products at the problem.
Trying to get ahead of the attacker by adding more
Enterprise Endpoint Security Timeline

Trying to get ahead of the attacker has led to complex security architectures and bloated endpoints — and it is still not working. Outbreaks and breaches continue to plague organizations. The 2017 Verizon Data Breach Investigations Report analyzed 40,000 incidents, including 1,935 confirmed data breaches.
CrowdStrike's Next-Generation Antivirus Solutions
A new solution:
Falcon Prevent™is CrowdStrike's next-gen antivirus solution. It offers a radically new approach by combining all the security capabilities required to protect against both legacy and modern attacks into a single lightweight agent. Powered and delivered by the CrowdStrike Falcon® platform, that same agent uses next-generation protection such as machine learning to block malware, but also includes behavioral analytics and continuous monitoring to prevent today's sophisticated malware-free attacks. In addition, Falcon Prevent delivers an unprecedented level of visibility into attempted attacks by showing all details of the attack in an easy-to-read timeline.
Single agent
+
lightweight
+
cloud architecture
REAP THE BENEFITS OF FALCON PREVENT
Replacing your current enterprise AV with Falcon Prevent will provide the following benefits: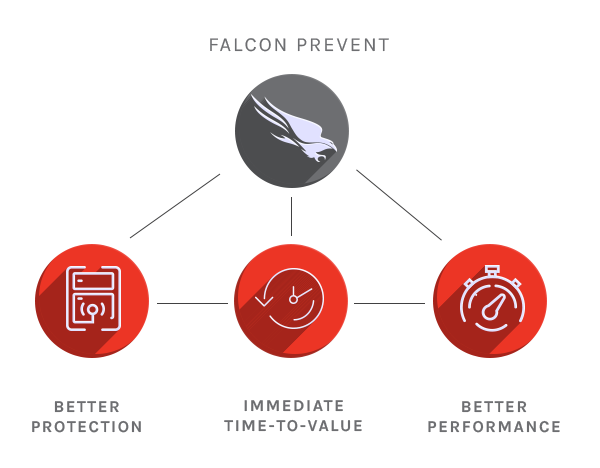 Better Protection:
Prevention against all types of attacks — protects against both known and unknown malware, fileless attacks, in-memory attacks, and zero-day attacks, and eliminates ransomware. It provides full protection even when offline.
Better Performance:
Virtually zero impact on the endpoint — from initial installation to ongoing day-to-day use, Falcon Prevent operates with only a tiny footprint on the endpoint.
Immediate time-to-value:
Save time, effort and money — cloud-native Falcon Prevent is delivered by the CrowdStrike Falcon platform and doesn't require any on-premises management infrastructure. It simplifies operations with signatureless protection and SaaS delivery.
CUSTOMER SUCCESS STORIES
Case study: Using Falcon to protect against advanced attacks
---
Related resources recommended for you