Demonstration of Falcon Endpoint Protection Pro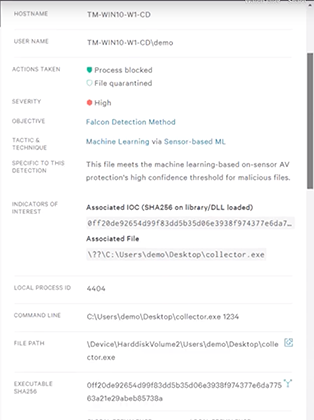 CrowdStrike® has revolutionized endpoint protection by unifying next-generation antivirus (NGAV), endpoint detection and response (EDR), a 24/7 managed threat hunting service and IT Hygiene. Using its purpose-built, cloud-native architecture and single lightweight agent, the CrowdStrike Falcon® platform offers a unique combination of technology, intelligence and expertise that sets it apart from the competition.
In this video, we will provide an overview of the CrowdStrike solution and demonstrate the power of Falcon Endpoint Protection Pro.
The demonstration will highlight the following functionality of the CrowdStrike Falcon platform.
Next-Generation AV: Leverages machine learning to protect your endpoints against all threat types — known and unknown, malware and malware-free
Remote Response: Enables precise and granular remediation and network containment
Integrated Intelligence: Tracks global adversary activity, providing customized and actionable reports and analysis that can be easily operationalized
Discover More at our

Resource Center
For technical information on installation, policy configuration and more, please visit the CrowdStrike Tech Center.
Visit the Tech Center