Humio Community Edition: The Largest No-Cost Data Ingestion Offering Is Now Available
Log everything and answer anything in real time at no cost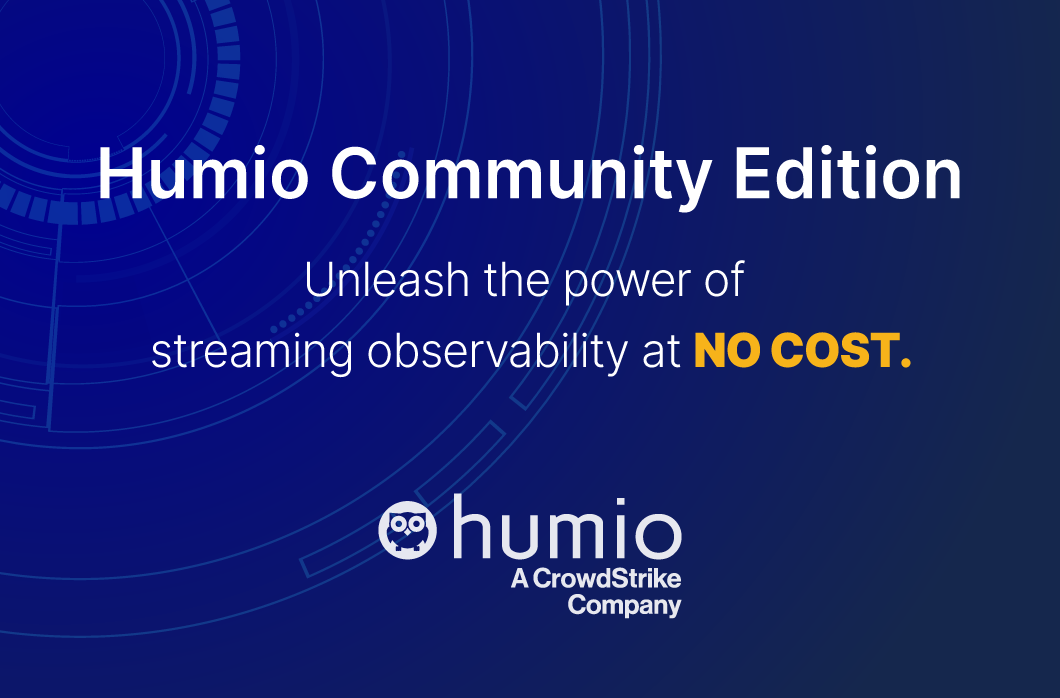 This announcement is part of the Fal.Con 2021 CrowdStrike Cybersecurity Conference, Oct. 12-14. Register now for free to learn all about our other exciting new products and partnerships!
We are thrilled to introduce the Humio Community Edition, a frictionless and free offering delivering the power of Humio's streaming observability with 16GB of data ingestion per day and  7-day retention at no cost, available on an ongoing basis. Built for the cloud, Humio Community Edition streams structured and unstructured data and enables users with index-free searching, real-time alerts and live dashboards. Instant and actionable observability gives DevOps, ITOps and SecOps teams the timely insights they need to enhance performance across distributed systems and explore threats and vulnerabilities to build resilience in their operations and IT infrastructure.
Why We Created Humio Community Edition
We created the Humio Community Edition because we wanted the developer community to experience the power and speed of Humio. Traditional log management solutions are built off legacy software that tends to be slow and expensive. With Humio Community Edition, we're providing the most powerful capabilities needed for modern observability. Humio's modern architecture, including data streaming, index-free search and advanced compression technology, empowers DevOps, ITOps and SecOps professionals to break free from these constraints.
The entire observability community can now use Humio Community Edition at no cost to empower streaming observability, improve the quality and reliability of systems in real time and proactively prepare for the unknown. This helps teams prevent, recover from and quickly understand the root cause of incidents. With Community Edition, users have the real-time insights needed to enable enhanced performance and increased speed to delivery, encouraging alignment across teams.
"I want everyone to experience the power of Humio. With Humio Community Edition, Humio provides the most powerful capabilities needed for modern observability. Humio is able to ingest any data, structured or unstructured, in streaming speeds and at scale, unlike any other solution currently available in the market. Humio's log management platform is unmatched in speed, performance and storage abilities, and Humio Community Edition offers customers unprecedented access to best-in-class log management that you won't see anywhere else — for absolutely free. Humio Community Edition is a game changer." — George Kurtz, President/CEO and Co-Founder, CrowdStrike
Where Can I Download Humio Community Edition?
Humio Community Edition is a cloud-based solution accessible via web browser. Visit the Humio Community Edition login page to create an account with your Google, GitHub or BitBucket account — no payment information required.
Humio Community Edition Features and Capabilities
Humio Community Edition, available instantly at no cost, includes the following features: 
Ingest up to 16GB per day 

7-day retention

No credit card required 

Ongoing access with no trial period

Index-free logging, real-time alerts and live dashboards

Ingest structured, semi-structured and unstructured data

Access to Humio's marketplace and packages, including guides to build new packages 

Learn and collaborate with an active community

to develop new packages and APIs

Current CrowdStrike customers can ingest and use their Falcon Data Replicator (FDR) data
Try Using Your Falcon Data Replicator (FDR) Data With Humio Community Edition
CrowdStrike Falcon® Data Replicator (FDR) can now be ported into Humio to improve your threat hunting capabilities and forensics at speed and scale. With Humio, users can retain FDR data for longer, run live searches in real time and correlate that data with other log sources.
We've included sample FDR data with Humio Community Edition for you to experience the power of Humio.
Access Humio Community Edition now to try the sample dataset, and see how easy it is to combine your CrowdStrike data with Humio.
Join The Nest, by Humio: Grow and Share Your Observability Skills
The Nest is a free community available for peers in DevOps, ITOps and SecOps. Members can enhance their log management skills and connect with other Humio Community Edition users to overcome today's observability challenges. 
Humio Community Edition users can access and collaborate on packages, APIs and other resources to help protect their systems and accelerate incident response. Visit The Nest today to connect with peers and access our library of free resources, including blogs, podcasts, reports and educational courses. 
Additional Resources

Related Content