Race to Register for RSA Conference 2021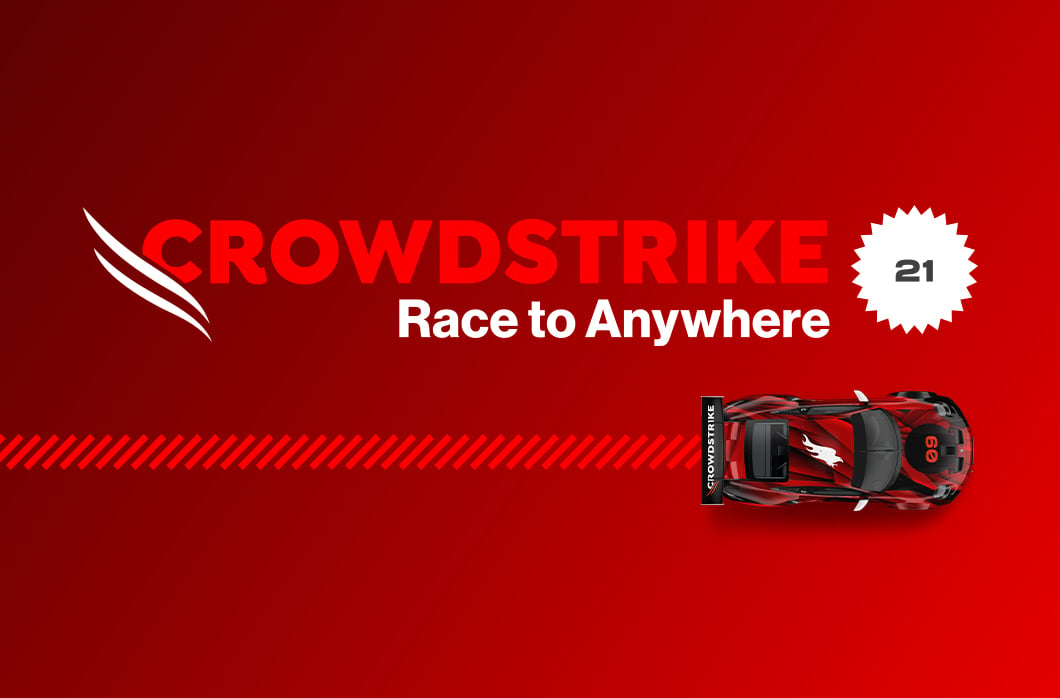 RSA Conference 2021 is zooming closer! Our engines have been running at race speed preparing to deliver an action-packed virtual event. Be at the ready for our exciting announcements, including advancements in identity protection and Zero Trust, cloud security advancements with Falcon Horizon Cloud IOA, launch of Falcon Fusion, new capabilities and product features with CrowdStrike Falcon® platform, strengthened partnerships with Google Cloud and EY, new CrowdStrike Store partner applications and much more. We're also thrilled to share that CrowdStrike is the proud recipient of three 2021 SC Media Awards (more details below).
Ready, Set, Go!
Get Ready: Free Expo Access, One-on-one Meetings and More   
Get expo-only access to RSA Conference 2021 compliments of CrowdStrike by registering now with code 54SCRDSTRKDE. Visit our virtual booth for an inside look at today's threat landscape and adversaries' next-generation tactics, techniques and procedures (TTPs), and how the CrowdStrike Security Cloud and Falcon platform technologies help strengthen cybersecurity resilience for companies of all sizes. And to get more information about our products and services and learn how we can help strengthen your organization's security, schedule a one-on-one meeting now with a CrowdStrike expert.
Get Set for These Sessions
Hacking Exposed: Next-Generation Tactics, Techniques and Procedures (Keynote):

CrowdStrike CTO Mike Sentonas will discuss the latest TTPs of today's cyber adversaries and what to expect in the near future. He'll cover the increasing sophistication of ransomware and hold a live demo of how adversaries are "living off the land" to prepare an environment for malicious activity.

Learn more

. (Wed., May 19, 4:05 p.m. PT)

Total Security: Investigative Perspectives from Public to Private Sector:

Three former federal agents who now lead world-renowned cybersecurity investigative teams in the private sector — including CrowdStrike CSO and President of Services Shawn Henry — will share how their work on the front lines of counterintelligence and counterterrorism has shaped their views on "total security" practices, including protecting the 360-degree attack surface encompassing virtual, IT, operational and physical security. Joining Henry will be CJ Moses, deputy CISO of Amazon Web Services, and Mary Galligan, managing director of Deloitte and former Special Agent in Charge of Cyber and Special Operations for the FBI.

Learn more

. (Mon., May 17, 10:35-11:15 a.m. PT)

Ransomware Threat Landscape: CrowdStrike SVP of Intelligence Adam Meyers will review ransomware's dominance as a threat to enterprises across geographic regions and business verticals in 2020 and explain what we can expect from threat actors in 2021. Learn more. (Wed., May 19, 3-3:40 p.m. PT)
Get Going: "Race to Anywhere" With Racing Legend Mario Andretti
Following RSA Conference 2021, CrowdStrike is holding a unique event with some very special guests. In "Race to Anywhere," our virtual racing game, compete against others for your chance to qualify to drive your own remote-controlled car in a final race broadcast live to spectators. You can also sit in for an interview with racing legend Mario Andretti — winner of the Daytona 500, Indianapolis 500 and the Formula One World Championship — and hear CrowdStrike CEO and Co-Founder George Kurtz chat with professional race driver Colin Braun, a three-time Rolex 24 winner.

Register now for your chance to qualify and to reserve a virtual seat for these exclusive interviews.             
CrowdStrike Wins Three 2021 SC Media Awards
We couldn't be more pleased that CrowdStrike was recently recognized as a recipient of the 2021 SC Media Awards in three categories: Best Cloud Computing Security Solution, Best Managed Security Service and Security Executive of the Year — the latter awarded to Shawn Henry, President of CrowdStrike Services and Chief Security Officer, in the category's very first year! 
These awards have been announced at RSA Conference in the past, but this year they were shared in advance of the event. We are honored to receive such prominent awards for our achievements in cloud security and managed security services by a program as esteemed as the SC Awards. This speaks to our vision of offering customers the most powerful combination of technology and services on the market, and there's no security leader more deserving of the inaugural executive of the year award than our own Shawn Henry. Shawn has been instrumental in modernizing cybersecurity practices and resiliency for both the public and private sectors for well over 30 years, gaining the support, commitment and camaraderie from peers, colleagues and customers all over the world.
RSA Conference 2021 is the perfect time to learn more about our award-winning technology and services — book a one-on-one meeting with a CrowdStrike SE today.
If you haven't started planning your RSA Conference 2021 experience yet, register today with code 54SCRDSTRKDE. See you there!
Additional Resources

Related Content